1. Cometbus #54 In China With Green Day by Aaron Cometbus $4.00 – It's awesome, in case you needed us to tell you that.
2. Brilliant Mistake #4 Your Secretary #8 by Carrie and Jami Sailor $3.00 – Valentine's Day special!!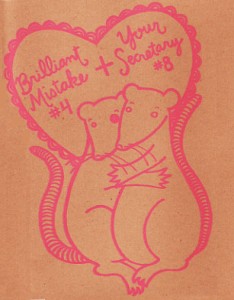 3. Your Secretary #7 Playing Victim #4 by Jami Sailor $1.00
4. Politics of Penetration $1.00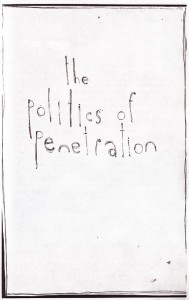 5. Big Questions #15 the Sweet Taste of Victory by Anders Nilsen (D&Q) $7.95 – The most gorgeous, most finalest one… the Big Questions end times is disruptive, surreal and poetic. Nilsen's draughtmanship is pure and stunning, where disarmingly simple forms are made perfectly right. If you've been keeping time with this series, you'll certainly be excited by this chapter, and if you're just catching up, you'll be dazzled by this near-religious, cryptic conclusions you'll be catching here. -EF
6. Proximity #8 Education As Art $12.00 – Writing the book on learning as art and the art of learning: Proximity #8 comes from all angles, focuses, builds, supports. Weighing in at 232 pages, this volume does an exceptional job with a wide variety of profiles, interviews and portfolios and essays, staying both solidly local and vitally connected, you'd be hard pressed to find a smarter art magazine.
7. Believer #78 Feb 11 $8.00
8. Gaylord Phoenix by Edie Fake (Secret Acres) $17.95 – All-Gaylord-All-Phoenix-All-In-One, Dr. Bronner's Style.
9. Proof I Exist #13 by Billy Da Bunny $8.00 – This issue includes perhaps the most proof that Billy exists in zine form EVER: sewn terrycloth Chuck E Cheez photobooth covers, handmade stickers, pasted photo inserts, miscellany, true tales from the depths of New Mexico, remenicins about those good ol' Chicago days and a dime bag of chest hair. That's what you call pulling out all the stops, kids. Wow, for reals. -EF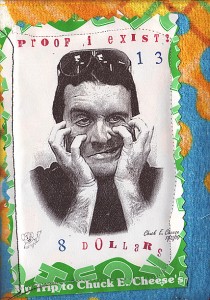 10. First Line vol 12 #4 $3.00 – All submissions published have the same first line in every issue.