Hustle in for a last minute Valentine gift idea. How about this?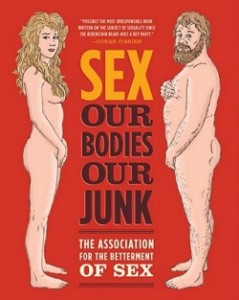 Sex Our Bodies Our Junk by The Association for the Betterment of Sex Headquarters, Mike Sacks and various others (Broadway) $18.99 – And hey! Mike Sacks will be here at Quimby's to read from his book of humor pieces Your Wildest Dreams, Within Reason on March 10th.
ZINES!
Brilliant Mistake #4 Your Secretary #8 by Jami Sailor and Carrie $3.00 – What?! You didn't make it to last night's release party for this here at Quimby's? It was awesome. There were cupcakes, stencils, and multiple referances to having your heart broken. Well, if you missed the event you're in luck. We still have a few of this split-zine to sell you.
Your Secretary #7 Playing Victim #4 by Jami Sailor $1.00
One Thirty One #1 $3.00
Sassyfrass Circus #5 $2.00
Femme a Barbe vol 2 $2.00
All Things Ordinary #3 $2.00
COMICS & MINI COMIX!
Uptight #4 by Jordan Crane (Fantagraphics) $3.95
Fascination by Andrew Ek $6.00
Favorites – A Sappy Autobiographical Story about Susie Cagle's Shoes by Susie Cagle $2.00 – Read her stuff now so you can say you read it before she got famous, because her work is really great.
Remainders – This is What Concerns Me Presents by Susie Cagle $3.00
This is What Concerns Me #1 by Susie Cagle $3.00
Demongun #1 Feb 11 by Bernie McGovern $2.00
This is What Adventure Looks Like by Jarod Rosello $1.00
Well Dressed Bear Will Develop Intimacy Issues Later in Life by Jarod Rosello $4.00
GRAPHIC NOVELS & TRADE PAPERBACKS!
Anthem by Ayn Rand by Charles Santino and Joe Staton (New American Library) $15.00 – This dystopian novella by everyone's favorite objectivist is a love letter to independence and individuality. No matter what your politics are, the themes in this graphic novel realization of Ayn Rand's classic are universal.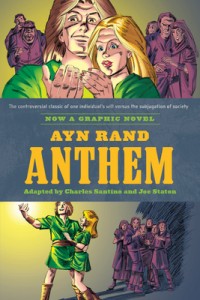 Ivy by Sarah Oleksyk (Oni) $19.99
Tales of a Hippy Kid: Road Trippin' & Skinny Dippin' by Jon Kroll and Dave Bohn (Ape) $14.95 – Weed, nudity, hot tub. What else could you possibly need?  Is this like a Hot Tub Time Machine? -LM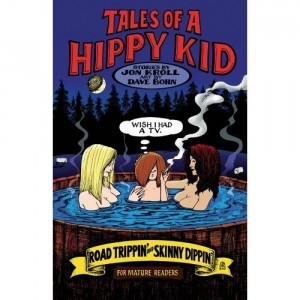 Daytripper TPB by Fabio Moon and Gabriel Ba (Vertigo) $19.99 – Beautiful work from twin brothers, with moments of life take on entirely new meanings as events from possible pasts or futures cast characters into new lights. Gorgeous cities and landscapes from Brazil across several decades with touches of surrealism. Jeff Smith of Bone blurbed that he couldn't put this down.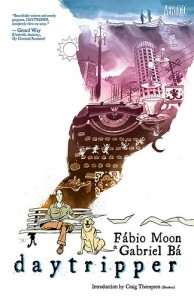 Bone Quest for the Spark Book 1 by Jeff Smith and Tom Sniegoski (Scholastic) $10.99
On The Line: The Complete Strips From the Guardian by Rian Hughes (Image) $12.99
Midlife by Joe Ollman (D&Q) $19.95
ART & DESIGN BOOKS!
Journey is the Destination the Journals of Dan Eldon (Chronicle) $24.95
Feel the Darkness by Ragnar Persson (Dokument Press) $39.95
Beer – A Genuine Collection of Cans by Dan Becker and Lance Wilson (Blue Apple) $19.95
Lex Sten Stencil Poster by Lex Sten (Drago) $29.00
FICTION!
The Illumination by Kevin Brockmeier (Pantheon) $24.95 – In this wonderful novel by the author of the amazing book Brief History of the Dead, pain manifests itself as visible light after a mysterious event called "the Illumination," revealing humanity to be mortally wounded. an inspiring take on suffering and the often fleeting nature of connection.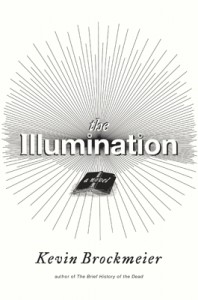 Fantastic Planet Oms en Serie by Stephen Wul (Creation Oneiros) $14.95 – This French novel written by a dental surgeon in inspired the animated cult film La Plamete Sauvage (Fantastic Planet) in 1973, which was smuggled out from behind the Iron Curtain. The last surviving humans are taken from Earth to the wild planet Ygam by the traags, a race of blue- skinned, red- eyed giants. Here they become known as oms, used as lowly servants and regarded as savages. But little by little, led by a young man of superior intelligence named Terr, the oms regain their thirst for liberty and rise up against the draags to affirm their humanity in the face of oppression. Planet of the Apes? But with a different ending? You be the judge.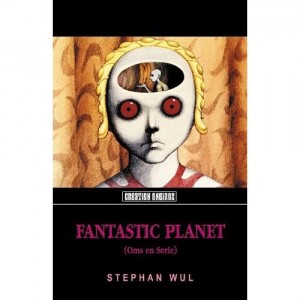 MAGAZINES!
Cabinet #40 Hair $12.00
Juxtapoz #122 Mar 11 $5.99
High Times Apr 11 $5.99
Shindig vol 2 #20 Jan Feb 11 $9.99
Wire #323 Jan 11 $10.99
Internationalist #32 Jan Feb 11 $2.00
Monocle vol 4 #40 Feb 11 $10.00
AdBusters #94 vol 19 #2 Mar Apr 11 $8.95
LITERARY JOURNALS, CHAP BOOKS & POETRY
Dead Beat vol 1 by Brian Echon and Pat Walsh Scott $10.00
Slake Los Angeles 2011 Crossing Over A City and Its Stories $18.00
MUSIC BOOKS!
Nick Cave – Sinner Saint: The True Confessions Thirty Years of Essential Interviews ed. by Mat Snow (Plexus) $19.95
MISCREANTS & MAYHEM BOOKS!
Beautiful on the Outside, Rich on the Inside by Douglas S. Hunter III (Upstate Chamber of Cobras) $20.00 – I think maybe you might need to come read this book right now. So many moons ago we got a book of fiction about wrapping Roy Orbison in Clingfilm. So this book sort of reminds me of that one. Really weird but immediately engaging. It's about a guy posting a preposterous singles ad on Craigslist about being single and rich that started like this: "I am rich, and when I say rich, I mean I am dictating this to my professional typist while I am sailing to St. Kitts." All that follows are the responses he's gotten. And you know how you read something on line and you get sucked in to reading all the comments people make about it under it, and it turns into a big soap opera, people arguing and dialoguing with each other? Well, this reminds me of that too. And you know what else? The logo for the publisher is awesome too, so we'll paste it in below. And oh! Valentine's is right around the corner. What better gift to woo a weirdo?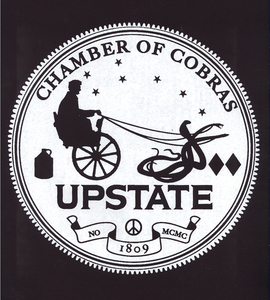 Late American Novel Writers On the Future of Books ed. by Jeff Marin (Soft Skull) $14.95
Yellow Kid Weil: The Autobiography of Americas Master Swindler (AK Press) $18.00 – This classic memoir back in print!
How to Hustle and Win a Survival Guide for the Ghetto by Understanding Supreme $14.95
POLTICS & REVOLUTION BOOKS!
Hope Deferred: Narratives of Zimbabwean Lives by Orner and Holmes (McSweeneys) $16.00
Small 911 Flipbook by Scott Blake (small) $5.00 (big) $35.00 – Yes, this is for real.
SEX & SEXY & SEX CULTURE!
Single Year by Dawn Mueller $14.00
Reality Shows by Karen Finley (Feminist Press) $17.95 – With a forword by Kathleen Hanna and an introduction by Ann Pellegrini.
Gaytimes Magazine #389 Feb 11 $9.95
OTHER STUFF!
Zombie Spaceship Wasteland Unabridged Audio CD by Patton Oswalt (Scribner) $19.99 – Read by the author. Don't miss Patton signing at Reckless Records on March 18th. We'll be there too!