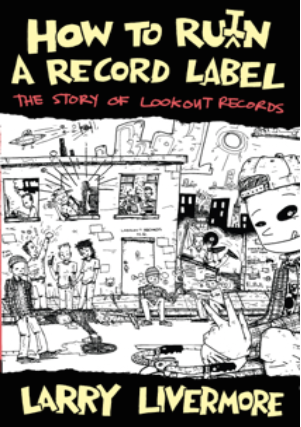 In How To Ru(i)n A Record Label (Don Giovanni Records), Larry Livermore describes the spectacular rise and ignominious collapse of Lookout Records, the iconic label he co-founded in 1987 and which helped launch the careers of Green Day, Operation Ivy, Screeching Weasel, and a host of other artists.
Paying due homage to his Detroit roots, the author recounts his personal journey, from Berkeley, California to Bialystok, Poland, as he built the label from the ground up, only to walk away abruptly from what had grown into a multi-million company when it was at the peak of its success.
"[An] engrossing account of being in the epicenter of the East Bay punk scene when it exploded, told from the perspective of the man holding the detonator."  – Liz Prince, author of Tomboy
"A great book by a true veteran. Well told, funny and entertainingly opinionated." – Jesse Michaels, Operation Ivy
Larry Livermore was co-founder of Lookout Records, editor and publisher of Lookout magazine, and a longtime columnist for Maximum Rocknroll and Punk Planet. His first book, Spy Rock Memories, was published in 2013 by Don Giovanni Records.
More info:
Here's the Facebook event invite for this event! Invite your friends!
Sat, March 26th, 7pm – Free Event