Monthly Archive for April, 2016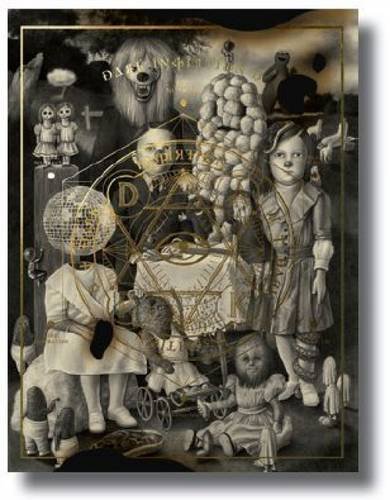 Dark Inspiration: Grotesque Illustrations, Art & Design by Victionary $35.00 – Macabre aesthetics, nightmare visions, unexplainable tableaus. Artists include: Alex Garant, Anton Semenov, Dan Hillier, Daniel Martin Diaz, Elisa Ancori, Evelyn Bencicova, Fiona Roberts, Fuco Ueda, Hannes Hummel, Januz Miralles, Johnson Tsang, Katy Horan, Kim Simonsson, Leta Sobierajski, Lola Dupre, Nicoletta Ceccoli and many more.
*ZINES*
Judas Goat Quarterly #69 Spr 16 $1.50
Not Like You Zine #6 $5.00
Happy Tapir #1 First Apartment by Johnny Masiulewicz $3.00
Unwatchabulls 1999-2004 by Baw Cutler $3.00
*COMICS & MINIS*
Lands Have Mercy by Jason Murphy $7.00
Local teacher Dan Adams brought in his class of 9-12-year-olds who all made comics. Awesome titles include:
Zombie Apokalips
Immigrant Youth Justice League
What to Do When Your Bored
Narwhal
World of Mine Craft
Fred Hampton: The Loudest Boy In the World
Call of Duty: Black Ops Top Five Moments to Rage Quit
Epic Super Hero Fails
Best Soccer Game of my Life
The 3 headed Golem Part 1 by Tom Davis $6.00
Laskimooses #29 Peruspinnan Mustaus $7.00
Islands Comic by Evah Fan $8.00
Vortex Man #1 Scortched Earth $6.00
Wow by Caroline Cash $9.00 – The hand behind Mr. Blob pens a millennial Ghost World tracking two girls abusing social media on the periphery of the archetypal Party That Sucks. Cash gives you your money's worth of drama in just 8 pages. Stylistically it's a little like if Jeffy from The Family Circus grew up and took his adderall habit to art school. And that's just splendid. ~GS
Heavy Blanket #1 by Cory Feder $10.00
*GRAPHIC NOVELS*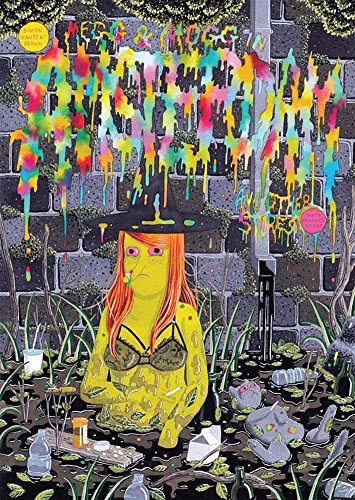 Megg and Mogg In Amsterdam and Other Stories by Simon Hanselmann (Fantagraphics) $19.99
Don't Come in Here by Patrick Kyle (Koyama Press) $15.00
Rules For Dating My Daughter: The Modern Father's Guide to Good Parenting by Mike Dawson (Uncivilized) $15.95
After Comes Nothing by Aiden Koch (Koyama Press) $20.00
Peplum by Blutch $24.95
Gorgeous by Cathy G. Johnson (Koyama Press) $10.00
Night Air by Ben Sears (Koyama) $12.00
What is Obscenity?: The Story of a Good For Nothing Artist and her Pussy by Rokudenashiko (Koyama Press) $20.00 – Rokudenashiko ("good-for-nothing girl") is a Japanese artist. She is known for her series of decorated vulva moulds, or "Decoman," a portmanteau of decorated and manko, slang for vagina. Distributing a 3D scan of her genitalia to crowdfunding supporters led to her arrest for alleged violation of Japanese obscenity laws.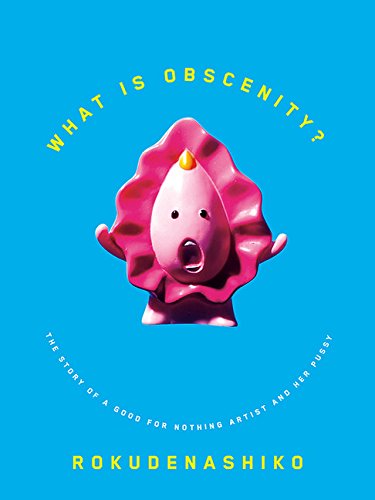 Why Would You Do That? by Andrea Tsurumi (Hic & Hoc) $10.00 – Poodles, brassieres, sports fans, pie, the Civil War!
The Flash by Grant Morrison and Mark Millar $19.99
Providence Act 1 by Alan Moore etc (Avatar) $19.99
Johnny Boo Goes Like This by James Kochalka (Top Shelf) $9.99
*ART & DESIGN*
Why Fonts Matter by Sarah Hyndman $24.95
Jean Cocteau Coloring Book (Arsenal Pulp Press) $12.95
Thin Slices of Anxiety: Observations and Advice to Ease a Worried Mind by Catherine Lepage $14.95
*FICTION*
Make Something Up: Stories You Can't Unread by Chuck Palahniuk $15.00
Sweet Lamb of Heaven by Lydia Millet $25.95
Gonzo Girl by Cheryl Della Pietra $16.00
Join by Steve Toutonghi $27.00 – What if you could live multiple lives simultaneously, have constant, perfect companionship, and never die? That's the promise of Join, a revolutionary technology that allows small groups of minds to unite, forming a single consciousness that experiences the world through multiple bodies.
The English Assassin Book 3 of the Cornelius Quartet by Michael Moorcock $9.95 – Back in print! MM's third book in the Cornelius series from the late 60s, of the drug-taking, physics-doing, sex-experimenting weirdo Jerry Cornelius. Bond but as an assassin, part-Buckaroo Banzai, 100% rock star. Recommended. -LM
*FILM & MUSIC BOOKS*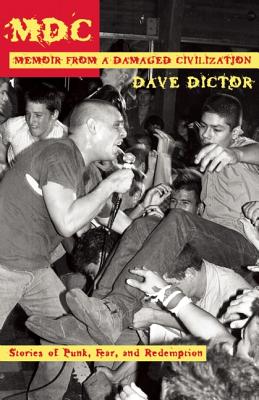 MDC: Memoir from a Damaged Civilization: Stories of Punk, Fear, and Redemption by Dave Dictor (Manic D Press) $15.95 – Memoir from singer, lyricist, and founding member of legendary American punk band MDC (Millions of Dead Cops).
Video Tonfa by Tim Goodyear (Floating World Comics) $24.95 – In 2009, Tim Goodyear turned his sketchbook into a journal of the movies he watched, focusing on VHS & DVD for an eclectic & personal film history. For each video he redrew the original box art & substituted the text with his own reflections. Video Tonfa is more than a book of movie reviews, it's a chronic memoir of over 300 video visitations.
*FOOD*
The Starving Artist Cookbook by Sara Zin $22.95
*SEX GUIDES & CULTURE*
Truth, Justice, and the American Whore by Siouxsie Q (Three L) $18.95 – Podcaster and SF Weekly columnist stating opinions that your mother likely won't approve, constructing arguments that will make you blush.
The Lesbian Sex Haiku Book (with Cats!) by Anna Pulley, watercolor illustrations by Kelsey Beyer (Flatiron) $14.99 – Learn about all the aspects involved in girl-on-girl action as fed through the lens of two things the internet approves of: cats and things described in three lines or less.
*SCIENCE!*
The Universe in Your Hand: A Journey Through Space, Time, and Beyond by Christophe Galfard (Flatiron Books) $27.99 – A cosmic yet friendly tour from the Big Bang to black holes.
Things to Make and do in the Fourth Dimension by Matt Parker $16.00
Farmageddon: The True Cost Cheap Meat by P. Lymbery etc. $19.99
The Human Side of Science: Edison and Tesla, Watson and Crick, and Other Personal Stories Behind Science's Big Ideas by Arthur W. Wiggins etc., illustrated by Sidney Harris $25.00
*ESSAYS*
Telling: A Memoir by Zoe Zolbrod (Curbside Splendor) $16.95
Failed It!: How to turn mistakes into ideas and other advice for successfully screwing up by Erik Kessels (Phaidon) $12.95 – Over 150 visual examples drawn from Kessels personal collection of artworks and found photographs, along with tips, quotes, anecdotes and wisdom for celebrating with failure.
The Internet Is Not the Answer by Andrew Keen (Grove) $16.00 – A twenty-year veteran of the tech industry traces the technological and economic history of the internet from its founding in the 1960s through the rise of the big data companies to the increasing attempts to monetize almost every human activity, and investigates how the internet is reconfiguring our world—often at great cost.
Books from Blue Heron Press, $12.99 each
Rigger: A Memoir from High School to High Steel by Larry James Neff
Like A Dog: A Memoir by Vincent Francone
Sharing Lessons Learned While Seeking the Spotlight by Lynnie Godfrey
The Miles Between Me by Toni Nealie (Curbside Splendor) $16.95
*POLITICS & REVOLUTION*
How Did We Get Into This Mess?: Politics, Equality, Nature by George Monbiot $24.95
Undivided Rights: Women of Color Organizing for Reproductive Justice by Jael Silliman etc. (Haymarket) $19.00
Keywords for Radicals: The Contested Vocabulary of Late-Capitalist Struggle by Kelly Fritsch etc (AK Press) $22.95 – With insights from dozens of scholars and troublemakers, Keywords for Radicals explores the words that shape our political landscape. Each entry highlights a term's contested variations, traces its evolving usage, and speculates about what its historical mutations can tell us. More than a glossary, this is a crucial study of the power of language and the social contradictions hidden within it. Contributors include Patrick Bond, Silvia Federici, John Bellamy Foster, Joy James, Ilan Pappé, Justin Podur, Nina Power, Mab Segrest, and more.
Lies, Incorporated: The World of Post-Truth Politics by Ari Rabin-Havt, Media Matters for America $15.00
*MAGAZINES*
Mojo #270 May 16 the Stones $10.99
Frankie #70 $14.95
Gayletter #4 $20.00
*CHAP BOOKS & LIT JOURNALS*
The End is Near by Adam Michael Krause $10.00 – Is the world really ending now? Or has it always been? This pocket-sized pamphlet compiles eschatological ejaculations throughout Western history, cumulatively begging the question of whether, amid all this [very real] environmental panic, our prophesies of doom are finally coming true, or just getting in line with centuries of cultural product. Sharp, portable and gussied up in letterpress; it's even footnoted so you know it's Real. ~GS
The Literary Review vol 59 #1 Win 16 Fight $10.00
*KIDS BOOKS*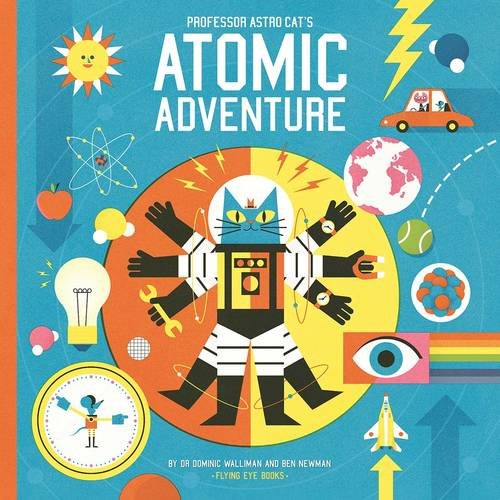 Professor Astro Cat's Atomic Adventure by Dominic Walliman and Ben Newman (Nobrow Press) $24.00 – Class is in session, and the subject is physics. Your teacher? Why, he's the smartest cat in the galaxy!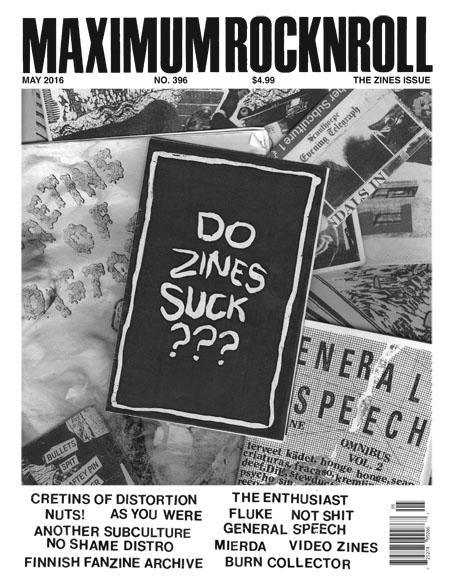 Maximum Rocknroll #396 May 16 The Zines Issue $4.99 – Over a dozen features on zines! Including but not limited to: anthology As You Were, Emmy Ramone talks about their zines Cretins of Distortion and the Mental Whiff (digging at the roots of human expression through punk in the Midwest and beyond), NUTS! fanzine, Fluke fanzine celebrates its 25th anniversary, Burn Collector's Al Burian talks about his music and his move to Berlin, Not Shit, a skate fanzine dedicated to the punk/DIY approach, folks behind No Shame, a distro that highlights work by people of color, write about eight of their favorite zines, an interview highlighting the Finnish Fanzine Archive, & more!!!!
*ZINES*
Bland #4 by Rod Binnion $4.00
Humonculus #2 by Paul Walker $3.00
Feelings, a Black and white xerox edition by Robin Hustle $4.00 – Associative visual study featuring hands, wigs, chains, storefronts and iconic movie scenes splashed with text. Created by activist, artist and writer Robin Hustle. Sharp, clever and playfully abstract. Back in stock after a long absence as a nice b&w edition.
Low Bar by Madeline Hester $11.00
Sub/Verse #5 Mar Apr 16 by Chloe Graham $5.00 – Personal musings on Sleater-Kinney, Patti Smith and more.
*COMICS & MINIS*
Comics from MC Harkness:
Dean Ambrose: Bigfoot Hunter $4.00
Kourtney Kardashian's Guide on How to Eat a Kit-Kat $2.00
Werewolf Hunter #1 by Peter Faecke $5.00 – A collection of golden age comics redrawn by Peter Faecke with original Werewolf Hunter splash pages from 1941 written by Armand Weygand and drawn by Gustav Schotter, George Tuska and Saul Rosen.
Commuter Naps by Theora Kvitka $7.00 – Drawings of people in states of sleep on public trans — snoozin' on the train, planking on the bus, dropped over a stop sign off their high wheel. Don't sleep on this! -LM
*GRAPHIC NOVELS*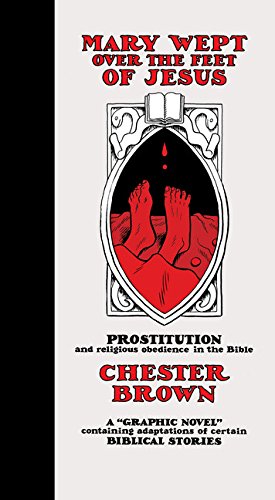 Mary Wept Over the Feet of Jesus: Prostitution and Religious Obedience in the Bible by Chester Brown (D&Q) $21.95 – Sex work enthusiast/advocate Chester Brown's retelling in comics form of nine biblical stories regarding prostitution.
Hellboy in Mexico by Mike Mignola & friends $19.99
Those Dark New Hampshire Woods by Desmond Reed $12.00
The Tipping Point: Slightly Oversized Edition (Humanoids) $29.95 – From slice-of-life tales and science-fiction adventures, to amusing asides and fantastical fables, witness these major (and minor) changes and evolution through the eyes of these visionaries from the worlds of manga, bande dessinée, and comics. With work from John Cassaday, Emmanuel Lepage, Bob Fingerman, Eddie Campbell, Taiy Matsumoto, Boulet, Atsushi Kaneko, Naoki Urasawa, Bastien Vivès, Frederik Peeters, Keiichi Koike, Paul Pope, Katsuya Terada.
I Am a Hero vol 1 Omnibus by Kengo Hanazawa $19.99
Rat Queens vol 3 Demons by Wiebe Kurtis, Tess Fowler & friends $14.99
Irmina by Barbara Yelin (SelfMadeHero) $24.95 – A tale of multi-cultural romance and correspondance in 1930s London.
An Olympic Dream: The Story of Samia Yusuf Omar by Reinhard Kleist (SelfMadeHero) $22.95 – Follows the Somalian athlete's second attempt to represent her country at the London Olympics.
*ART & DESIGN BOOKS*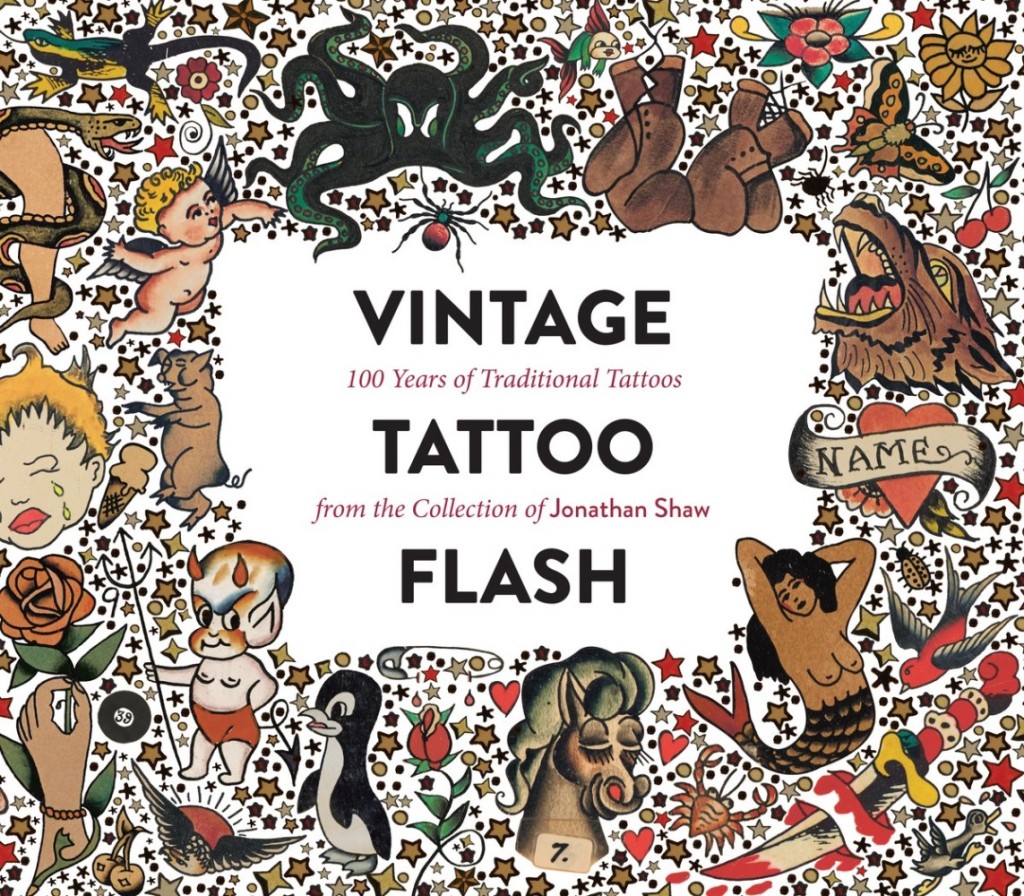 Vintage Tattoo Flash: 100 Years of Traditional Tattoos by Jonathan Shaw (PowerHouse) $60.00 – Over 300 pieces of flash, entirely unpublished sheets of original work from the likes of Bob Shaw, Zeke Owens, Holt + Rowe, Ted Inman, Ace Harlyn, Ed Smith, Colonel Todd, the Moskowitz brothers, and many, many others relatively known and unknown.
GG Allin Coloring Book by Nicole Jakus $8.00 – Never before have I seen GG Allin looking so adorable. In this, very much for adults coloring book, you can have fun going outside the lines because GG would have wanted it that way. Our favorite rock and roll menace to society parodied in Marilyn Monroe's infamous dress being blown around might be my favorite. -CH
Cat Compendium: The Worlds of Louis Wain $18.95
Inked by Lola Mars (Summersdale Publishers Ltd ) $16.95
*MAYHEM & OUTER LIMITS*
Black Cats and Evil Eyes: A Book of Old-Fashioned Superstitions by Chloe Rhodes (Michael OMara Books Limited) $13.95
*MUSIC BOOKS*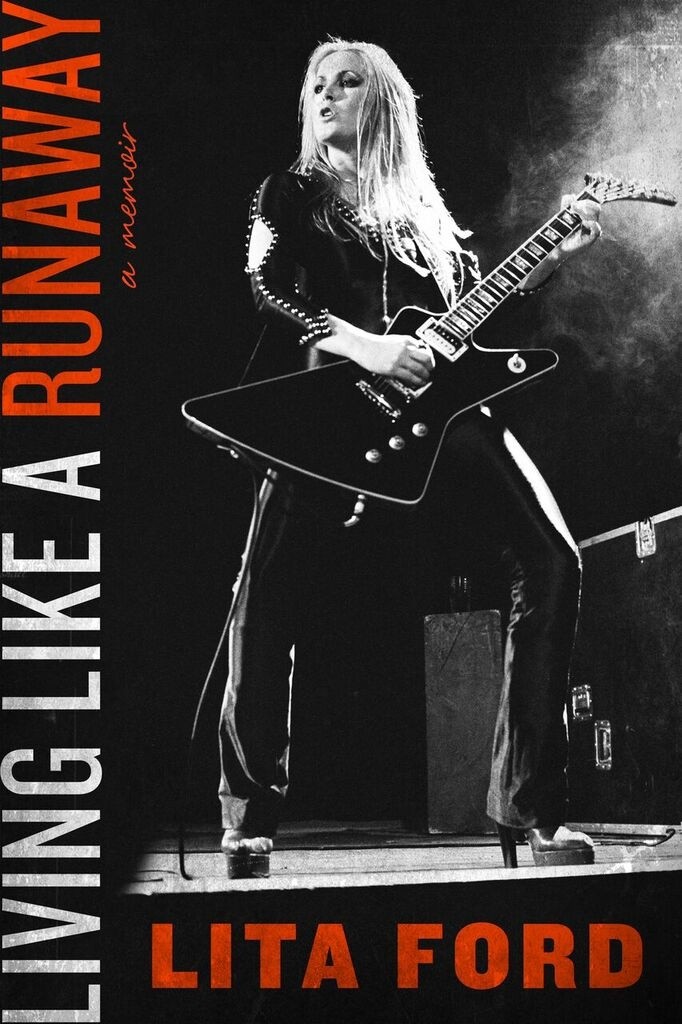 Living Like a Runaway: A Memoir by Lita Ford $26.99 – Heavy metal's leading female rocker bares all, opening up about the Runaways, the glory days of the punk and hard-rock scenes, and the highs and lows of her trailblazing career.
The Spitboy Rule: Tales of a Xicana in a Female Punk Band by Michelle Cruz Gonzales (PM Press) $15.95 – Memoir from Xicana drummer and lyrics writer from 90s female hardcore feminist band Spitboy. Fully illustrated with rare photos and flyers from the punk rock underground, this fast-paced, first-person recollection is populated by scenesters and musical allies from the time including Econochrist, Paxston Quiggly, Neurosis, Los Crudos, Aaron Cometbus, Pete the Roadie, Green Day, Fugazi, and Kamala and the Karnivores.
Johnny Marr: The Smiths & the Art of Gun-Slinging by Richard Carman (Music Press Books) $14.95
*FICTION*
The Bed Moved by Rebecca Schiff $24.95 – Collection of short stories: a cash-strapped pot grower to a "clothing optional resort", a nerdy high-schooler has her first sexual experience at Geology Camp, a college student on the night of her father's funeral watches a video of her bat mitzvah and more.
Lurid and Cute by Adam Thirlwell $18.00 – A sweet and well-to-do narrator descents into deceit with an orgy, a brothel, and a series of firearms disputes.
Robert Bloch's Psycho: Sanitarium by Chet Williamson $24.99 – Sequel to Robert Bloch's masterpiece, Psycho (as in, the book the classic movie was based on). Bloch, the original author of Psycho, wrote a follow up novel 23 later, which revealed that Norman had been in a mental institution the entire time. In that sequel, Norman quickly escapes the sanitarium and goes on a killing spree in Hollywood. But what happened in that asylum during those two decades? Until now, no one has known. That's where this novel picks up.
The Blondes: A Novel by Emily Schultz $16.00 – An epidemic of a rabies-like disease is carried only by blonde women, all of whom must go to great lengths to conceal their blondeness.
*EATING & CRYING BOOKS*
Dimly Lit Meals For One by Tom Kennedy $18.95
*ESSAYS*
You're Better Than Me: A Memoir by Bonnie McFarlane $15.99
You Are Not a Gadget: A Manifesto by Jaron Lanier $15.00 – Computer scientist, programmer, musician, pioneer in digital media, and father of virtual reality technology offers a critique of how digital design is shaping society, for better and for worse.
*MAGAZINES*
Wire #386 Apr 16 $9.99
Four Two Nine #7 $12.99
Tabu Tattoo #59 $7.99
Cemetery Dance #73 $9.95
2600 the Hacker Quarterly vol 33 #1 Spr 16 $6.95
Dissent Spr 16 $10.00
Race and Class vol 57 #4 Apr Jun 16 $8.00
THC The Hemp Connoisseur Spr 16 $6.99
Atlantis Rising #117 May Jun 16 $6.95
Fate #729 $5.95
Delayed Gratification #21 $20.00
Horror Hound #58 Mar Apr 16 The Ring $6.99
Shindig #54 The Band $12.99
*CHAP BOOKS & POETRY*
Secret of Navigation by Miles Liss $8.00
On Cats by Charles Bukowski $25.99 – Yup. Bukowski loved cats.
*ESSAYS*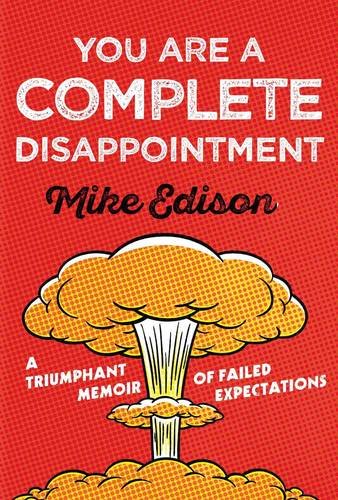 You Are a Complete Disappointment: A Triumphant Memoir of Failed Expectations by Mike Edison $17.95 – Don't miss Mike Edison here at Quimby's to celebrate this new book on Fri, June 3rd! 'You are a complete disappointment.' On his deathbed, Mike Edison's father gasped those words to his son – and that was just the beginning of his devastating salvo. For anyone who has ever suffered from parental bullying, this often-hilarious, yet intensely heartbreaking, memoir from the former 'High Times' publisher will provide both solace and laughter.
*SCIENCE! aka DESTROYING OURSELVES*
The Great Acceleration: An Environmental History of the Anthropocene Since 1945 by J. R. McNeill & Peter Engelke (Harvard U Press/Belknap Press) $19.95
Ten Billion by Stephen Emmott $12.95 – Deforestation. Desertification. Species extinction. Global warming. Growing threats to food and water. The driving issues of our times are the result of one huge problem: Us.
Back in stock! And you can order it on our website!!!
Quimby the Mouse Wooden Toy by Chris Ware $39.95  – "Quimby the Mouse" originally found expression within the pages of the periodical The ACME Novelty Library. This wood, wire, cloth and rope approximation of F.C. Ware's creation is now ready to be added to your collection. Packaged in a colorful, hand-designed preprinted cardboard container, including a 32-page hardcover book written and drawn, by Mr. Ware, the whole setup is rounded off with a perfect-scale replica bonus of Quimby the Mouse's long lost love, "Sparky the Cat." Sure to be coveted by collectors and fans alike, place your orders now for this little memento of pre-21st century nostalgia.
Issues of Hey Lady by Regina Schilling, $8.00 each: #1 Yoko Ono, #2 Michelle Nichols, #3 Candy Darling
*ZINES*
KerBloom #119 Mar Apr 16 by Artnoose $2.00
Flotation Device #14 by Keith Helt $2.00
Vinyl Vagabonds #6 $6.00 and #7 $7.00 by Eric Gordon
Bathroom Selfies From the Road #1 by Sarah Szumanski Jahn $5.00
Serio #7 Social Justice Zine Based In Chicago Lucy Stoole Chicago Drag $5.00
Hal and Ida in Israel #1 $2.00
Bookstores and Baseball: 8th Inning by David LaBounty $5.00
*COMICS & MINIS*
new minis from Krystal DiFronzo, $4.00 each:
Even A Worm Will Turn
Homo Sapiens Non Urinat in Ventum
Fight by Gabrielle Howell $3.00
Yolo Flor y Nata Split Comic by Teresa Ferreiro & Roberta Vazquez $9.00
*GRAPHIC NOVELS*
Kramers Ergot #9 ed. by Sammy Harkham (Fantagraphics) $45.00
ITDN 10 Comics by Andrew Burkholder (2D Cloud) $22.95 – The second collection of avant-garde comics from Chicago's Andy Burkholder interrogates the notion of the artist as an aesthetic chameleon.
Incomplete Works by Dylan Horrocks (Alternative Comics) $19.99
Josh Simmon's Jessica Farms vols 1 and 2 (Fantagraphics) $16.99 each – Serialized adventure-horror-macabre of a Midwestern farmhouse, a life-spanning comics project in which Josh Simmons drew one page every month for the past 16 years, starting in January 2000—and will continue this project for 50 years in total, releasing 96-page increments every 8 years until he amasses a 600-page body of work.
Nameless City by Erin Faith Hicks $14.99
Odyssey of Sergeant Jack Brennan by Bryan Doerries $19.95
*ART & DESIGN*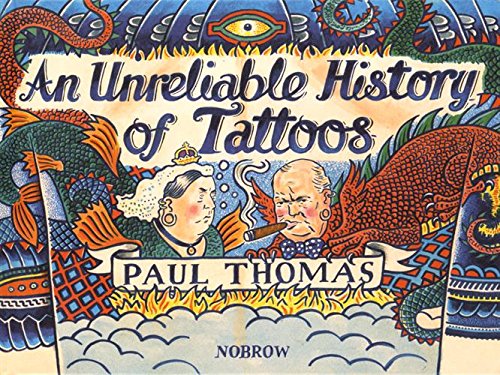 An Unreliable History of Tattoos by Paul Thomas (Nobrow) $19.95 – "A gonzo view of tats through the ages: mostly British, frequently profane, replete with extravagantly inked caricatures." -Kirkus Reviews
Make Your Mark: New Urban Artists by Tristan Manco $45.00
*FICTION*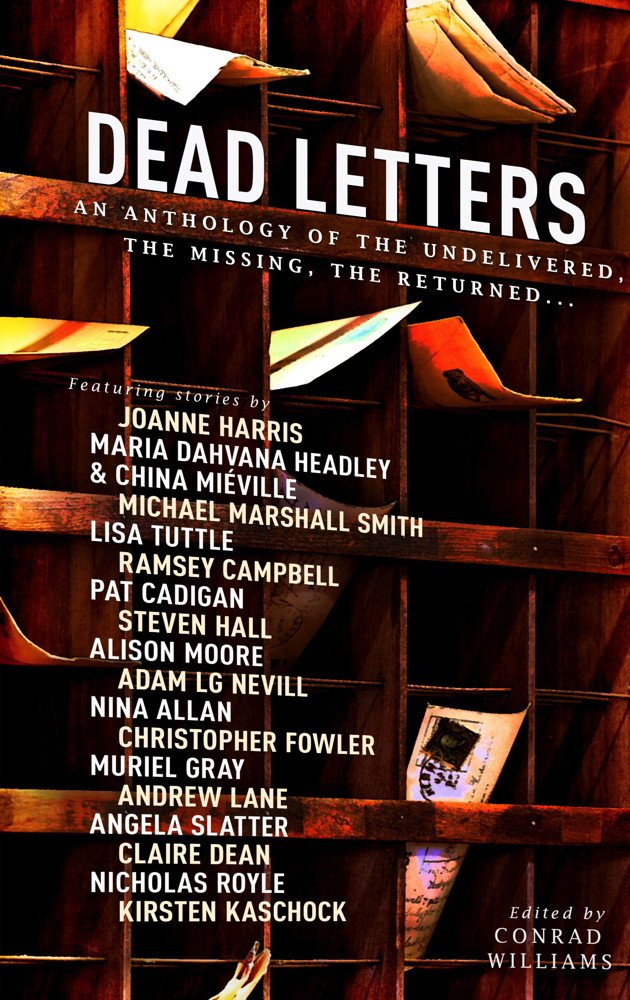 Dead Letters: An Anthology of The Undelivered, The Missing, The Returned ed. by Conrad Williams $14.95 – Features new stories from the masters of horror, fantasy and speculative fiction, each inspired by object from the Dead Letters Office.
American People vol 1 Search For My Heart by Larry Kramer $20.00
*ESSAYS*
I Know What I'm Doing ?? and Other Lies I Tell Myself: Dispatches from a Life by Jen Kirkman $24.00
Selfish, Shallow, and Self-Absorbed: Sixteen Writers on the Decision Not to Have Kids, ed. by Meghan Daum $16.00 – Contributors include Lionel Shriver, Sigrid Nunez, Kate Christensen, Elliott Holt, Geoff Dyer, and Tim Kreider, among others.
*POLITICS & REVOLUTION*
Democracy Now!: Twenty Years Covering the Movements Changing America $26.00
The Politics of Che Guevara: Theory and Practice by Samuel Farber (Haymarket) $16.95
A Short History of the U.S. Working Class: From Colonial Times to the Twenty-First Century (Revolutionary Studies) by Paul Le Blanc (Haymarket) $17.00
*FOOD BOOKS*
The Wurst of Lucky Peach: A Treasury of Encased Meat by Chris Ying and the Editors of Lucky Peach $26.00
*DRUUUUUUGS*
Weed: The User's Guide: A 21st Century Handbook for Enjoying Marijuana by David Schmader $18.95
Dreamland: The True Tale of Americas Opiate Epidemic by Sam Quinones $18.00
*SCIENCE!*
What's It Like in Space? Stories from Astronauts by Ariel Waldman $14.95
*MUSIC BOOKS*
Heads: A Biography of Psychedelic America by Jesse Jarnow $27.99 – Yes, this is more a music bok anything else. Don't be fooled!
Kill 'Em and Leave: Searching for James Brown and the American Soul by James McBride $28.00
*MAGAZINES*
Juxtapoz #184 May 16 $6.99
True Crime, Spring Special Spr 16 20 All True Murder Cases $12.99
Rock A Rolla #58 Mar Apr 16 Sun 0))) $9.95
Uncut Ultimate Music Guide: The Beach Boys $14.99
AdBusters #125 vol 24 #3 May June 16 Post West $14.95
*LIT JOURNALS & CHAP BOOKS*
Midwestern Gothic #21 Spr 16 $12.00
Not Now More Work from Cliff Weber $4.00
*KIDS BOOKS*
Waiting for High Tide by Nikki McClure $19.95
The Real Poop on Pigeons by Kevin McCloskey (Toon) $12.95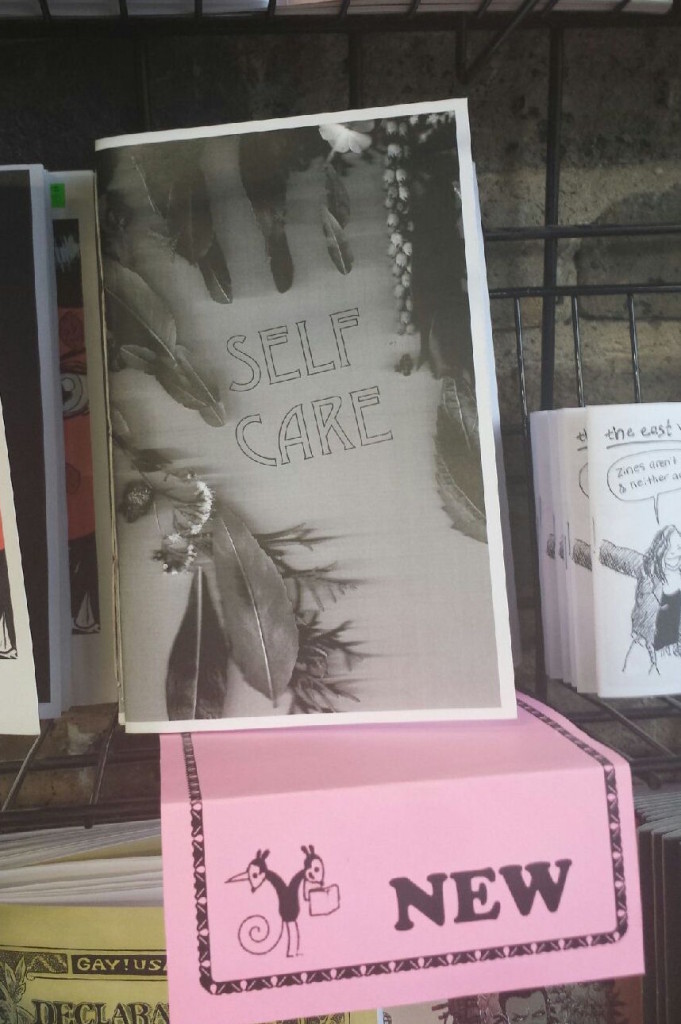 Self Care by Mallory VanMeeter $5.00
*ZINES*
Suburban Blight #12 Spr 16 by Stephanie B. $2.00
Call for Participants by Roddy $3.00
Monster Nerd zines by Anthony Miller, $5.00 each:
#1 The Creature From the Black Lagoon Issue
#2 The Wolf Man Issue
Somnambulist #26 Two Friends Talk about their Cities by Martha Grover $5.00
Otra Vez In Harlem by Gaspard Ajoupa Imbert $5.00
Blink Ink #22 Cities by Jesse Anger & friends $5.00
Collection of Expressions #2 $5.00
zines by Austin Smith $3.00 each:
Acid Kat #15 Fanzine
Acid Kat #16 Special Spooky Issue
*COMICS & MINIS*
Comics from Dan Zettwoch:
Redbird #3 Hi Tech Comics $5.00
Redbird #4 Dec 2015 $3.00
Grixly #35 $3.00
*GRAPHIC NOVELS*
Nocturnal Last City by Emily Chu $25.00
Cursed Pirate Girl by Jeremy Bastian $19.99
Walking Dead vol 25 No Turning Back by R. Kirkman and friends $14.99
Paper Girls TPB vol 1 by Brian K. Vaughan $9.99
Adventure Time with Fiona and Cake by Natasha Allegri $19.99
*ART & DESIGN*
The Electric Pencil: Drawings from Inside State Hospital No. 3 by James Edward Deeds Jr. $29.95 – Arresting drawings by made by one inmate, made as a gift for his mother, accidentally discarded in 1970, then found again by an art collector who put them in a book. None of these existed in the actual mid-twentieth-century landscape of Deeds's own life that he drew (an unusual cast of characters: nineteenth-century dandies, Civil War soldiers, antique cars, fantastic boats and trains, country landscapes dotted with roaming animals, and fanciful architecture), but rather were representations of his inner world—an artist's poignant tribute to a faded past.
Working Women: The New Pin-Up: Temporary Tattoos by Bill Presing $12.95 – From from fighter pilots to boxers to astronauts!
The Illustrated Compendium of Amazing Animal Facts by Maja Säfström $14.99
*FICTION*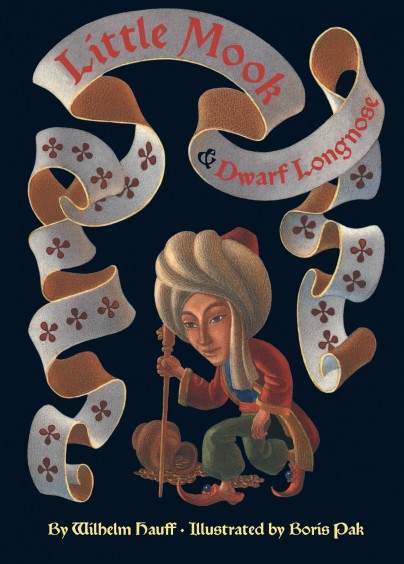 Little Mook and Dwarf Longnose by Wilhelm Hauff, Illustrated by Boris Pak (Godine) $19.95 – Short stories, peopled with a vivid assortment of dwarves, evil witches, enchanted swans, and devious princes. But rather than rehashing Brothers Grimm, Hauff creates a place where the morals are less than clear-cut. gnomish, innocent orphans with neglectful parents, a cruel witch's curse, an enchanted goose and more.
Books by Matt Lang (Clawfoot Press):
Fernweh $15.00
McKean County and Other Stories $12.00
Void by George Perec (Verba Mundi) $17.95
Weirdly, 2 different books about waxing nostalgic about New York:
Sundays on the Phone to Monday by Christine Reilly $25.00 – The Middlesteins meets The Virgin Suicides in this arresting family love story about the eccentric yet tightknit Simone family, coping with tragedy during 90s New York.
Tuesday Nights in 1980 by Molly Prentiss $26.00 – An intoxicating and transcendent debut novel that follows a critic, an artist, and a desirous, determined young woman as they find their way—and ultimately collide—amid the ever-evolving New York City art scene of the 1980s.
It's Only Rock and Roll: An Anthology of Rock and Roll Short Stories by Janice Eidus and John Kastan (Godine) $16.95
Husbands and Lap Dogs Breathe Their Last: A Cummings Flynn Wanamaker Mystery (Mainly Murder Press) by David Steven Rappoport $15.95
*ESSAYS*
So Sad Today: Personal Essays by Melissa Broder $15.99
The Call of the Primes: Surprising Patterns, Peculiar Puzzles, and Other Marvels of Mathematics by Owen O'Shea (Prometheus Books) $19.00
*POLITICS & REVOLUTION*
Political Suicide: Missteps, Peccadilloes, Bad Calls, Backroom Hijinx, Sordid Pasts, Rotten Breaks, and Just Plain Dumb Mistakes in the Annals of American Politics by Erin McHugh $26.95
*SCIENCE!*
The Soul of an Octopus: A Surprising Exploration into the Wonder of Consciousness by Sy Montgomery $16.00
*MAGAZINES*
RFD #165 Spr 16 $9.95
Monocle vol 10 #92 Apr 16 $12.00
True Crime Mar 16 Slaughter in the Sex Dungeon $9.99
Wax Poetics #64 Spr 16 $1.19
*CHAP BOOKS*
Stories I Could Tell You at the End of the Day by Nathan Dragon $5.00