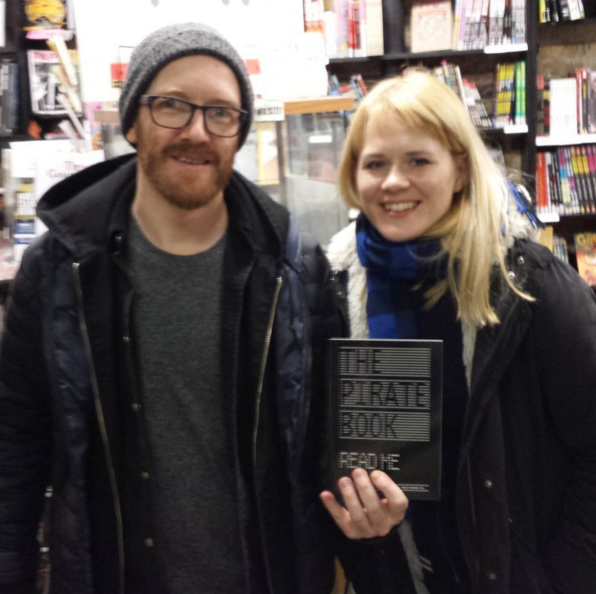 The Pirate Book: Read Me by Nicolas Maigret and Maria Roszkowska $11.00
*ZINES*
Inner Seoul by Jae Hyun Ha $2.00
Remedy Quarterly #20 Try $12.00
Lazy Mom #5 Easy Come $10.00
Dead Wrestlers #1 Murder Mishaps and Misfortune by Aaron Weber $3.00
Alamo Igloo zines by Keith Herzik
Leg and Boob DNA Gel Part 2 $8.00
Dog Bone Snake Skull Chicago $7.00
Pickle Pickle #2 The Peculiar Pickle Mini Zine $2.50
*COMICS & MINIS*
Mystery Minicomic Anthology by various $5.00
Baby Weight by Gabrielle Howell $2.00
Better Late Than Never by Jesse Hedman $2.00
Teenaged Trash Party by Barbara Guttman $5.00
Too Much Fun by Logan Kruidenier $8.00
Lazy Sundae by Nolan J. Downs $5.00
Screwing With You vol 1 by Zoe N. Sugg $5.00
Pack Yr Bags by Ian McDuffie $1.00
More Things in Heaven and Earth #1 by Kat Tusday $5.00
*GRAPHIC NOVELS & TRADE PAPERBACKS*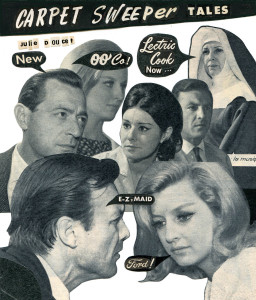 Carpet Sweeper Tales by Julie Doucet (D&Q) $15.95
Agony Book by Mark Beyer $15.95
Mirror Mirror #1 (2d Cloud) $27.95 – Comics anthology of things horror and gothic. Edited by Sean T. Collins & Julia Gfrörer. With work from Clive Barker, Heather Benjamin, Al Columbia, Dame Darcy and more.
Space: An Eschew Collection by Robert Sergel (Secret Acres) $15.00
Gulag Casual: Five Stories by Austin English (2d Cloud) $24.95
Care of Birds by F.S. Lobo (MMMNNNRRRG) $17.00
Chainmail Bikini: The Anthology of Women Gamers by Hazel Newlevant and Sophie Yanow (Alternative Comics) $20.00
Big Planet Comics Blue Anthology (Retrofit) $5.00 – An anthology from the Washington DC comic book store Big Planet Comics. Includes work by: Saman Bemel-Benrud, Box Brown, Mark Burrier, Jensine Eckwall, Robin Ha, Angelica Hatke, Andy K, Nick Liappis, Jared Morgan, Ben Sears, Matt Baker and SUPERWAXX.
*FICTION*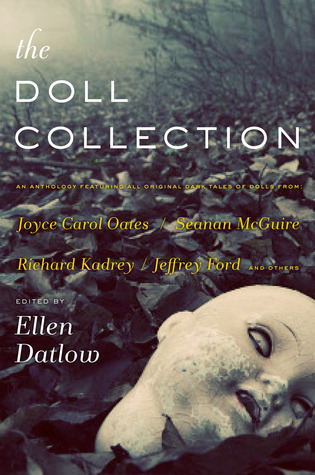 The Doll Collection: Seventeen Brand-New Tales of Dolls, ed. by Ellen Datlow (Tor) $16.99 – Stories about dolls. Not creepy or anything hahahaha.
2 books by Matt Lang (Clawfoot Press)
McKean County and Other Stories $12.00
Fernweh $15.00
Bardo or Not Bardo by Antoine Volodine (Open Letter) $13.95
*MAYHEM*
Serial Killers and Psychopaths: True-Life Cases that Shocked the World by C. Greig & J. Marlowe $16.95
Melancholy Accidents: Three Centuries of Stray Bullets and Bad Luck by Peter Manseau (Melville House) $22.95
Dead Wake: The Last Crossing of the Lusitania by Erik Larson $17.00
*ESSAYS*
Pretentiousness: Why It Matters An Essay SC by Dan Fox (Coffee House Press) $15.95
*POLITICS & REVOLUTION*
Earth Wants You by Reverend Billy $13.95
The South Side: A Portrait of Chicago and American Segregation by Natalie Y. Moore $27.99
*MUSIC BOOKS*
I Live Inside HC Memoirs of A Babe in Toyland by Michelle Leon $19.95
*HUMOR*
Why the Long Joke? by James Thomas $22.99 – Inside: "Edgar Allan Poe Goes to a Music Festival," "How to Tell If You're Dead" & more.
*SEXXXY*
Whistle #17 Modern Pin Up Mag $10.00
Meat #20 $20.00
*MAGAZINES*
Hi Fructose #39 New Contemporary Art Magazine $7.95
Howler #10 Spr 16 Of Gods and Ten $15.00
Mojo #269 Apr 16 Iggy Pop His Life and Rebirth $10.99
Laphams Quarterly vol 9 #2 Spr 16 Disaster $17.00
Tom Tom Magazine #25 Health $6.00
Skeptic vol 21 #1 16 $6.95
High Times Best of #80 2016 Your Guide to Hydro $6.99
Ghetto Blaster #43 $4.50
Maximumrocknroll #395 Apr 16 $4.99
Creative Quarterly #41 $9.00
Gentlewoman #13 Spr Sum 16 Kirsten $15.99
Tape Op #112 Mar Apr 16 $4.95
Razorcake #91 $4.00
*LIT JOURNALS*
The Paris Review #216 $20.00
*CHILDRENS*
Hilda & The Midnight Giant by Luke Pearson (Flying Eye) $10.99