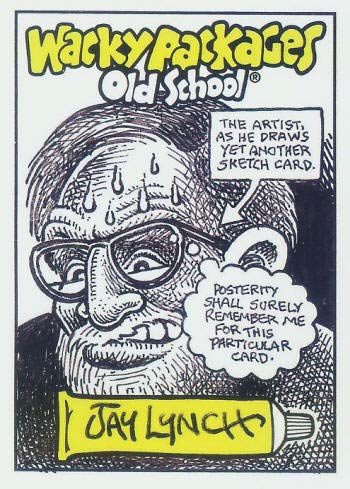 Quimby's gives best wishes to the survivors, fans, friends and family of underground comics legend Jay Lynch, who passed away at age 72. His legacy includes such titles as Bijou Funnies, Nard 'n' Pat, Phoebe & the Pigeon People, Arcade, as well as illustration for Wacky Packages and Garbage Pail Kids, but he also did illustrations for The Realist, as he reminisced about in the zine we published about Quimby's (Ever Evolving Bastion of Freakdom: A Quimby's Bookstore History In Words and Pictures):
"Paul Krassner, who founded The Realist in 1958, was doing a book signing in the store. I stopped by to say hello, since I did many a cartoon for The Realist in the early 60s. I saw Paul staring in awe at the shelves stacked with every "alternative" publication that exists. All of these zines in one place isn't something that you see every day-and Krassner was nonplussed at the sight. "What have we begat?" he said to me in a concerned tone."
Jay's presence at signings at Quimby's, as well as his contribution to the world of underground comics and his legacy as contributor to the origins of the store will be missed.