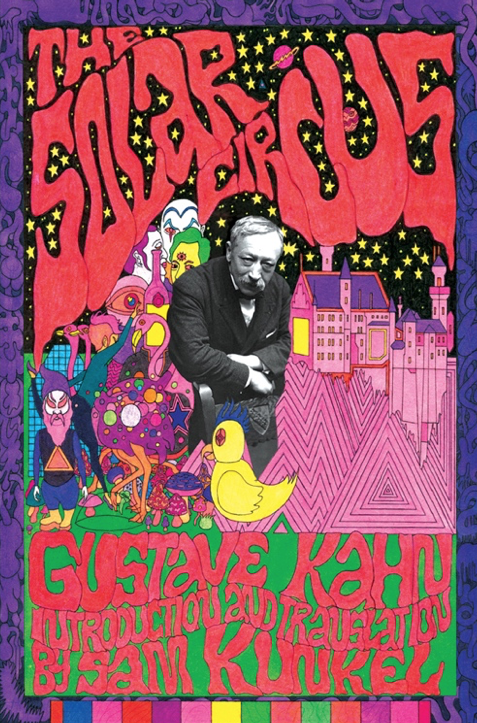 Quimby's welcomes translator Sam Kunkel, who will discuss the great forgotten Symbolist masterpiece The Solar Circus with Chicago author and critic Jeremy Kitchen on Saturday, Feb 18th at 3pm in the afternoon.
Gustave Kahn's The Solar Circus is an 1898 French novel dripping in psychedelic images of exotic gemstones, merfolk, and phantasmagoric menageries. Inverting day for night and reality for a dazzling dream, this is the story of a solipsistic Bavarian count who falls in love with the star of a traveling circus—thereby forcing him out of self-imposed seclusion. As the lovers set out from the count's castle, they encounter a world in transformation: peasants in rebellion, the bright lights of London's Orpheum theater, and even an ether-swilling Jack the Ripper in an opium den. In the process, the count must come to grips with his own fragile notions of superiority and truth.
The Solar Circus is text unlike any other, one that vacillates  effortlessly between wild, imagistic poetry and philosophical prose, prefiguring those seminal 20th century works of Modernist literature which would appear more than two decades later.
The Solar Circus is being published by Michigan City-based First to Knock. Its publication will mark not only the novel's first appearance in English but also its first independent reissue since it was published in 1898. The novel has been newly translated by Sam Kunkel, a Paris-based, Chicago-born scholar of 19th century Symbolist literature.
Kunkel will discuss Kahn's novel and its place in the lineage of circus books with Chicago's very own Jeremy Kitchen—author, literary critic, and librarian. A Q&A will follow. Books will be for sale.
For more info:
info(at)firsttoknock(dot)com