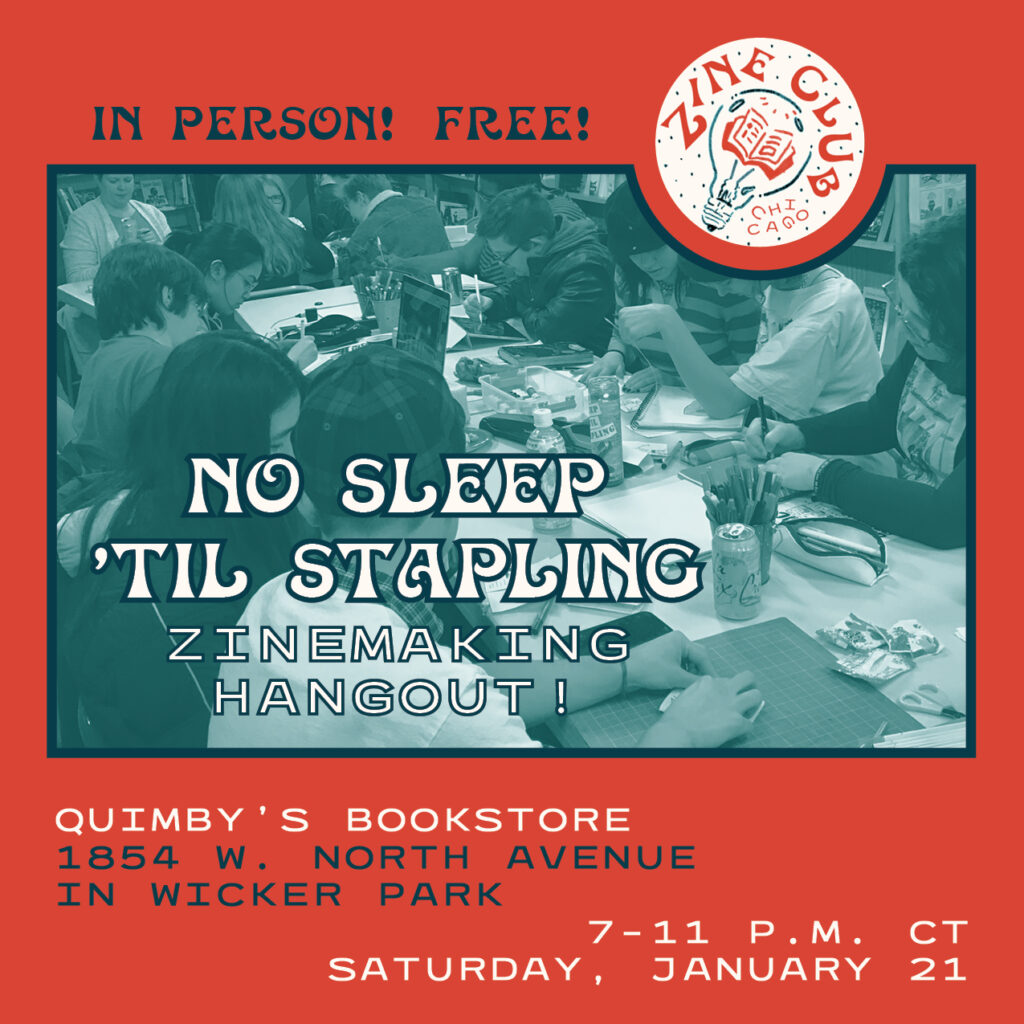 Zine Club Chicago IN PERSON: No Sleep 'Til Stapling Zinemaking Hangout!
7-11 p.m. CT Saturday, January 21
Quimby's Bookstore, 1854 W. North Avenue
Free!
Is making progress on your zine projects one of your new year's resolutions? Then kick off 2023 with Zine Club Chicago at the No Sleep 'Til Stapling Zinemaking Hangout!
Bring your work-in-progress, create a new zine on the spot, or just catch up with other zine folks at our 4-hour Saturday night event here at the shop. (This gathering will channel the chill hangout vibe of Quimby's Zlumber Parties of yore.)
We'll have zinemaking supplies, creative prompts, and snacks on hand. Zinemakers are encouraged to bring their zines to swap with others! We'll keep the party rolling from 7 to 11 p.m.; feel free to drop in anytime during the evening. (Bonus points if you wear your cutest pjs.)
Out-of-town friends, Zine Club Chicago will be back on Zoom with y'all in February for a special event that could only happen online! If you'd like to get together virtually with zine pals this month, check out Zine Party!, hosted as always by Michael Verdi, at 7:30 p.m. CT Tuesday, January 10. For more info and the Zoom link, visit zine.party.
Zine newbies and longtime enthusiasts alike are always welcome at Zine Club Chicago, the city's only book club-style event for people who read zines. This free monthly series is produced by Cynthia E. Hanifin and sponsored by Quimby's Bookstore. Anna Jo Beck designs our monthly flyers, created our logo, and made our Zine Club Chicago Shout-Outs site, where folks can peruse and recommend zines we've discussed at our events.
More info on the Zine Club Chicago social media channels: @zineclubchicago. Facebook event here.
Image description: A red-and-blue infographic flyer, with the image of a table full of people making zines, hanging out, and eating snacks, with text that reads: "Zine Club Chicago: No Sleep 'Til Stapling Zinemaking Hangout! In Person! Free!;Quimby's Bookstore, 1854 W. North Avenue in Wicker Park; 7-11 p.m. CT Saturday, January 21"