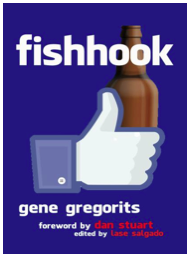 In Gene Gregorits' latest, Fishhook (Monastrell Books), he takes a break from his Dog Days series, which has won him a mountain of small press support while also inviting hellish scorn since its emergence last year. Throughout this new volume's 550 pages, we experience the notorious cult writer and well-known Facebook abuser's oftentimes hazardous day-to-day life with both humor and a terrifying clinical detachment. Fishhook is the first book of its kind: a literary anthology comprised entirely of status updates. It works as a conceptual coffee table piece, but fans of his novels can investigate this collection as a real life companion to both Dog Days and Johnny Behind the Deuce.
The work of Gene Gregorits has been hiding in plain sight for 20 years. His first 2 books, 2002's Sex & Guts and 2007's Midnight Mavericks: Reports From The Underground, sold less than 50 copies each, despite heavy marketing, exceptional writing, and one-of-a-kind interviews. He finds the relentless attempts to extinguish him as a writer and force of nature amusing, particularly now that with his own imprint, Monastrell, he has finally managed to discover an intelligent and informed readership that, like him, is none too happy about the current void in American literature. His rapidly growing cult of ne'er do wells, malcontents, and highly literate reprobates seems to be largely based in Chicago, and he is very excited to meet every one of them on November 8th.
Gregorits is coming all the way from Florida for this event; he will be reading from Dog Days Volume Two, Fishhook, and his current work-in-progress, Intra-Coastal: One Year On St. Pete Beach. For more info: www.MonastrellBooks.com
"Gene Gregorits is the best and truest writer you have never heard of." -Lisa Carver, VICE MAGAZINE
Alan Hoffman is a Chicago-based writer-performer who collaborates with musicians (including current-regular ambient accompanist Cinchel) to create dark sonic portraits about human nature. His current project is a recording for late 2013 which includes his own monologues, along with one each by director Christophe Honore and author Dennis Cooper. Alan will read a piece from this recording tonight and will be performing the show in its entirety (with several other local musicians) in the near future." For more info: http://cinchel.com/
Friday, November 8th, 7pm – Free Event
In honor of Gregoritis' love for Facebook, we'll be giving away FREE GRAB BAGS to any customer who can prove that they shared that day's event and tagged Quimby's Bookstore. Social media: truly the gift that keeps on giving. Please note: customers must be in the store at the Gregorits in-store appearance to pick up their grab bags.