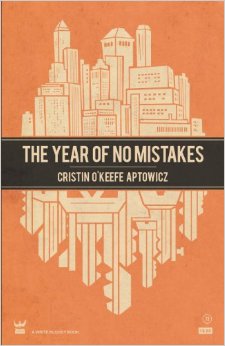 The Year of No Mistakes by Cristin O'Keefe Aptowicz (Write Bloody) $15.00 – Her sixth poetry collection chronicles the author's life as she leaves New York City, her home of fourteen years, and bears witness to the unraveling of Aptowicz's decade-long relationship. Along the way, she explores love, nostalgia, grief, desire, envy and hope in poems that showcase her emblematic funny and heartbreaking style. Stripped down and open, this collection continues Aptowicz's tradition of engaging and autobiographical work with new favorites like "Op Ed for the Sad Sack Review," "Not Doing Something Wrong isn't the Same as Doing Something Right," and "December."
Zines
8 Track Mind #102 Analog Resurgence Sum 13 by Russ Forster $3.00
zines from Carrie: My Aim Is True #9 Scary Stuff $2.00, Happy Fuck You Split Zine $1.00
One Evening by Jenny Lin $6.00
Memento Mori Intermediate States – Sketchbook Zine Project by Gina $2.00
Yung Magazine #1 Hanging Out $5.00
Txt Img Txt Img Coloring Book $5.00
Moire #1 How Likely Is the Chance by Stefan Huber and Sonnenzimmer $10.00
Nature Zine #2 Reconnecting With the Natural World by Ness $3.00
Play Juror by Roo Gatsby $2.00
What's Cookin at the Big Dusty Palace issues #A-#C $2.00 each
Sexy Monster #1 $2.00
Nip Slip $1.00
No More Envy by John Howard $1.00
Three Types of Tension #1 by Mackenzie Wilson and Millisent B. Kennedy $4.00
Seti by Ben K. Voss $10.00
Georgi and the Haunted Minivan #5 My Summer With Smokey $1.50
Cheap Toys #13 $2.00
Basic Paper Airplane #7 by Joshua James $2.00
Long Distance #1 $3.00
Comics & Comix
Ghost Treasure: Chronicles of Fortune Episode Number #9 by Caroline Picard (Green Lantern Press) $4.00
Clutch #25 Invincible Summer #22 by Clutch McBastard and Nicole G. Georges (Tugboat Press) $2.00
Ocular Anecdotes #1 $4.00
2W Box Set Y featuring Charles Burns, Mat Brinkman and more. $17.00
Speak Up David Wojnarowicz – A Role Model For the Unheard by Katari Sporrong $10.00
Miles by Miles Wintner $3.00
Teen Creeps issues #2 & #3 by Charles Forsman (Oily Comics) $1.00 each
Word and Voice #7 by Aaron Cockle (Oily Comics) $1.00
Lou #17 by Melissa Mendes (Oily Comics) $1.00
Rave #1 by Jessica Campbell (Oily Comics) $1.00
Dumpling King #3 by Alex Kim (Oily Comics) $1.00
Michael Fiffe In Conversation With Sean Ford (Oily Comics) $1.00
Real Rap #4 Featuring Duh Studge by Benjamin Urkowitz (Oily Comics) $1.00
Intern by Slongo (Oily Comics) $1.00
Goblins by Sam Gaskin (Oily Comics) $1.00
Tell God to Blow the Wind From the West by Nick Drnaso (Oily Comics) $3.00
Working On the End of the Fucking World (Oily Comics) $5.00
Freaky by Stacey Early and John Howard (Short & Curly Graphics) $1.00
Black and White Nightmare vol 4 by Scott Wygmans $5.00
Magic Forest #1 (Zombre #2.5) by Ansis Purina $4.00
Graphic Novels & Trade Paperbacks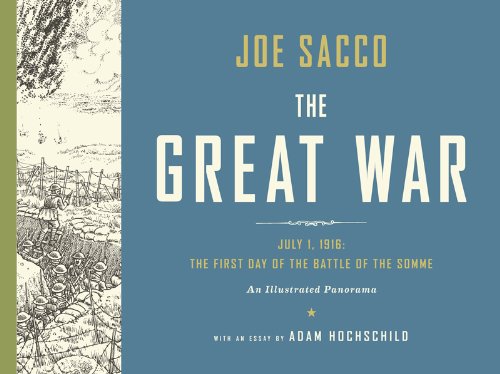 The Great War: July 1, 1916: The First Day of the Battle of the Somme by Joe Sacco and Adam Hochschild $35.00 – From "the heir to R. Crumb and Art Spiegelman" (Economist) comes a monumental, wordless depiction of the most infamous day of World War I. Book is panorama accordian style.
Fight The Power: A Visual History of Protest Amongh the English Speaking Peoples by Michael Wilson et al. (Seven Stories Press) $19.95
Cage by James Martin Vaughn (Coach House) $24.95
The Incredible Cuteness of Being: The Sixth K. Chronicles Compendium by Keith Knight $15.95
Tibonom by Billy Mavreas $15.00
Uzumaki Spiral Into Horror by Junjio Ito $27.99
SF #3 When You Make a Promise in Space You Have to Keep It or You Die by Ryan Cecil Smith (Koyama Press) $10.00
Ballad by Blexbolex (Enchanted Lion) $22.95
Fata Morgana by Jon Vermilyea (Koyama Press) $15.00
Hellboy The Midnight Circus by Mike Mignola et al. $14.99
Impossible Tales Steve Ditko Archives vol 4 (Fantagraphics) $39.95
Erf by Garth Ennis $14.99
The Secret History of Marvel Comics: Jack Kirby and the Moonlighting Artists at Martin Goodmans Empire (Fantagraphics) $39.99
Art Books

The Fairy Tales of Hans Christian Andersen ed. by Noel Daniel (Taschen) $39.99 – beautiful artwork from the 1840s to the 1980s by such artist greats as Kay Nielsen, the beloved Arthur Rackham, the eccentric Tom Seidmann-Freud (niece of Sigmund Freud), and the groundbreaking film animator Lotte Reiniger, as well as exciting, newly discovered talents.
Big Book of Bode Tattoos by Mark and Vaughan Bode (Last Gasp) $29.95
Comic Genius Portraits of Funny People by Matt Hoyle $40.00
Things I Have Learned In My Life So Far (Updated Edition) by Stefan Sagmeister $45.00
Great Showdowns: The Return by Scott C. $14.95
Peoples Art History of the United States by Nicolas Lampert (New Press) $35.00
Fritz Kahn by Uta and Thilo von Debschitz (Tascen) $59.99
Sunday Night Movies by Leanne Shapton (D&Q) $19.95
Biomech Art Surrealism Cyborgs and Alien Universes by Martin de Diego Sadaba (Graffito) $44.95
Low Tech Print by Casper Williamson $29.95
City as Canvas: New York City Graffiti From The Martin Wong Collection (Rizzoli) by Carlo McCormick et al. $45.00
Sticker Bomb XL by SRK $29.95 – Stickerbomb XL is filled with an amazing collection of more than 350 specially-commissioned stickers by artists, illustrators, and graffiti writers from around the world, many of whom have not been featured in a publication before. It will appeal to a young market of designers, street artists, and illustrators, plus street art fans and anyone who collects stickers.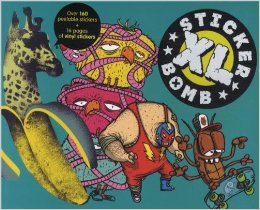 Fiction
Circle by Dave Eggers (McSweeneys/Random House) $27.95
Bleeding Edge by Thomas Pynchon $28.95
We Are What We Pretend to Be: The First and Last Works by Kurt Vonnegut $12.99 – Includes Basic Training and If God Were Alive Today.
Man in the Empty Suit by Sean Ferrell $15.00 – Now in soft cover.
USA Noir: The Best of the Akashic Noir Series ed. by Johnny Temple (Akashic) $16.95
Shattering Glass by Connor Coyne $16.00
Woes of the True Police Man by Roberto Bolano $15.00
Compleat Purge by Trisha Low $15.95
Heart of Darkness Illustrated by Joseph Conrad and Matt Kish (Tin House) $24.95
Mayhem, Miscreants, Memoirs, Music & Misc
See a Little Light: The Trail of Rage and Melody by Bob Mould $16.95 – Now in soft cover.
How Music Works by David Byrne (McSweeneys) $20.00 – Revised and Updated edition.
Dead Mountain: The Untold True Story of the Dyatlov Pass Incident by Donnie Eichar $24.95
Wonderbook: The Illustrated Guide to Creating Imaginative Fiction by Jeff Vandermeer $24.95
Soul Train the Music Dance and Style of a Generation by Questlove $45.00
Japanoise: Music at the Edge of Circulation by David Novak (Duke Univ) $24.95 – Don't miss David Novak here at Quimby's 11/22 to talk about this book about this underground music made through an amalgam of feedback, distortion, and electronic effects, with performances by noise project Roth Mobot and Peter Speer. It will be circuit-bendy-rific.
I'm Your Man: The Life of Leonard Cohen by Slyvie Simmons $16.99 – Now in soft cover.
Late Century Dream: Movements in the US indie music underground ed. by Tom Howells (Black Dog) $29.95
Wisdom of Psychopaths: What Saints Spies and Serial Killers Can Teach Us About Success by Kevin Dutton $16.00
Politics & Revolution
What Will It Take To Make A Woman President? Conversations about Women Leadership and Power by Marianne Schnall (Seal) $17.00
Mayor One Percent: Rahm Emanuel and the Rise of Chicago's Ninety Nine Percent by Kari Lydersen (Haymarket) $16.00
Modern Politics by James CLR (PM PRess/Kerr) $16.95
State Capitalism and World Revolution by James CLR (PM PRess/Kerr) $16.95
Living Spirit of Revolt: The Infrapolitics of Anarchism by Ziga Vodovnik (PM PRess) $18.95
Hearts and Minds:A Peoples History of Counterinsurgency by Hannah Gurman (New Press) $18.95
Peoples History of the US Military: Ordinary Soldiers Reflect on their Experience of War from American Revolution to Afghanistan ed. by Michael A. Bellesiles (New Press) $19.95
Food & Drugs
Candy: A Century of Panic and Pleasure by Samira Kawash $27.00
Viva La Pizza: The Art of the Pizza Box by Sam Wiener $22.95
The Kings County Distillery Guide to Urban Moonshining: How to Make and Drink Whiskey by David Haskell and Colin Spoelman $24.95
Cannabis Indica vol 3 Essential Guide to the Worlds Finest Marijuana Strains by ST Oner (Green Candy Press) $20.00
Sex & Sexy
Undressing the Art of Playing Dress Up: Cosplay Deviants by Troy Doerner (Schiffer) $50.00
In My Bed Magazine vol 4 #2 $9.95
Von Gutenberg #8 $9.95
Spank #18 Homo Art Zine $6.50
Magazines
Image Structure by Sonnenzimmer [Nick Butcher & Nadine Nakanishi] (Club Club) $25.00 – Chicago-based wunderprinters, Sonnenzimmer, let you peek at an art labratory that's equal parts formalist think tank and intuitive surrealist game.
Proximity #11 The Art and Food Issue $11.99
Soiled #4 Windowscrapers $15.00
Cine Qua Non #7 Sum Fall 13 $10.00
Make vol 36 $14.99
Cannabis Now Magazine #8 $7.99
Vintage Magazine #4 Quatrieme Issue $25.00 – With a cover designed by Chip Kidd.
Little White Lies #49 $12.99
Maximumrocknroll #366 Nov 13 $4.00
Ghetto Blaster #36 $3.95
Filter Good Music Guide Oct Nov Dec 13 $2.99
Outburn #71 $4.95
Shindig #35 $12.99
Dissent Fall 13 $10.00
Black Velvet #78 $9.00
Dissent Fall 13 $6.99
Fifth Estate vol 48 #2 Fall 13 $4.00
CCI vol 10 Central City Ink Magazine Special Lmited Edition $4.95
Poetry, Lit Mags, Lit Journals, Chap Books
Trances of the Blast by Mary Ruefle $22.00
Love and Fuck Poems Book (Deluxe Edition) by Koraly Dimitriadis $21.95
Midwestern Gothic #11 $12.00
Ecotone #15 $12.95
Granta #125 Fall 13 After the War $16.99
Kids Stuff
Mouse Guard: Legends of the Guard by David Petersen $19.95
Other Stuff
Garbage Pail Kids Series 3 Card Pack 10 Sticker Cards Brand New Series $2.99