Well here we are in 2008. You know the drill, so here is your weekly dose of new titles that have arrived in our store. And don't forget:
Coming to Quimby's
Friday, January 11th, 6:00 PM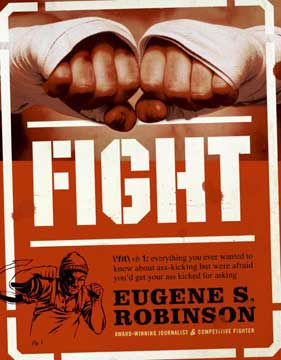 Join Eugene S. Robinson as he reads and discusses his new book FIGHT: Everything You Ever Wanted to Know About Ass-Kicking but Were Afraid You'd Get Your Ass Kicked for Asking
New Stuff Jan 5th
Zines
Roctober #44 $4.00
First Line vol 9 #4 $3.00
Judas Goat Quarterly #36 $1.50
Swindle #14 $8.95 Nice Barry McGee Feature for you heads!
Heeb #15 Win 07 $5.99 with Cheryl Hines on the cover
IDN vol 14 #6 $15.00 Music and Graphics Issue
Wire Dec 07 $10.99
Witches Almanac #27 $10.95 Annual Source of Witchy Knowledge
Hobart #8 $10.00
Z Magazine Jan 08 $4.95
Dwell Feb 08 $5.99
Fader #51 Jan Feb 08 $5.99
Open City #24 $10.00
Vapors #44 $4.95
Tattoo Revue #133 $5.98
Comics & Graphic Novels
Buffy the Vampire Slayer #10 $2.99 Everyone's Secret Addiction!
Pride of Baghdad TPB by Brian K Vaughan $12.99
Hellblazer Original Sins TPB $19.99
Piles of Rocks by Ethan Hayes-Chute $3.00
Big Fucking Deal #3 $3.00
New Books
Concrete Bulletproof Invisible and Fried by Chris Connelly $19.95
Super 7 International Toy Pirates $39.95
Secret King by Stephen Flowers $16.95 Myth and Reality of Nazi Occultism
Style Deficit Disorder $39.95 Harajuku Street Fashion Tokyo
Lacy Crochet Kyuuto Japanese Crafts $14.95
Amigurumi Kyuuto Japanese Crafts $14.95
Futura Art of R Black HC $19.95
I Could Tell You But Then You Would Have To Be Destroyed By Me by Trevor Paglen $22.95 Emblems From The Pentagons Black World

Restocks! WHOA!
Other Peoples Love Letters $22.50
Natural Architecture $35.00
I'm a Lebowski You're a Lebowski $16.95
Lots of general bestsellers from last year restocked, good time to use that gift certificate!