Chromazoid $20.00 -This in full-color underground comics chromatic explosion is a BRAND SPANKING NEW publication. It has comics  ready to vibrate your looking balls by such folks as Ben Bertin, Bill Cleveland, Ian McDuffie, Jeremy Tinder, Lale Westvind, Lisa Cline, Lyra Hill, Nick Jackson and Robert Calzone. It comes complete with a cutting edge CASSETTE MIX TAPE featuring WEIRDOS, musicians and drop outs from AROUND THE COUNTRY. We backed it on Kickstarter and now is your chance to see what we spend our money on. And don't miss the release party for it at The Happy Dog Gallery tomorrow, Sat, Jan 21st at the Happy Dog Gallery (more info below).
The Point Magazine #5 Spr 12: Symposium: What is the Left for? $12.00 – In this Issue: Funny Girls by Jessica Weisberg, On Tiger Moms by Julie Park, Toward A Social Socialism by Erik Olin Wright, Freeing the Market by William Davies, Anti-Politics by Jonathan Leader Maynard, Not Even Past by Brickey LeQuire, Sizing Up Oprah by Timothy Aubry, Coming to Terms by Jon Baskin, An Interview with Bill Ayers by The Editors, Libya and the Left by Michael Berube.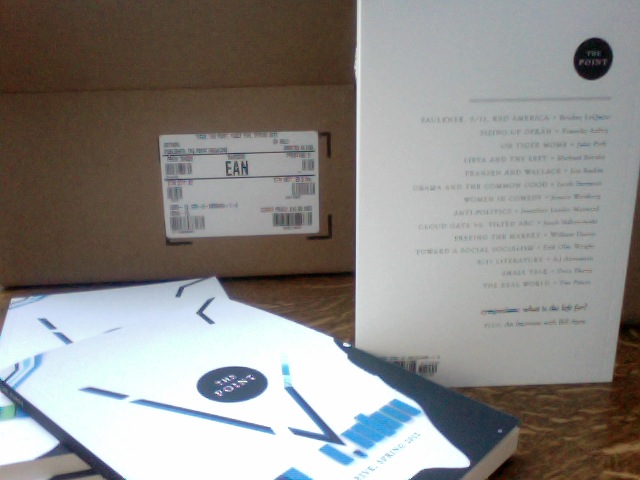 Zines
Notes on Eric by Jon  $3.00 – A heartwarming eulogy for a friend passed. At turns hilarious and then sad and then uplifting. Thumbs up! -LM Wilhelm Scream by Jeremy Behreandt $5.00 Black Carrot #16 by Dave $2.00 Congo: A European Invention by J. Gerlach $4.00 – Part of the Simple History Series Uptown Problems #3 by Nick Clemente $5.00 Wild Glass Look Back #1  by R. Clint Colburn $10.00
Comics & Comix
Monkey in the Basement and Other Delusions by Corrine Mucha $5.00 Second Chances #1 by Eric Rivera $12.00 – A halfway house, some small time crooks, summoning satan. All sort of shenanagans. -LM Underground #1  by Cliodhna $4.00 comics by Neil Devlin $3.00 Issues of Kuti #2-#9 $3-$4 each various mini comix from Aron Nels Steinke, including issues of Big Plans and Super Crazy Cat Dance and Super Duper Dog Park. Ariadne auf Naxos #1 and #2 by Julia Gforer $5.00 each- Have TARDIS will travel. -LM SF Supplimentary File #2A and #2B by Ryan Cecil Smith $4.00 each – Newsprint manga adventures in SPAAAAAAAAAACe. Phase 7 #009 by Alec Longstreth $5.00
Graphic Novels and Trade Paperbacks
Lost and Found Comics 1969-2003 by Bill Griffith (Fantagraphics) $35.00 Lodger by Karl Stevens $19.95 Guilty $9.95 by Karl Stevens $9.95 Captain Swing and the Electrical Pirates of Cindery Island by Warren Ellis and Raulo Caceres (Avatar) $17.99 Silence of Our Friends: The Civil Rights Stuggle Was Never Black and White by Long & Demonakos, art by Nate Powell (First Sec) $16.99
Mayhem, Miscreants, Memoirs & Misc
UFO Strange Space on Earth by Paul Whitehead and George Wingfield $12.00 Graphic Designer A Cautionary Tale by Neil Devlin $7.99 Poised to Pummel: An Unauthorized Illustrated Biography of Bruce Lee by Aaron Block and John Marcoux $12.95 Sugarbabe Controversial: The Real Story of a Woman in Search of a Sugar Daddy by Holly Hill $16.95 Loud in the House of Myself: Memoir of a Strange Girl by Stacy Pershall $14.95 – Now in soft cover. The Existentialist's Guide to Death the Universe and Nothingness by Gary Cox (Continuum) $19.99 Reality Hunger SC A Manifesto by David Shields (Vintage) $15.00 Black Cool: One Thousand Streams of Blackness by Rebecca Walker (Soft Skull) $14.95
Politics & Revolution
Malcolm X: A Life of Reinvention by Marable Manning $18.00 It Started In Wisconsin: Dispatches From the Front Lines Of the New Labor Protest by Mari Jo and Paul Buhle et al. (Verso) $14.95
Music Books
Out of the Vinyl Deeps by Ellen Willis and Nona Willis Aronowitz (U of Minn) $22.95
Childrens
Adventures of Tintin by Herge, Young Readers Editions: Black Island, King Ottokars Sceptre, both editions $8.99 each, and both contain over 20 pages of bonus material each!
Magazines
Juxtapoz #133 Feb 12 $5.99 Bust Feb Mar 12 $5.99 Clutter #16 Like Toys Love Clutter $9.99 Print vol 66 #1 Feb 12 Power Issue $12.95 Capricious #12 $17.00 True Crime Jan 12 $8.99 Harpers Magazine Feb 12 $6.99 Make vol 29 $14.99 Caduceus #82 $8.99 Open Minds Feb Mar 12 $6.50 Cemetery Dance #65 $5.00 High Times Mar 12 $5.99 Skunk vol 7 #5 $5.99 Fangoria #310 $9.99 Horror Hound #33 Jan Feb 12 $6.99 Granta #118 Win 12 Exit Strategies $16.99 Maximumrocknroll #345 Feb 12 $4.00 Black Velvet #70 $7.00 Boston Review Jan Feb 12 $6.95 Razorcake #66 $4.00 Radical Philosophy #171 $13.00 Amass #42 $4.95 Against the Current #156 Jan Feb 12 $5.00 Tattoo Scout #27 $9.60 Tattoo Collection #48 $6.99 Inked Feb 12 $6.99 Tattoo #271 Mar 12 $7.99
Lit Journals, Chap Books & Poetry
Willow Springs #69 $10.00 Barrelhouse #10 $9.00 Pleiades vol 32 #1 $9.00 Conium Review Spr 12 $.10 WomenArts vol 2 #1 Win 12 $10.00 Literary Review vol 55 #1 Fall Win 11 $8.00 Six By Six #25 $5.00
Sex & Sexy
Handbook vol 6 #1 2012 $6.00 Investigating Sex Surrealist Discussions by Jose Pierre (Verso) $19.95 Front #164 $9.99 Von Gutenberg #6 $19.00 Mate Win 12 $9.99
Other Stuff
Good Old Neon Classic Chicago Signs, a 2012 Calendar by Nick Freeman $5.00
…And new to our website: tons of Tape Op and Punk Planet back issues! See quimbys.com/store for which ones.