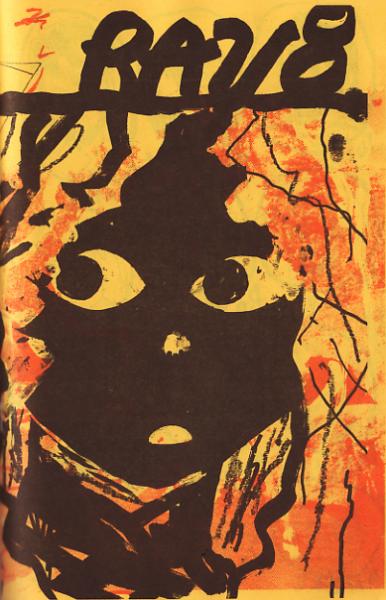 RAV #8 by Mickey Zacchilli $7.00 – Double dog dare you to delve back into the twists and turns of the Meat Cave,- this issue builds up to some serious unleashing of forces-shit gets opened up like an uncapped blender and Smoothie Season's just begun. -EF
Zines
Crossways $5.00
Nothing Learned 2011 by Ryan Dodgson $4.00
Abstract Door #1 by Vicky Lim $2.00
Bums of the Bay by F. Brothers $10.00
a variety of titles from the Trans Oral History Project Zine Distro!
Not Bad #2 $1.00
PopNihil #8 by Matthew Moyer $7.00
Black and Tan #1 All Sandwiches  $2.00
Easy Index of Andy Hood #1 Summer 2013 Edition $3.50
Gold Medal for Two Lumberjack Eyes #1 $1.50
Corner Store #2 $3.00
My Grandpa the Jazz Drummer $2.00
Please Look Don't Hang on the Ropes $3.00
Skeleton News Misc Back Issues $6.00 each
Free Drugs by Ghetto P $10.00
Legends of the Silver Screen #3 You Kids Have Fun Jerry Lewis $3.00
What To Keep What to Give Away #1 $1.00
Birthday Party #1 $2.00
Dig Deep #5 by Heather $1.00
Comics & Comix
Adapt #1 May 13 by Jonny Negron $7.00
Linework #4 Spr 13 Comics and Graphics Anthology $15.00
Daygloayhole #1 by Passmore $6.00
Hungry Bottom Comics #2 2 Fags 2 Furious $5.00
Blob Top Magazine #1 Nov 12 by Seth Scriver $5.00
Flexible Tube With Stink Lines #1 $5.00
Weight of Prayers Son of Satan $10.00
Windowpane #1 by Joe Kessler $10.00
Tank Girl Solid State #1 $3.99
Spirit House #2 $6.00
CPD 70 Ashcan $3.00
Dungeon Family by Matt Furie $6.00
As You Were #1 A Punk Comix Anthology $5.00
Distance Mover #10 by Patrick Kyle $5.00
comics by Ginette Lapalme
Water Phase $6.00
Rena Rouge vol 38 $4.00
Gag by Sam Sharpe $1.50
Elizabeth of Canada #2 by Michael DeForge $1.00
Graphic Novels & Trade Paperbacks
My Dirty Dumb Eyes by Lisa Hanawalt (D&Q) $22.95 – Collects stuff from I Want You The Believer and the Internet.
Strange Tale of Panorama Island by Suehiro Maruo $24.95
Whyoming by Patricia Pelletier $20.00
Occupy Comics #1 by Alan Moore and friends $3.50
Godzilla Half Century War by James Stokoe $19.99
Scott Pilgrim vol 3 Color Edition Scott Pilgrim and the Infinite Sadness by Bryan Lee O'Malley $24.99
Trinity: A Graphic History of the First Atomic Bomb by J. Fetter-Vorm $14.95 – Now in soft cover.
Art & Design
Meeting of Styles vol 1 On the Run #17 by Manuel Gerullis (From here to Fame) $19.95
Arabic Graffiti by Pascal Zoghbi (From Here to Fame) $31.95
Tales of the San Francisco Cacophony Society by Evans et al. (Last Gasp) $39.95
Subject Matter of the Artist Writings 1950-1965 by Robert Goodnough and Helen A. Harrison $12.00
Souvenir Nation: Relics, Keepsakes, and Curios from the Smithsonian's National Museum of American History by William Bird $24.95
Ed Hardy's TattooTime Slipcase Edition $50.00
Fiction
Sinsemilla Bootlegger by Paul Kalman (Council Books) $15.00
Quantity Theory of Insanity by Will Self $15.00
Aurora by Chris Knickerbocker $10.00
Vanishing Act by Mette Jakobsen $14.95
City Water Light and Power by Matt Pine $19.00
Stoner by John Williams and John McGahern $14.95
What Purpose Did I Serve In Your Life by Marie Calloway (Tyrant) $19.95
Mayhem, Miscreants, Memoirs, Music & Misc
Louder Than Hell: The Definitive Oral History of Metal by Weiderhorn and Turman$32.50
The Wrecking Crew: The Inside Story of Rock and Rolls Best Kept Secret $15.99
Hard Art Photography DC 1979 $23.95 – Rollins, MacKaye etc.
American Savage: Insights Slights and Fights on Faith Sex Love and Politics by Dan Savage $26.95
Liberace Extravaganza HC $29.99
Bunch of Amateurs Inside Americas Hidden World of Inventors Tinkerers by J. Hitt $15.95
The Resurrectionist: The Lost Work of Dr. Spencer Black $24.95
Ill Seize the Day Tomorrow by Jonathan Goldstein (Pintail) $16.00
DIY & Drugs
Marijuanamerica One Mans Quest to Understand Americas Dysfunctional Love Affair With Weed by Alfred Ryan Nerz $19.95 – Don't miss Quimby's selling this book for the author at Jerry's Sandwiches on 6/20.
Sex & Sexy
Little Book of series by Taschen, $9.99 editions: Pussy, Legs, Butts
Magazines
Apartamento #11 $19.95
Bust Jun Jul 13 $5.99
Smith Journal #6 $17.99
Murder Most Foul #88 $9.99
True Crime May 13 $8.99
Brownbook #38 $14.99
Dwell Jun 13 $5.99
Congealed #1 by Chris Pottinger, Matt Brinkman and CF $10.00
3×3 vol 7 #3 #21 the Magazine of Contemporary Illustration $22.00
Colors #86 $16.95
I Love Fake #4 2013 $16.00
Man About Town #12 Spr Sum 13 $15.99
Flaunt Jun 13 #127 $10.95
Bad Day #15 $12.00
Dazed and Confused vol 3 #21 May 13 $9.99
Yeti #13 $14.95
Tape Op #95 May Jun 13 $4.95
Razorcake #74 $4.00
Wire May 13 #351 $11.25
SSLM vol 18 May 13 Same Sex Life Magazine $5.00
Poetry, Lit Mags, Lit Journals, Chap Books
Stand vol 11 #2 $12.00
The Believer #89 Jun 13 $8.00
What the Night Demands by Miles Walser (Write Bloody) $15.00
MPT #1 2013 Modern Poetry $15.99
Other Stuff
Tons of 2014 Moleskines in a variety of sizes, colors, layouts and prices!