Violence, erotica and horror were popular even in 19th century Japan, as evidenced by the Ukiyo-E art-form. These mass produced "images from the floating world" include weird sex, bloody carnage and grotesque, demonic ghosts and monsters. Stock up on these art books while they're still in stock and in print. We suggest these titles published by Shinbaku Books: Outlaw Swords of Death: Warrior & Hero Designs 1825-45 By Utagawa Kuniyoshi $39.95 Dream Spectres: Extreme Ukiyo-E: Sex, Blood, Demons, Monsters, Ghosts, Tattoo $39.95 Night Parade of Hell: Creatures Bizarre Demonic Art by Kawanabe Kyosai $34.95
Zines
Cervical Mucus and Your Fertility by Kione $1.50
Impractical Cartography #1 Buffalo NY $15.00
Pride Inside Zine From Queer Folks Incarcerated in Illinois, issues #1 and #2 $6.00 each
I Hate Mondays #3 Chicago $2.00
Cheap and Easy #1 by Hutch Hutchinson $10.00
Two Girls One Brain $1.00
Comics & Comix
Crass Sophisticate #31 The Poo Is True $3.00
various comics by Chris Uphues, various prices
Laudanum Thief vol 1 by Mason Dickerson $5.00
Wolves in Sheeps Clothing vol 1 by Chris Rietman and and April Guinn (Broken Teeth Dreaming) $5.00
Lower East Side Story issues #1-3 by Pete Friedrich $4.75 each
Graphic Novel & Trade Paperbacks
Fashion Beast by Alan Moore, Malcolm McLaren et al. $24.99
Fagin the Jew: A Reinvention of Dickenss Classic Character by Will Eisner (Dark Horse) $19.99
Crossed vol 6 by Garth Ennis et al. $24.99
Roadstrips: A Graphic Journey Across America with Pete Friedrich, Jessica Abel, Peter Kuper, Phoebe Gloeckner, Martin Cendreda, Gilbert Hernandez and more $22.95
Art & Design
Incurable Disorder by Elizabeth McGrath (Last Gasp) $39.95 – For fans of lowbrow art like Mark Ryden, Marion Peck, and Camille Rose Garcia.
First Ten Years of Needles and Pens by Andrew Scott Martin $12.00 – People ask us if there are other stores we would suggest for cool reading material. Why yes! Have you been to Needles and Pens in San Francisco? Well here's an oral and pictoral history that proves they've been around for at least 10 years. P.S. We do also have some links about Quimby's-ish stores on our newly updated links page.
Nice Coffee Time by Liz Clayton (Tiny Person) $14.95 – An art boook dedicated to the nectar of the caffeine gods.
Mayhem, Miscreants, Memoirs, Music & Misc
The Secret Origins of the Crass Symbol by Dave King $12.00
Animals Talking In All Caps: It's Just What It Sounds Like by Justin Valmassoi $15.00 – From the author of Rosario Dawson loves me zine.
Inside Scientology: The Story of Americas Most Secretive Religion by Janet Reitman $15.95 – Hey have you heard the news? Scientologists are crazy! Now in soft cover.
Constantine Affliction: A Pimm & Skye Adventure by Aaron T. Payton (Night Shade) $14.99
American Indian Medicine Dreambook by Brad Steiger $19.95
Midwest Hauntings by Lee Prosser $14.99 – Planning your next road trip? Perhaps we might suggest these sites? We also just got in a Ghost Hunters Tool Kit you can bring with you.
Turn Around, Bright Eyes: The Rituals of Love and Karaoke by Rob Sheffield $25.99 – From the author of Love Is a Mix Tape and Talking to Girls About Duran Duran.
DIY
Bake and Destroy: Good Food For Bad Vegans by Natalie Slater $19.99
Kids Stuff
Anna and Froga: I Dunno What Do You Want To Do by Anouk Ricard (D+Q) $14.95
Squirrel We Call Sneakers by Shawn Rainbolt et al. $5.99
True Adventures of Foamy and Leafy by Pete Friedrich $2.75
Fiction
Scarce Resources: 18 Weird Stories by Brendan Detzner $10.00
Elect H Mouse State Judge by Nelly Reifler $11.00
Terminal Atrocity Zone by J.G. Ballard, ed. by Candice Black (Sun Vision) $15.95
Sex & Sexy
Baby Got Back: Anal Erotica ed. by Rachel Kramer Bussel $15.95
Down and Dirty: 69 Super Sexy Short Shorts ed. by Alison Tyler $15.95
High Octane Heroes: Erotic Romance for Women ed. by Delilah Devlin $15.95
Magazines
Zingmagazine #23 $30.00
Juxtapoz #152 Sep 13 $5.99
Design Bureau Aug 13 $8.00
American Atheist 3rd Quarter 13 $4.95
Neural #45 $8.00
Bizarre #204 Sep 13 $10.50
Skunk vol 9 #2 $5.99
High Times Oct 13 $5.99
Color Skateboards Sum 13 vol 11 #2 $7.99
Pinstriping #39 Kustom Graphics Magazine Aug Sep 13 $10.00
Howler #3 Sum 13 $15.00
Maximumrocknroll #363 Aug 13 $4.00
Monocle Mediterraneo #7 Sum 13 $8.00
ASR #60 Sum 13 Anarcho Syndicalist Review $5.00
Progressive Aug 13 $4.95
AdBusters Sep Oct 13 $12.95
AdBusters Sep Oct 13 $12.95
Poetry, Lit Mags, Lit Journals, Chap Books
N+1 #17 Fall 13 $13.95
Camera Obscura vol 6 Spr 13 $12.95
Greenwoman vol 3 #1 Sum Fall 13 $5.95
Specimen Magazine #6 $6.00
Other Stuff
The Mermaid Tarot Deck by Dame Darcy $40.00 – The mostest beautiful tarot deck ever from the artist of Meatcake. Sea-shantirifc!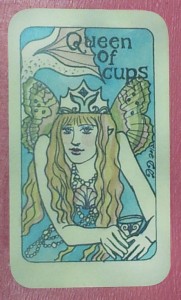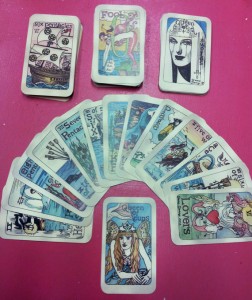 The Believer Box of Bad Advice Game: Mixed-up Advice From Messed Up People $14.95 – Everybody's favorite clever McSweeneyNPRians are here: Eggers, Sedaris – you get the idea.
Crickettes Bacon and Cheese $2.50 – You know how all the former vegetarians say that what called them back to meat was bacon? What about pig-flavored crickets? Also Salt'N'Vinegar flavor available. Eat up!
Blood Red Soap $1.25 – Wanna freak your guests out? This soap looks normal until you use it, then it turns red. Bwahahahaha.
Scorpion Suckers $3.99 – People love the look of bugs in amber. That shit sells. What about making it look like amber but have it be sugar? And edible. Eat your words, people! In a variety of delicious flavors: apple, banana, blueberry and strawberry.