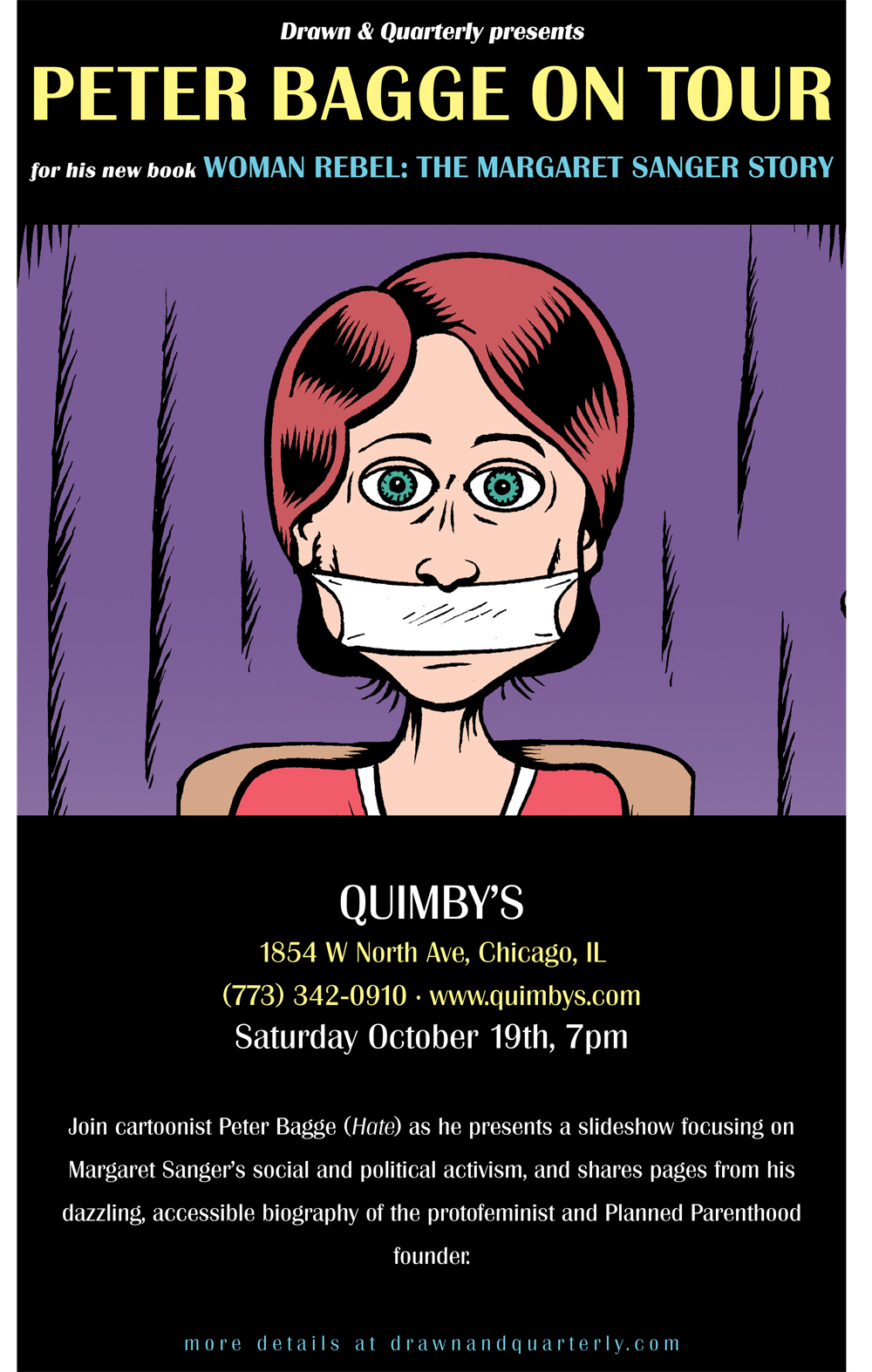 On Saturday, October 19th at 7:00pm, join Quimby's and Drawn & Quarterly for an evening with cartoonist Peter Bagge to celebrate the launch of Woman Rebel: The Margaret Sanger Story, a dazzling, accessible biography of the activist, educator, nurse, mother, and protofeminist who founded Planned Parenthood. Bagge will be presenting a slideshow focusing on Sanger's social and political activism and how Woman Rebel came together, sharing original sample pages from his book.
Woman Rebel: The Margaret Sanger Story presents the life of the outspoken, driven Margaret Sanger from her birth in the late nineteenth century to her death after the invention of the birth control pill. Balancing humor and respect, Bagge makes Sanger whole and human, showing how her flaws fueled her fiery activism just as much as her compassionate nature did. Sanger's legacy is still incredibly relevant, important, and inspiring.
About Peter Bagge:
Peter Bagge was born on December 11th, 1957, and raised in Peekskill, New York, about 40 miles north of New York City. While enrolled in the School of Visual Arts in New York City in 1977, Bagge discovered underground comics, and the work of R. Crumb in particular turned what had initially been only a vague interest in cartooning into a passion.
In the early '80s Bagge co-published three issues of COMICAL FUNNIES (1980-81), a New York-based comic tabloid which saw the debut of Bagge's dysfunctional suburban family, The Bradleys. Bagge broke into R. Crumb's legendary magazine, WEIRDO, and Bagge took over as managing editor of that magazine from 1983 to 1986.
Bagge started his own comic book series, NEAT STUFF, for Fantagraphics Books, producing 15 issues from 1985 to '89. Buddy Bradley, the Bradleys' alienated and pessimistic teenage son, emerged as Neat Stuff's most engaging and fully-realized character. In 1990, NEAT STUFF evolved into a new title, HATE, which exclusively followed the foibles of the semi-autobiographical Buddy Bradley. Hate became the voice of the twenty-nothing slackers as well as being hailed by critics for its brilliant characterization in its complete chronicle of the 1990s. HATE and Buddy Bradley continue to appear in print, albeit less frequently, under the title HATE ANNUAL.
Since 1999, Bagge has worked on many other comic-related projects, including writing an all ages comic book for DC called YEAH! (drawn by Gilbert Hernandez). as well as the short lived humor series SWEATSHOP, also for DC. He also wrote and drew a one-shot satire of Spider-Man for Marvel, and has done the same with Marvel's The Hulk, though the later title has yet to be scheduled for release. Other projects include a 2 year stint writing and drawing a weekly comic strip about Bat Boy for THE WEEKLY WORLD NEWS, and a series of illustrated essays for the now defunct website Suck.com, which led to his becoming a current regular features contributor to the political and social commentary magazine REASON. Also, comic APOCALYPSE NERD was collected into a graphic novel, published Dark Horse.
Bagge's exaggerated and distinctively in-your-face illustration style has also appeared on many record and CD covers, and in magazines as far ranging as HUSTLER, MAD and the OXFORD AMERICAN. He's also had a hand in several animation projects, most notably the online Rock & Roll Dad cartoon series he co-created with Dana Gould for Icebox.com.