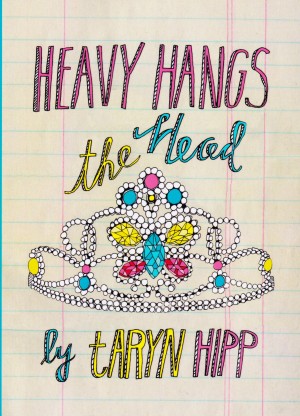 Heavy Hangs the Head by Taryn Hipp $10.00 – The first book from long-running zinester Taryn Hipp (Sub Rosa, Lady Teeth). "This is a memoir novella about a woman with an addiction, a mental illness & a feminist identity. This is the story of one woman's journey from anxiety-ridden child to delinquent teenager to divorced alcoholic & how she turned all those years of experience into a beautiful existence." -Sweet Candy
Zines & Zine-Related
Visitor In Myself #2 by Nichole $1.00
Pieces #8.5 Flip Side a Split Twenty Four Hour Zine Made With My Mother by Nichole and Laura $1.00 – OMG zine freaky friday!
Baroque Genitalia book #51 by Dan Gleason and Jenny Inzerillo $3.00
Slut #2 by Jonas and friends $3.00
Sync Machine Part 1 Disco Revolution by Kamilah Jones $9.99
City of Maps Navigations in Paris France by Delphine Bedient $4.00
Symbols of American Opulence #1 by Glenna Fitch $5.00 and karl Walker $5.00
The American Association of Patriots Presents: How to Talk to Your Cat About Gun Safety $2.00
Parts Of My Body by Molly B. $1.00
Comics & Comix
The Magic Whistle #13 by Sam Henderson $3.99 – Popular Among People Aware of its Existence for twenty years! Cheap! Hilarious!
Cartoon Picayune #5 Sum 13 $4.00
Lou #16 by Melissa Mendes (Oily Comics) $1.00
Teen Creeps #1 by Charles Forsman (Oily Comics) $1.00
Real Rap #3 by Benjamin Urkowitz (Oily Comics) $1.00
Noise #2 by Billy Burket  (Oily Comics) $1.00
Tiger Man #2 by Gabriel Winslow Yost and Michael Rae Grant (Oily Comics) $1.00
Various Comics Rich Tommaso, including Dry County #1 a Lou Rossi Comic $5.00
You Were Swell #1 by Sophie McMahon $5.00 – Elegant drawings with weirdo pop culture. A good companion for fans of Lisa Hanawalt.
Graphic Novels & Trade Paperbacks
Louis Riel, 10th Anniversary Edition: A Comic Strip Biography by Chester Brown (D&Q) $21.95
Everybody Is Stupid Except For Me and Other Astute Observations by Peter Bagge (Fantagraphics) $24.99 – This is the expanded hard cover verion of this title, which encompasses a decades worth of reporting for Reason Magazine.
2 books by Gene Luen Yang: Saints and Boxers (First Second)
RASL – The Color Complete Graphic Novel by Jeff Smith $39.95 – In hard cover.
Art & Design
Surf to Skate vol 1 Evolution to Revolution by Stanton Hartsfield and Jason Chin $29.95
Alec Goss Cold Lightning $24.99
Print Collect by Jennifer Coster et al. $10.00
Taxidermy by Alexis Turner $35.00
Airline: Style at 30,000 Feet by Keith Lovegrove $14.95
Dew Dew Dew Its Photo Book by Hiro Tanaka $20.00 – With an introduction by Nick Zinner of  Yeah Yeah Yeahs.
Freehand Sketching Tips and Tricks Drawn From Art by Helen Birch $18.95
Mayhem, Miscreants, Memoirs, Music & Misc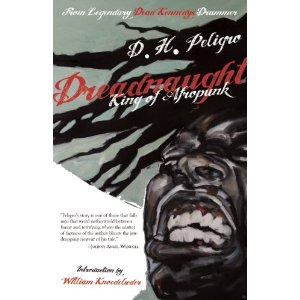 Dreadnaught: King of Afropunk by D.H. Peligro $18.00 – By the legendary Dead Kennnedys drummer (and um, the Red Hot Chili Peppers).
Crab Monsters, Teenage Cavemen and Candy Stripe Nurses: Roger Corman, King of the B Movie by Chris Nashawaty $35.00
Rap Coloring and Activity Book by Shea Serrano and Bun B $12.95
Barracuda In the Attic: A Memoir By The Latest Member Of A Comedic Dynasty (Fantagraphics) $26.99 – Whether shooting pool with the mobster Crazy Joey Gallo, attending a dinner party hosted by an aged but remarkably spry Groucho Marx, or simply playing doctor with a classmate in the former estate of F. Scott Fitzgerald, Kipp Friedman, the youngest son of celebrated writer and satirist Bruce Jay Friedman, led a colorful childhood.
Politics & Revolution
Nuclear War and Environmental Catastrophe by Noam Chomsky and Laray Polk (Seven Stories) $13.95
Excluded: Making Feminist and Queer Movements More Inclusive by Julia Serano $17.00
High Rise Stories: Voices From Chicago Public Housing by Audrey Petty (McSweeneys) $16.00 – From the Voice of Witness Series. Don't miss Audrey Petty, editor of High Rise Stories, at the Hull-House 9/24, in conversation with WBEZ's Natalie Moore. Join us! https://www.quimbys.com/blog/store-events/high-rise-stories/
Diary of a Combatant by Che Guevara (Ocean) $23.95
DIY
The Vegan Stoner Cookbook: 100 Easy Vegan Recipes to Munch by Sarah Conrique and Graham I Haynes $16.99
Fiction
Dissident Gardens by Jonathan Lethem $27.95
Telegraph Avenue by Michael Chabon $16.99 – Now in soft cover.
Mira Corpora by Jeff Jackson (Two Dollar Radio) $16.00
You Are Make Very Important Bathtime by David Moscovich $12.00
Kids Stuff
The Exorcism of Mr. Squiggles: The Adventures of Sexy Sam Captain Calamari and Mr Squiggles by Matthew Gindling $15.00
Crazy Creatures and Cute Characters Coloring Book by Melissa Rohr $10.00
Hank Finds an Egg by Rebecca Dudley $16.99
Magazines
Shots #121 Fall 13 by Russell Joslin $6.95
Ancestry Quarterly #1 $18.95
Modern Farmer #2 Fall 13 $7.99
Tattoo Collection #58 $7.75
Poetry, Lit Mags, Lit Journals, Chap Books
Booth, A Journal, issues #2-#5 $8.00 each
The First Line vol 15 #3 Fall 13 $3.00
The Iowa Review vol 43 #2 Fall 13 $9.95
23 Skidoo: 23 Form Fitting Poems by Eckhard Gerdes $12.00
Dark Dreambox of Another Kind: The Poems of Alfred Starr Hamilton (The Song Cave) $18.95
Want to see what's new to order in our web store? See quimbys.com/store.