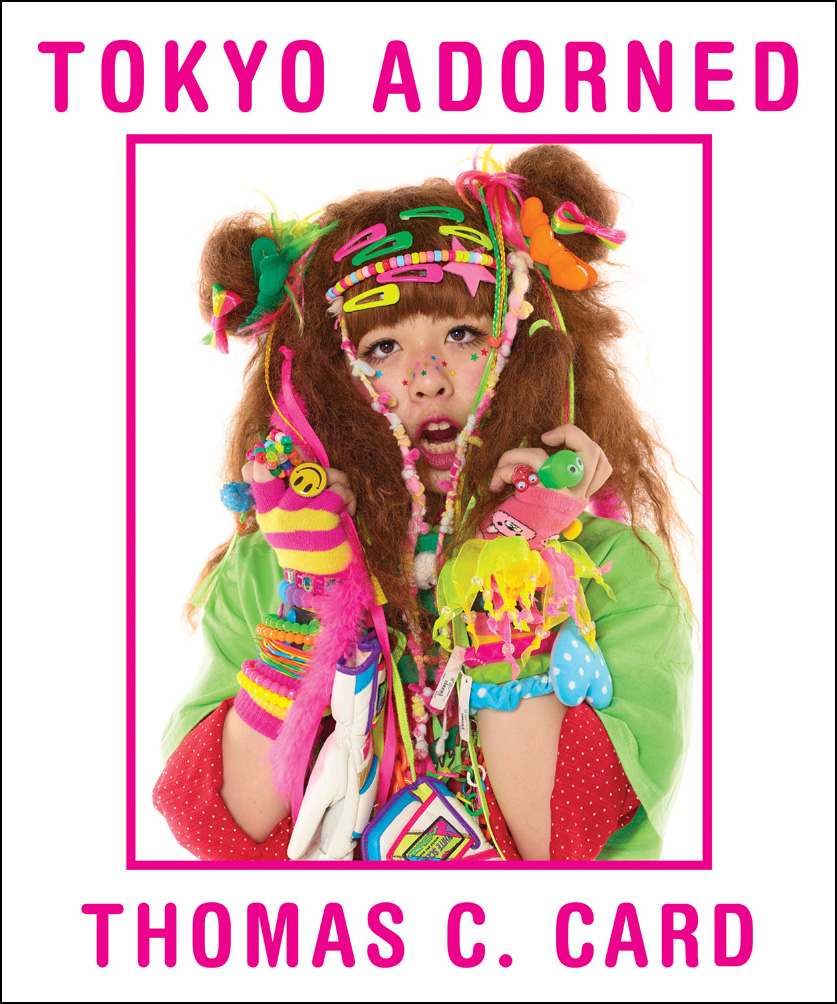 Tokyo Adorned by Thomas C. Card (Booth Clibborn) $40.00 – The neon, pastels, bows, and vibrant prints of Tokyo's fashion tribes are unmistakable, outrageous, and fun. Recognized around the world, with huge online followings, the city's style icons are photographed here against white backgrounds, revealing a new dimen­sion of personality and emotion in these remarkable individuals.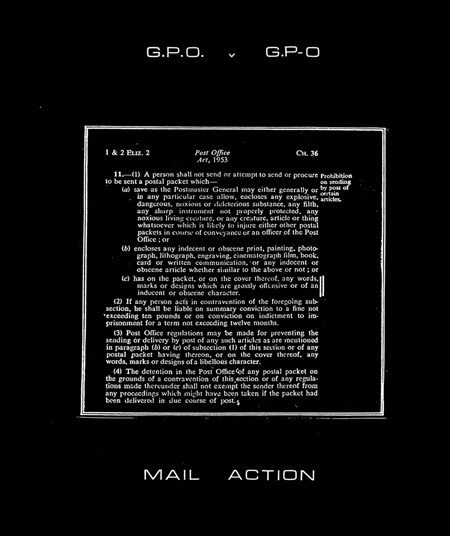 G.P.O. versus G.P-O: A Chronicle of Mail Art on Trial gathers a collection of materials from the archives of Genesis P-Orridge relating to the legal battle regarding Great Britain's General Post Office's 1975 case against P-Orridge for disseminating pornographic postcards through the mail. These postcards collaged imagery from hardcore pornographic magazines onto pictures of Queen Elizabeth II. When the Post Office launched their case, P-Orridge seized the opportunity to turn the case into another performance, disseminating further mail art (including invitations to the trial) and recruiting the support of the international mail-art community. The case was ultimately dismissed. A reprint of Ecart Publications' 1976 edition, G.P.O. versus G.P-O collects ephemera, legal documents, correspondence and articles about the case and P-Orridge's mail art practice with Cosi Fanni Tutti as COUM Transmissions.
Zines
It was Chicago Zine Fest last week! So that means all sorts of new stuff. And this is but a sample! You really do have to come into the store to see it all — it's really quite amazing! Thanks to everybody that came out!
Lil Buddies Magazine #2 by Edie Fake $4.00 – This issue! Teeth!
Butch Nor Femme #9 Stuff I Love by Lynne $1.50
Just Make Pictures Zine #3 Parade Photographs by Michael Jarecki $4.00
Proof I Exist #17 Mar 14 by Billy $2.00
No Better Than Apples #9 by Late Larson $3.00
Yeahntiques by Benjamin Boyd Austin
I Have Faith In the Human Race by Jess Garten $5.00
Local Tongue #1 Deplacement $8.33
Incandescent, A Color Film Zine, issues #4 and #5 $14.00 each
Eighteen Corners by Alexander Stewart $5.00 – Risograph Printed Drawings Edition of 100.
Base Spirits Round 2 $5.00
Show Me The Money #39 $2.50
Let Down #2 by Blake Karlson $3.00
Time To Shine $2.00
Smells Fingers vol 1 #3 Thanks Smells Fingers by Alicia Rose $2.00
Meat #12 $20.00
Yeahntiques by Benjamin Boyd Austin $.75
Secret Bully #2 by Cynthia Anne Schemmer $4.00
Reverse Cougar Years #5 by Maxx $1.00
Let It Sink #7 $2.00
Motor City Kitty zines by Bri: #19 $2.00, #22 $1.00
Peace Is Not Real But The Fight Is by Sayuri Gomez $1.00
Enchanted Waters  $3.00
Operations Manual vol 11 $3.00
It Has Been a Long Time Since I Felt This Way $1.00
I'm Totally In Love With You $1.00
Deuces: A Short Collection of Comics From 2013 In Diary Form by Alisa Rae $3.00
Pansy #8 and #9 by Laura A. Garland $3.00 each
Cranky Vegan 19 Recipes From the Bottom of My Black Little Heart $3.00
Fear and Self Defeating Prophecies by Patience Young $6.00
Cabin Time Green River $15.00
Dirty Snow by Megan Major $10.00
Drawings About Black Holes by Pat Perry $20.00
Abstract Door #3 $3.00
Middle Finger Book by Robert Norman & Tracis Watkins $4.00
Notes to Girls 9 Letters That Were Not to You $5.00
Alex Wrekk zines: Brainscan #24 ($1.00), Brainscan #25 ($4.00) and Brainscan #31 ($2.00), Coachella Zine Works 2012 A Brainscan Adventure Zine Nos 1, 2 Jul 12
Travelscan Brainscan 24 Hour Zine $2.00
Place To Rest My Head by Melissa Kagerer $7.00
Static Zine #9 Mar 14, Torontos DIY Magazine Mental Health Issue by Jessica Lewis $2.00
Sprouted Ink Zine #3 Transitions and Recovery by Sprout $2.50
Under Current #2 Zine About Kansas City $3.50
Haletant #2 by Daisy Noemi $5.00
Hate Zine – Life is Fucked Up $1.00
Stink Eye vs Operations Manual, Split by Jess and Marc $3.00
Everydaypants #3 by Ramsey Beyer $3.00
Hand That Rocks the Cradle #1 A Zine About Nannying Made By Nannies $3.00
Hoax #9 Feminisms and Vulnerabilities $3.00
Youve Got a Friend In Pennsylvania #8 Memory Loss Queerifying Growth and Teen Advice and #9 Two Years of Sobrietyby Sari $2.50 each
All I Want Is Everything #5 by Caitlin $2.00
Chicago Haunts #1 by Jillian Barthold $1.00
Black Metal of the Americas #6 by Ed and Patrick $5.00
Racial Activity Coloring Book by Ben Blount $4.00
Kawai's Guide to Falling In Love With Innappropriate Persons by Kawai Shen $5.00
Zine Crush #3 $2.00
What Happened by Little Lie $4.00
Sonnet Reducer #1 Punk Sonnets by RBJ $1.00
Food Zine by Lauren Jordan $10.00
Visitor In Myself #3 Win 2014 by Nichole Baiel $1.00
I'm Sorry I Have Nothing Special to Draw #2 LA Zine Fest Feb 14 by Eryca $1.00
Swan The Vulture #5 by Anna Vo $3.34
Fix My Head #3 Rad Punx of Colour $6.67
Frontier #3 Youth In Decline by Sascha Hommer $8.00
Comics & Comix
Baby Birch by Grant Reynolds $3.00
Stew Brew #4 17 Good Names for Weiner Dogs by Kelly Froh $2.00
Clear Water by Alex Nall $7.00
Dust Garbage by R. Burns $2.00
Party That You Missed by Ana Cristina Valles $6.00
Elsewhere Red Blue by Nicolas Menard $15.00
Someone Please Have Sex With Me BY Gina Wynbrandt $5.00
Parcel Ghost Cant Sign For That $3.00
Mors Ultima Ratio #1 by Lane  Milburn $3.00
Blindspot #3 by Jospeh Remnant $5.00
Ascendant #1 and #2 by Mark C. Frankel and Christopher Hanchey $3.99 each
To Do by Erik Schneider $2.00
Camp Comics Sum 13 by M. Davis $3.00
Unarmed by MJ Robinson $2.00
Miss Sequential #6 Winter Thoughts by Marissa $2.00
Surgical Amphitheater #1 by Matthew Chandelier $5.00
Invert #1 Comics By Queers $5.00
Gimme Pizza #3 $3.00
Eyesore vol 4 $2.50
You're Under Arrest by Amos Leager $3.00
Graphic Novels & Trade Paperbacks
Tell It Like It Tiz by Nicole J. Georges and Marc Parker $12.00 – Illustrated tales of older folks. Think Duplex Planet Illustrated.
Saga TPB vol 3 by Brian K. Vaughan and Fiona Staples $14.99
Nemo: Roses of Berlin by Alan Moore and Kevin O'Neill (Top Shelf) $14.95 – From the League of Extraordinary Gentlemen series.
Death TPB by Neil Gaiman (Vertigo) $19.99 – Collected stories of Death from Gaiman's Sandman series. Includes Death High Cost of Living and Time of Your Life selections from Endless Nights.
Hellboy the First 20 Years  by Mike Mignola (Dark Horse) $19.99 – Covers, art and more!
Kids Are Weird and Other Observations from Parenthood by Jeffrey Brown $14.95
Snowbird Book 1 by Erin K. Wilson $15.00
Breath of Bones: A Tale of the Golem by Steve Niles et al. (Dark Horse) $14.99
Crossed vol 8 Badlands $19.99
All Star by Jesse Lonergan (NBM) $13.99
Cannon by Wallace Wood (Fantagraphics) $35.00 – CANNON by the legendary Wallace Wood (Mad, EC Comics, Daredevil) appeared every week for two and a half years in Overseas Weekly, a newspaper distributed exclusively to U.S. Military bases around the world. Uncensored by commercial editorial restrictions, brutal violence and titillating sex all in an effort to boost morale and support our troops!
Adventure Time: A Totally Math Poster Collection, Featuring 20 Removable Framable Prints $19.95
Art & Design
Art & Design
Sneakers the Complete Limited Editions Guide by UDox $29.95
Learning by Doing at the Farm: Craft, Science, and Counterculture in Modern California, ed. by Robert J. Kett and Anna Kryczka (Soberscove) $20.00
Adventures in Letterpress by Brandon Mise $24.95
You Are Beautiful: A Decade by Matthew Hoffman $40.00
Don 1 The King From Queens Life and Photos of a NYC Transit Graffiti Master by Louie KRONE Gasparro (Schiffer) $29.99
Soviets: Drawings by Danzig Baldaev. Photographs by Sergei Vasiliev. (Fuel) $32.95 – The same publisher and editor that brought you Russian Criminal Tattoo Encyclopaedia series and Drawings from the Gulag.
Fiction
Bellies and Buffalos by Tomas Moniz (Rad Dad/Black Hill Press) $10.00
All-American Horror of the 21st Century: The First Decade 2000-2010, ed. by Mort Castle (Wicker Park Press) $19.95 – A compilation of the best short horror fiction published by magazines, anthologies, and websites between 2000 and 2010.
Most Beautiful Rot by Ocean Capewell $12.95
Humor
F This Test: Even More of the Very Best Totally Wrong Test Answers by Richard Benson $9.95
X Vs Y: A Culture War, A Love Story by Eve Epstein & Leonora Epstein $18.95
Hyperbole and a Half: Unfortunate Situations, Flawed Coping Mechanisms, Mayhem, and Other Things That Happened by Allie Brosh $17.99 – Now in soft cover.
Druuuuuuuuuugs
Marijuana Nation: One Man's Chronicle of America Getting High, From Vietnam to Legislation bby Roger Roffman (Pegasus) $27.95
Outer Limits
Conspiracy Theories and Other Dangerous Ideas by Cass R. Sunstein $26.00
Chicago History: The Stranger Side by Raymond Johnson $16.99
Forgotten Promise: Rejoining Our Cosmic Family: A Story of a Life Long Interaction With Beings From Another World by Sherry Wilde (Weiser)$16.00
The Girl With No Name: The Incredible Story of a Child Raised by Monkeys by Lynne Barrett-Lee, Marina Chapman and Vanessa James (Pegasus) $15.95
DIY
The Home Brewer's Guide to Vintage Beer: Rediscovered Recipes for Classic Brews Dating from 1800 to 1965 by Ronald Pattinson (Quarry) $24.99
Citizen Farmers: The Biodynamic Way to Grow Healthy Food, Build Thriving Communities, and Give Back to the Earth by Daron Joffe and Rinne Allen $24.95
BiblioCraft: The Modern Crafter's Guide to Using Library Resources to Jumpstart Creative Projects by Jessica Pigza $27.50
Politics & Revolution
Justice Justicia vol 1 and the Chicago Hate Message Murder Epidemic for Affordable Power and Justice by Curly Cohen $20.00
Shadow Warfare: The History of America's Undeclared Wars by Lary Hancock (Counterpoint) $30.00
Black Panthers Speak ed. by Philip S. Foner (Haymarket) $19.00
Music Books
Scene In Between: Tripping Through Fashions of UK Indie Music 1980-1988 by Sam Knee (Cicada) $24.95
Love Rock Revolution: K Records and the Rise of Independent Music by Mark Baumgarten (Sasquatch) $17.95
A Man Called Destruction: The Life and Music of Alex Chilton, From Box Tops to Big Star to Backdoor Man by Holly George-Warren (Viking) $27.95
Rock She Wrote: Women Write about Rock, Pop, and Rap by Evelyn McDonnell and Ann Powers (Plexus) $19.95
Magazines
Bitch #62 $5.95
Headmaster #6 $20.00
Ancestry Quarterly #2 $19.85
Apology #3 Win 14 $18.00
Bust Apr May 14 $5.99
Invitation Annual #1.0 Win 14 $20.00
Shots #123 Spr 14 $6.95
Capricious #15 $20.00
Open Minds Apr May 14 14 $6.50
Make vol 38 $9.99
VMan #31 Spr Sum 14 $6.95
Flaunt #133 $15.95
iD Magazine Pre-Spr 14 #329 $12.99
Hunter Fashion Magazine #24 $24.99
AnOther Magazine #26 Spr Sum 14 $14.99
Cannabis Now Magazine #9 $7.99
Fuel #15 Magazine $16.99
Laphams Quarterly vol 7 #2 Spr 14 $16.00
Taproot #9 $9.00
Paper Apr 14 vol 30 #6 $4.00
Frank151 #55 Chicago $10.00
Cinema Retro vol 10 #28 $11.99
Horror Hound #46 Mar Apr 14 $6.99
Fangoria #331 $10.99
Maximumrocknroll #369 Feb 14 $4.99
Shindig #37 $12.99
Mojo #244 Mar 14 $9.99
Tape Op #100 Mar Apr 14 $4.95
Razorcake #79 $4.00
Wire Mar 14 #361 $11.25
Hip Mama #54 $5.95
International Socialist Review #92 Spr 14 $10.00
Radical Philosophy #183 Jan Feb 14 $13.00
Radical Philosophy #184 Mar Apr 14 $13.00
Monocle vol 8 #71 Mar 14 $12.00
Harpers Magazine Apr 14 $6.99
Jacques #8 $15.00
All American Guys #5 $9.99
RFD #157 Spr 14 $9.95
Freshly Inked vol 4 #2 May 14 $6.99
Lit Journals & Chap Books
The Believer #106 Mar Apr 14 $12.00 – The 2014 Film Issue, comes with a DVD.
Granta #126 Win 14 Do You Remember $16.99
The First Line vol 16 #1 Spr 14 $3.00
Hobart #15 $11.95
NA Literary Magazine vols 1 #3 and #6 $4.00 each
Accidental Falls by Christina Murphy and Francisco Orazzini $2.00
Torn by Sahar Mustafah  and Mark Park $2.00
Sense of Humor by Cynthia Scott and Timothy Tang $2.00
Girl Who Wished a Folk Tale  by Eric Charles May and Geoffrey Grisso $2.00
Kids Books
100 Bears by Magali Bardos (Nobrow/Flying Eye) $19.95
May the Stars Drip Down by Jeremy Chatelain and Nickki McClure $17.95
Bodie Troll by Jay Fosgitt (Red 5) $9.95
Benny and Penny in the Big No No by Geoffrey Hayes (ToonBooks) $4.99
Food Face by Carrie Solomon (Soberscove) $10.00
Animals Dreaming by Jessie Mott $10.00
Other Stuff
Copy and Destroy vinyl 10″ by The Copy Scams $10.00 – The band equivalent to a 24 hour zine, 7 pop-punk songs about zines by folks who make and love zines, including Alex "Stolen Sharpie Revolution/Brainscan."