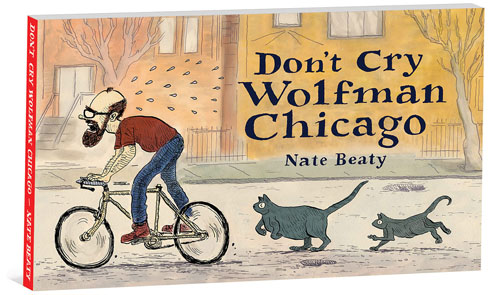 Don't Cry Wolfman Chicago by Nate Beaty $10.00 – Collects four Wolfman Chicago minicomics.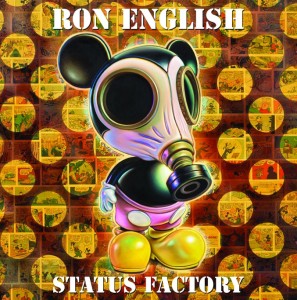 Status Factory: The Art of Ron English (Last Gasp) $39.95 – In his paintings, English perverts and subverts the establishment, poking fun at religion, consumerism, and blind obedience to popular culture. Among reinterpretations of familiar characters like Ronald McDonald and Mickey Mouse, you'll find three-eyed rabbits, udderly delicious cowgirls, grinning skulls, and many more. In addition to over 180 images from his paintings, Status Factory includes over 100 photographs of English's street art installations, subverted billboards, and other public art.
Zines
A Very Brief History of Buttons #1 by The Busy Beaver Company $15.00 – The 24-page zine speaks to button enthusiasts, history buffs and anybody with an interest in how people express themselves. Written by Busy Beaver founder, Christen Carter, and Production Manager, Joel Carter, the zine is an illustrated tour through the campaigns, fads and trends that characterized the 20th century as expressed through pinback buttons.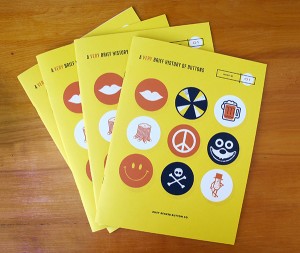 The Lowbrow Reader #9 $4.00
Variations by Phil Woolam $15.00
Strange Worship by Steven Vainberg $15.00
Therefore I Believe That I Want You Immensely $3.00
Grilled Sourdough Skin #2 by Gregory Jacobsen $20.00
Victory Journal #7 Spr 14 the Main Event $16.00
Coffee and Cigarettes $5.00
Public Phenomena – Trees Zine by Temporary Services $6.00
SSLM Same Sex Life Magazine vols 32 Jan 14 & 33 Mar 14 $5.00 each
Bitches Rule Cycle 3 by Darin Klein $10.00
Holy Krampus: A Visual Data Mine For Geological and Pre Christian Folklore by Katie Mulholland $4.80 – From a Tumblr about Germanic Alpine Folklore, Geological Studies, & Contemporary Shamanistic Practices, cataloguing online visual source material.
Just Make Pictures Zine #4 Portraits  by Michael Jarecki $5.00
Comics & Comix
holy moly so much new stuff because of CAKE! and this is just a small sampling. thanks everybody!!! -Liz
Nightmares and Pretty Things Vol. #1 Drawings by Marc Blackout $10.00
Blast Furnace Funnies  by Frank Santoro (Picturebox) $10.00
Puppy Teeth #4 $12.00 – With Kevin Czapiewski, Liz Suburbia and more!
Hungry Bottom Comics #3 by Eric Kostiuk Williams $5.00
Midwestrn Cuban Comics #8 by Odin Cabal $5.00
Me Nut Nut Nut #1 and #2 by Jason Murphy (Space Face Books) $6.00 each
Occupation by Andrice Arp $5.00
By Patrick Kyle: New Comics #3 ($8.00), Mendel ($5.00), 11 Charcoal and Oil Paint Stick Drawings ($5.00)
Gatherer: A Pocket Foraging Handbook by Isabella Rotman $3.00
Moirai Sea by Christopher Green $7.00
Greater Good by Josh Bayer $4.00
Sad Story #1 by ELC $2.00
Past Two Years by Fiona Avocado $5.00
Sorry Kid by Katrina $3.00
Cyanide Milkshake #5 by Liz Suburbia $2.00
Hair Rock by Sean ABT Christensen $3.00
Fluffy #1 by Kelsey Choo $7.00
Traducciones by Ines Estrada $13.50
Hai Tea Tea Ku Split Minicomic $3.00
Stab Rag by Otto Splotch $8.00
Dont Try To Save Me #2 The Bath by Grant Reynolds $3.00
Jerrys Journal vol 3 by Neil Jam $5.00
Cat Fight by Sally Cantrino $2.00
Shopping by Amy Peltz $7.00
Sssticksss by Ian McDuffie $6.00
S Baltic Comics Magazine, issues #16 and #17 $12.00 each
Mini Kus #19 Inverso by Berliac $5.00
Mini Kus #20 Crater Lake by Jan d Wet $5.00
Mini Kus #21 Jungle Night by Renata Gasiorowska $5.00
Let Go by Marta Chudolinska $4.00
Real Work by Chrsther Green $4.00
minis by Brett Manning: Cats Can't Eat Cheese, Plush #2 Lil Possessions, Facey Issue #1, Thrive, Midnight Muse $5.00 each
No Funnies #10 Music and Comics, Burger Records Fan Comix by Jason Walter $3.00
It's So Empty by Matheew Devendorf $3.00
Stuff from Pegacorn Press: Time Is Now Calendar Illustrations 2010-2014 by Caroline Paquita $8.00 & Late Era Clash #26 by Mike Taylor $6.00
Graphic Novels & Trade Paperbacks
Super Boys: The Amazing Adventures of Jerry Siegel and Joe Shuster, The Creators of Superman by Brad Ricca $17.99
Showa 1939-1944 A History of Japan by Shigeru Mizuki (D&Q) $24.95
Walking Dead Fall of the Governor Part One by Robert Kirkjman and friends $14.99 – Now in soft cover.
Detrimental Information by John Holden and friends $19.95
Kovra #4 Cuatro $17.00
The System by Peter Kuper (PM Press) $19.95
World War Three Illustrated 1979-2014 by Peter Kuper, Seth Tobocman & Bill Ayers (PM Press) $29.95
Worse Things Happen at Sea by Kellie Strom (Nobrow) $16.00 – Intricately illustrated concertina book (that's accordian-book to you and me) of fantastical seascape boils with monstrous sea beasts and sailors in peril. Inspired by tales of mythical creatures attacking ancient mariners.
Art & Design
Happily Ever After: The Artwork of Jeremy Fish (Gingko) $29.95
For Forever I'll Be Here: The Art of Marci Washington, Selected Works (Gingko) $29.95
Fiction
The Girl Who Was Saturday Night by Heather O'Neill $26.00
Dissident Gardens by Jonathan Lethem $15.95 – Now in soft cover.
If I Would Leave Myself Behind by Lauren Becker (Curbside Splendor) $14.95
Pissing in a River by Lorrie Sprecher (Feminist Press) $16.95
Xironth vol 1 Awakening by Marc Chima $7.00
In a Corner Darkly vol 2 More Reasons to Keep the Lights on by Sue Rovens $12.00
Music & Movies
Heavy Metal Movies: Guitar Barbarians, Mutant Bimbos & Cult Zombies Amok in the 666 Most Ear and Eye Ripping Big Scream Films Ever by Mike McPadden (Bazillion Points) $34.95 – Don't miss author Mike "McBeardo" McPadden celebrate the release of this book with other Chicago-based metal miscreants on Sat the 14th at 7pm!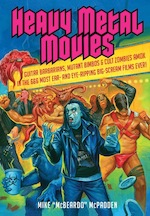 Mayhem & Outer Limits
Carsick: John Waters Hitchhikes Across America by John Waters $26.00
Weird Scenes: Inside the Canyon Laurel Canyon Covert Ops and the Dark Heart of Hippie Dream by David McGowan (Headpress) $24.95
Curious Man: The Strange and Brilliant Life of Robert "Believe It Or Not" Ripley by Neal Thompson $15.00
One Thousand and One Nights: A Retelling byHanan Al-Shaykh $15.95
Wicked Bugs: The Louse That Conquered Napoleon's Army & Other Diabolical Insects
by Amy Stewart (Algonquin) $18.95
Physics For Rock Stars: Making the Laws of the Universe Work For You by Christine McKinley (Perigree) $16.00
Politics & Revolution
New Brazil Regional Imperialism and the New Democracy by Zibechi & Ryan (AK) $19.95
Friday Was The Bomb Five Years in the Middle East by Nathan Deuel (Dzanc) $14.95
Magazines
Current vol 2 #2 Ordo Templi Orientis $5.00
Cemetery Dance #71 $9.95
Juxtapoz #162 Jul 14 $5.99
Neural #47 $8.00
Shots #124 Sum 14 $6.95
Look Lateral #1 Fall 13 $16.00
Apartamento #13 $19.95
High Times Aug 14 $5.99
Modern Farmer #5 Sum 14 $7.99
Shock Cinema #46 $5.00
Nostalgia Digest Sum 14 $4.50
Mojo #248 Jul 14 $9.99
Ugly Things #37 $9.95
Shindig #39 $12.99
Big Takeover #74 $5.99
Hip Mama #55 $5.95
Bitch #63 $5.95
Monocle vol 8 #74 Jun 14 $12.00
In These Times Jun 14 $3.50
Tattoo Collection #62 $7.75
Tattoo Oriental Special #11 Animals $9.99
Lit Journals & Chap Books
The Believer #108 Jun 14 $8.00
Camera Obscura vol 7 $12.00
Cliff Diver by Catherine A. Cohen $7.50