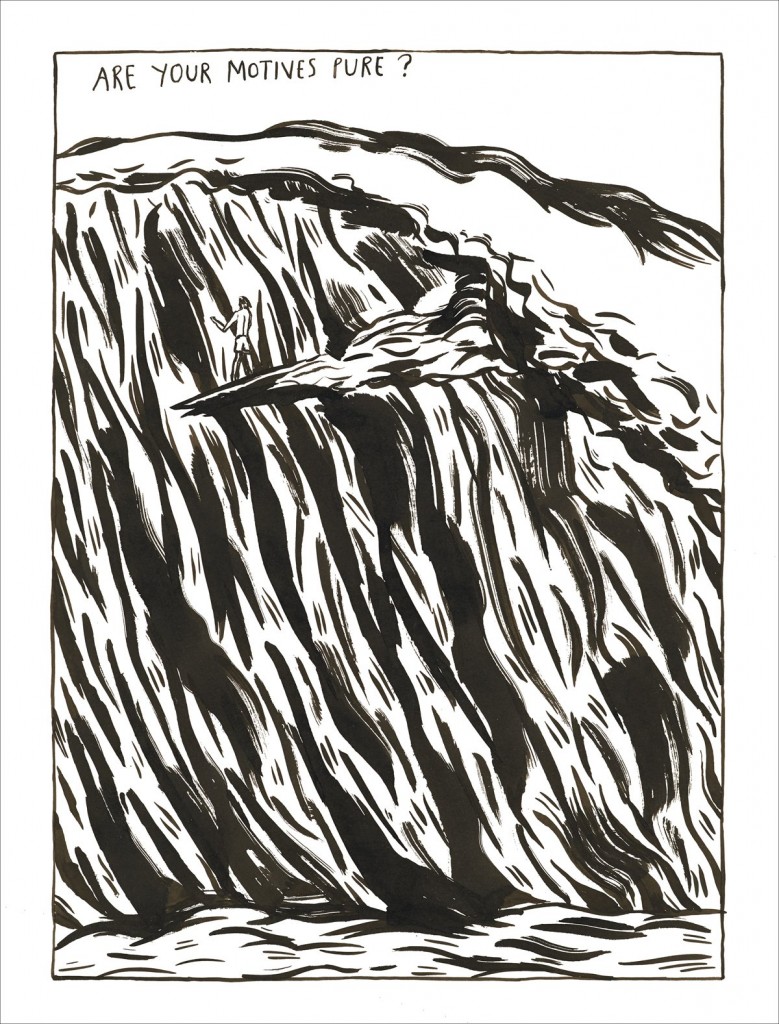 Raymond Pettibon: Surfers 1985-2014: Are Your Motives Pure? by Carlo McCormick $30.00 – Almost all of the works included in this volume depict a swelling ocean, accompanied by nonsequiturs, quotations and bits of poetry in the Pettibon's handwriting.
Zines
Girl Glue #2 by Mel Stringer $10.00 – Full colour cover, 32 pages, 26 wonderful female artists and dripping with inspiration. This issue features Wishcandy and Hellen Jo on the front and back cover as well as gorgeous works by Team Kitten, Kirbee Lawler, Gemma Correll, Cat Rabbit and many more!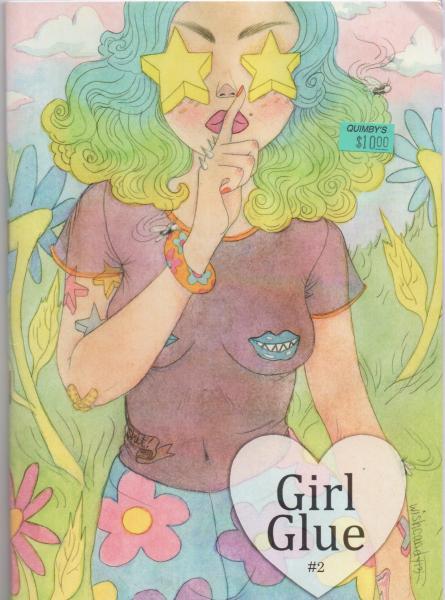 Crooked Girl #2 by Rosie Accola $3.00 – Women in punk edition.
Things I Wrote While Drinking #1 Art Writing and Weirdness by Joe Wallace $5.00
Bamboo Scaffolding and Supports #1 by Anneli Henriksson & Elizabeth Ravn $5.00 – Photo zine
Impulse Control Disorder #1 by Juliet Eldred $3.00
Comics & Comix
Birthed From the Mouth by Krystal Difronzo $6.00 – Poetic mini-comic about vessels and streams. Risograph printed in blue and pink. Hand bound with blue and pink thread. (See picture below!)

Half Asleep vol 3 by Beth Hetland and Kyle O'Connell $8.00
Blood Root issues #1-#3 by Shing Yin Khor & friends (Sawdust Press) $8.00 each
In Your Wake by Tara Abbamondi (Sawdust Press) $8.00
Laskimooses #21 Herra Matti Hagelbergin by Sankarten Suomaa $7.00
Laskimooses #22 Herra Matti Hagelbergin by Enteisina Aikoina $7.00
My Petty Eyes and Boom by R. Burns $3.00
Tails of the Cat #1 by Thomas Cody Roberts $1.00
Victus #3 by Tyrell Cannon $8.00
Hero Indeed Gankaritekoja by Billie Ranta $12.00
Mowglin Peili by Oliver Schrauwen $15.00
Graphic Novels & Trade Paperbacks
Gris Grimly's Frankenstein by Mary Shelley and Gris Grimly $16.99
Scalped book 1 Deluxe Edition by Jason Aaron and RM Guera $29.99
Art & Design
Cinderella, Or the Little Glass Slipper by Charles Perrault, with illustrations by Camille Rose Garcia $16.99 (See below.)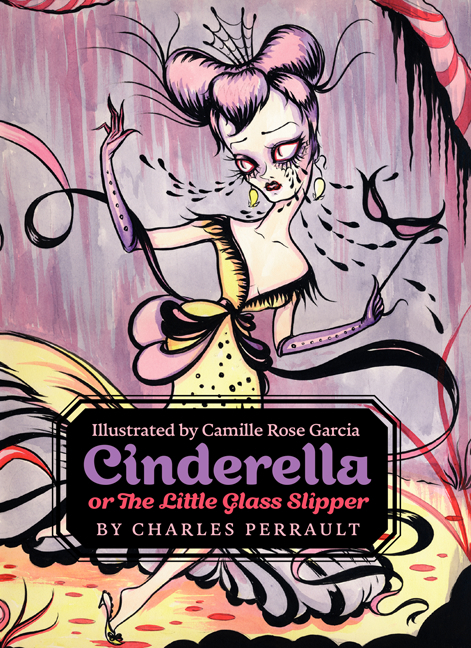 Mushroom Collector by Jason Fulford $25.00 – Pictures of mushrooms from a flea market plus pics and text relating to Fulford's fungi adventures, this reprinted treasure has been out of print for years and is finally back in print.
Let's Go Letter Hunting: A Field Guide for Typographic Expeditions by Friends of Type $16.95 – This lightly-guided journal helps aspiring typographers draw, record, and be inspired by the typography they find out in the world.
Enchanted Forest: An Inky Quest and Colouring Book by Johanna Basford $15.95
Eventually Everything Connects by Loris Lora (Nobrow) $40.00 – Explore the movers, shakers, and shapers of the arts of the Californian modernist movement in this accoridian-style book.
Wayward Cognitions by Ed Templeton $45.00 – Photos spanning 20 years of this skater/youth documentarian's extensive output.
Fiction
Trigger Warning: Short Fictions and Disturbances by Neil Gaiman $26.99
Mayhem
Axes of Evil: The True Story of the Ax Man Murders by Todd C Elliott $19.95
Money Mafia: A World in Crisis by Paul T. Hellyer $19.95
Music Books
The Half That's Never Been Told: The Real-Life Reggae Adventures of Doctor Dread by Doctor Dread and Bunny Wailer $16.95
Respect Yourself: Stax Records and the Soul Explosion by Robert Gordon $19.00 – Now in soft cover.
Local Interest
Chronicles of Old Chicago: Exploring the History and Lore of the Windy City (Chronicles Series) by Adam Selzer $19.95
Politics & Revolution
Anarchists Never Surrender: Essays, Polemics, and Correspondence on Anarchism, 1908–1938 by Victor Serge $20.00
Eclipse and Re-emergence of the Communist Movement by Gilles Dauvé and François Martin $14.95 – The original essays included here were first written between 1969 and 1972 by people involved in the most radical aspects of the French general strike and circulated among left communist and worker circles.
Shadow Warfare: The History of America's Undeclared Wars by Larry Hancock and Stuart Wexler $24.95 – Now in soft cover.
Life and Ideas: The Anarchist Writings of Errico Malatesta by Errico Malatesta and ed. by Vernon Richards $21.95
Magazines
Woof: Dog Eat Cinema Magazine, issues #1 & #2 $6.00 each – Gore, filth and trash of vintage porn. For lovers of Cinema Sewer.
Paper Magazine Mar 15 $10.00
Glamour Girl vol 1 #2 Jan 15 $15.00
Chap Books
Overtime Hour 35 The Night Manager by Tom Larsen $2.00