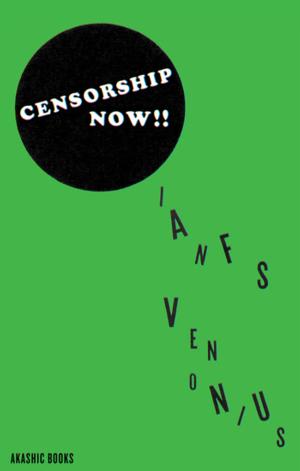 Censorship Now!!! by Ian F. Svenonius (Akashic) $14.95 – In this outrageous and hilarious new essay collection, underground music icon Ian F. Svenonius tackles such diverse subjects as IKEA, Apple, the weather, the gentrification of punk by indie rock, Marion Barry, the film Heathers, Christian pornography, vampires, hoarding, the role of sugar in empire-building, how to properly tip at restaurants, the return of the hat in men's fashion, and other highly topical matters. No one is left unscathed, and more than a few will be left scratching their heads even as they laugh.
*ZINES*
Reglar Wiglar #23 by Chris Auman $5.00
Bits Of California Nature $3.00
Field Notes Spiders vol 1 #1 $3.00
Patron Saints Of Space Exploration $6.00
Dessert Coloring Book by Anna Campomanes $3.00
Cretins of Distortion #7 $5.00
Sarah Says Goodnight by Fran Lee $5.00
Postcard Habitats by Jonathan Lowell $10.00
Meat for Wild Men by Manik Raj Nakra $10.00
Lost In Face $10.00
Why Is There Matter by Alexandra Janezic $20.00
*COMICS & MINIS*
Twilight Children #1 by Gilbert Hernandez $4.99
New comics from Ines Estrada! various prices.
Garden Girls by Jojo Sherrow $6.00
Cartoon Picayune #7 Chance by Josh Kramer $4.00
Life Is Beautiful vol 1.5 by David Alvarado $2.50
Mud Thief vol 1 by Lex Rocket $10.00
Sour Milk #2 $3.00
Hologram by Edwin S. $5.00
Canned by Sean Morgan $10.00
Adventures of Mr. Bear and Mannie by M. $1.00
*GRAPHIC NOVELS & TRADE PAPERBACKS*
750 Years In Paris by Vincent Mahe (Nobrow) $29.00
Tintin: Herge's Masterpiece by Pierre Sterckx and translated by Michael Farr $50.00 – The definitive monograph on the art of Tintin. Drawing on the archives of the Hergé Museum in Brussels, this book looks at the evolution of Hergé's artwork.
Poorly Drawn Lines: Good Ideas and Amazing Stories by Reza Farazmand $18.00
Arab of the Future: A Childhood in the Middle East 1978-1984 by Riad Sattouf $26.00
Peanuts: A Tribute to Charles M. Schulz $34.99 – Never-before seen art styles from Matt Groening, Jeffrey Brown, Raina Telgemeier and more.
*ART & DESIGN*
Utopia Parkway: The Life and Work of Joseph Cornell by Deborah Solomon (Other Press) $19.95
OBEY: Covert to Overt: The Under/Overground Art of Shepard Fairey (Rizzoli) $50.00 – Food for thought: "Nothing says revolution like Andre the Giant." – MC Lars…Just sayin'.
Great Showdowns: The Revenge by Scott Campbell $14.95
Living in the Chelsea Hotel by Linda Troeller (Schiffer) $34.99 – A photo book featuring the infamous hotel.
*FICTION*
Wind Pinball: Two Novels by Haruki Murakami $25.95
Bats of the Republic: An Illuminated Novel by Zachary Thomas Dodson $27.95
Three Moments of an Explosion: Stories by China Mieville $27.00
Shadows of Carcosa: Tales of Cosmic Horror by Lovecraft, Chambers, Machen, Poe, and Other Masters of the Weird by various (New York Review of Books) $15.95 – Some of the most legendary landscapes of the cosmic horror genre.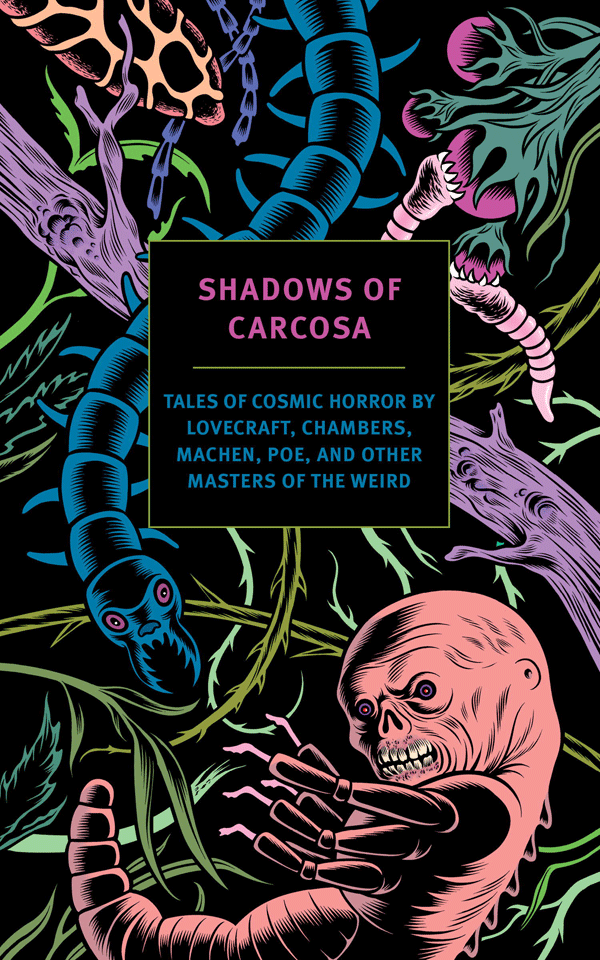 Wittgenstein Jr by Lars Iyer $15.95
Two Years Eight Months and Twenty-Eight Nights: A Novel by Salman Rushdie $28.00
Dirty River: A Queer Femme Of Color Dreaming Her Way Home by Leah Lakshmi Piepzna-Samarasinha (Arsenal Pulp) $18.95
Witch and Other Tales Re-Told by Jean Thompson $16.00
Songs Of a Dead Dreamer and Grimscribe by Thomas Ligotti $17.00
The Bloody Chamber: 75th-Anniversary Edition by Angela Carter $16.00 – Angela Carter was a storytelling sorceress, the literary godmother of Neil Gaiman, David Mitchell, Audrey Niffenegger, J. K. Rowling, Kelly Link, and other contemporary masters of supernatural fiction. In her masterpiece, The Bloody Chamber—which includes the story that is the basis of Neil Jordan's 1984 movie The Company of Wolves—she spins subversively dark and sensual versions of familiar fairy tales and legends like "Little Red Riding Hood," "Bluebeard," "Puss in Boots," and "Beauty and the Beast," giving them exhilarating new life in a style steeped in the romantic trappings of the gothic tradition. Now featuring a new introduction by Kelly Link.
Fortune Smiles: Stories by Adam Johnson $27.00
Hoosier Hotbox by Daron Pearce $9.99
Pick a Plot vol 3 You Are a Kitten by Sherwin Tija (Conundrum) $19.95
The Case Against Satan by Ray Russell $15.00 – Before The Exorcist and Rosemary's Baby, there was The Case Against Satan in 1962 about a demonically possessed teenage girl.
The Bus Driver Who Wanted To Be God & Other Stories by Etgar Keret $16.00
Perchance to Dream: Selected Stories Paperback by Charles Beaumont $16.00 – The profoundly original and wildly entertaining short stories of a legendary Twilight Zone writer, with a foreword by Ray Bradbury and an afterword by William Shatner.
Thug Notes: A Street-Smart Guide to Classic Literature by Sparky Sweets, PhD $14.95 – Hilarious plot breakdowns and masterful analyses of sixteen classics, including: To Kill a Mockingbird, Hamlet, The Catcher in the Rye and more! The series Thug Notes has been featured on BET, PBS, and NPR and has been used in hundreds of classrooms around the world.
Beginners: The Original Version of What We Talk About When We Talk About Love by Raymond Carver $15.00 – The original manuscript of Carver's celebrated short-story collection of the same name which portray the gritty loves and lives of the American working class.
Rules for Werewolves by Kirk Lynn $26.95 – A funny and moving debut novel about dumpster-diving squatters working hard to make a utopia. But will they succeed if they still have to shoplift beer at the local Speedy Stop?
Press Start to Play by Daniel H. Wilson and John Joseph Adams $15.95 – From text-based adventures to first-person shooters, dungeon crawlers to horror games, these twenty-six stories play with our notion of what video games can be. Includes work from: Daniel H. Wilson, Charles Yu, T.C. Boyle, Cory Doctorow, Jessica Barber and more.
*MAYHEM & OUTER LIMITS*
Dr. Mutter's Marvels: A True Tale of Intrigue and Innovation at the Dawn of Modern Medicine by Cristin O'Keefe Aptowicz $17.00 – Now in soft cover.
The Witch of Lime Street: Séance, Seduction, and Houdini in the Spirit World by David Jaher $28.00 – A textured account of the rivalry between Harry Houdini and the so-called Witch of Lime Street, whose iconic lives intersected at a time when science was on the verge of embracing the paranormal.
*MUSIC & FILM BOOKS*
M Train by Patty Smith $25.00
Reckless: My Life as a Pretender by Chrissie Hynde $26.95
The Big Bad Book of Bill Murray: A Critical Appreciation of the World's Finest Actor by Robert Schnakenberg $22.95
Unfaithful Music & Disappearing Ink by Elvis Costello $30.00
*ESSAYS & PHILOSOPHY*
The Art of Language Invention: From Horse-Lords to Dark Elves, the Words Behind World-Building by David J. Peterson $17.00 – By the guy who wrote the languages for the HBO series Game of Thrones and the Syfy series Defiance.
This Is Shanghai: What It's Like To Live In the World's Most Populous City by Alexander Barrett (Microcosm) $7.95
I Think You're Totally Wrong: A Quarrel by David Shields and Caleb Powell – A man and his former prof out in the woods debate Art vs life. Fun fact: James Franco made a movie about it.
Absolute Recoil: Towards A New Foundation of Dialectical Materialism by Slavoj Žižek$19.95 – New soft cover edition.
Trans: A Memoir by Juliet Jacques (Verso) $26.95
Edie: An American Girl by Jean Stein (Grove Press) $17.00 – When this book was first published in 1982 it quickly became an international best-seller and then took its place among the classic books about the 1960s. Edie Sedgwick exploded into the public eye like a comet. She seemed to have it all: she was aristocratic and glamorous, vivacious and young, Andy Warhol's superstar. But within a few years she flared out as quickly as she had appeared, and before she turned twenty-nine she was dead from a drug overdose.
Gay Berlin: Birthplace of a Modern Identity by Robert Beachy $16.95 – In the half century before the Nazis rose to power, Berlin became the undisputed gay capital of the world. Activists and medical professionals made it a city of firsts—the first gay journal, the first homosexual rights organization, the first Institute for Sexual Science, the first sex reassignment surgeries—exploring and educating themselves and the rest of the world about new ways of understanding the human condition.
Black Flags: The Rise Of Isis by Joby Warrick $28.95
The Irresponsible Magician: Essays and Fictions by Rebekah Rutkoff (Semiotext(e)) $14.95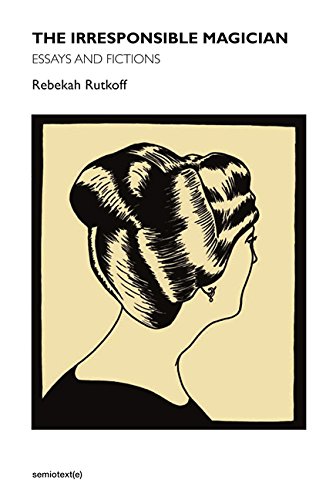 *HUMOR*
You Blew It: An Awkward Look At the Many Ways In Which You've Already Ruined Your Life by Josh Gondelman $14.00
Pop Sonnets: Shakespearean Spins on Your Favorite Songs $13.95
*POLITICS & REVOLUTION BOOKS*
Hacker, Hoaxer, Whistleblower, Spy: The Many Faces of Anonymous by Gabriella Coleman (Verso) $19.95
The Death and Life of American Labor: Toward a New Workers' Movement by Stanley Aronowitz (Verso) $19.95
An Indigenous Peoples' History of the United States (ReVisioning American History) by Roxanne Dunbar-Ortiz (Beacon Press) $16.00 – New soft cover edition.
*DIY, FOOD & ACTIVITY BOOKS*
Our Bodies, Our Bikes by Elly Blue (Microcosm) $14.95
Hand-Lettering For Everyone: A Creative Workbook by Cristina Vanko $15.95
The Vampire Combat Field Guide – A Coloring and Activity Book for Fighting the Bloodthirsty Undead by Roger Ma $9.99
Animorphia: An Extreme Coloring and Search Challenge by Kerby Rosanes $12.99 – Welcome to the wild world of Extreme Coloring, with super-detailed animal images from artist Kerby Rosanes, known for his popular Sketchy Stories blog (see below!)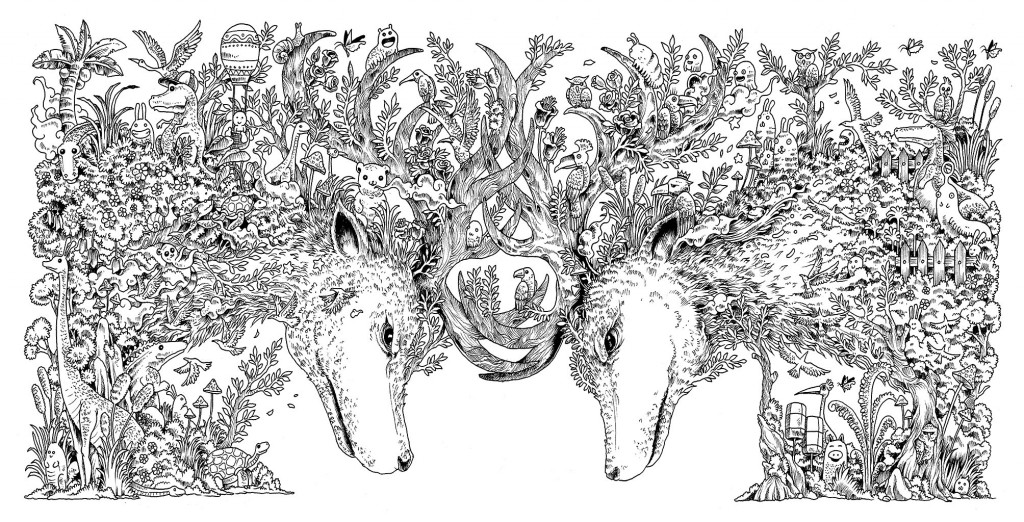 Speakeasy: 200 Underground Cocktails by Benny Roff (Hardie Grant) $19.95 – Speakeasy is a cocktail book that celebrates the exciting gin-soaked, gangster-frollicking prohibition era, with 200 cocktails for every taste. With cool 1920s-style illustrations throughout, and a perfect gift format, this is the one cocktail book to relive the heady golden days. The iconic Sidecar, White Lady, Clover Club and French 75 cocktails, among many others, were born in the dark, smoky, drinking dens of the era – Speakeasy will inspire you to recreate chic classic cocktails at home in style.
Long Story Short: The Only Storytelling Guide You'll Ever Need by Margot Leitman $19.95
The Twinkies Cookbook, Twinkies 85th Anniversary Edition: A New Sweet and Savory Recipe Collection from America's Most Iconic Snack Cake by Hostess $12.99 – Fortify yourself by preserving your body into the next millenium with such recipes as: Twinkie-filled chicken and waffles, Twinkie Wedding Cake, Twinkie Lasagna, Twinkie Corndogs, Chicken-Raspberry Twinkie Salad, Twinkie Sushi and more.
The Cannabis Manifesto: A New Paradigm for Wellness by Steve DeAngelo (North Atlantic) $18.95
*SEXY*
NSA DFM NSADFM NSA/DFM No Strings Attached Disease Free Male Raw Paw by Xavier Schipani $10.00
*MAGAZINES*
Flaunt #142 The Elixir Issue $15.95
Little White Lies #61 Truth and Movies $12.99
Print vol 69 # 4 Fall 15 the Text Issue $12.95
Wire #380 Oct 15 $9.99
Four Two Nine #6 $12.99
Raw Paw vol 6 $25.00
*CHAP BOOKS*
My Own Words Float Back to Me Like Cities I've Visited Coded Landmarks to Recall a Melody: New Poems by Daviel Shy $2.00
Archives vol 2 Hunger & vol 3 Sacrament $3.50 each
All Slither by Paula Mendoza $10.00
Birds And Flowers by John Herndon $10.00
*KIDS BOOKS*
Awake Beautiful Child by Amy Krouse Rosenthal illustrated by Gracia Lam (McSweeneys) $17.95
Marguerite's Christmas by India Desjardis (Enchanted Lion) $19.95
The Omnivore's Dilemma Young Reader's Edition the Secrets by Michael Pollan $9.99
Pablo and Jane and the Hot Air Contraption by Jose Domingo (Flying Eye) $19.95
*OTHER STUFF*
Chicago: A Love Story Print Poster by Johnny Sampson $30.00 – We had this poster hanging for yucks and didn't actually sell it, because we only had one copy. But people wanted to buy it! So finally we some to sell you! Come'n'geddit!
Scarface Adult Mad Libs $4.99 – Say hello to my little Mad Libs!
Edward Scissorhands Mad Libs $3.99