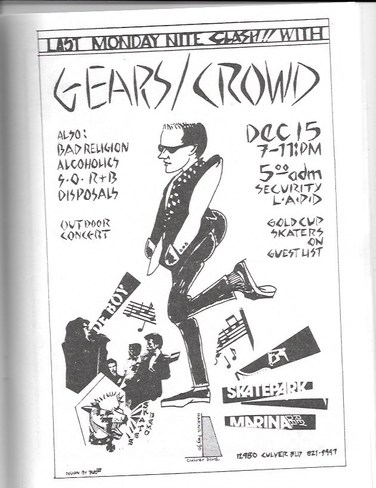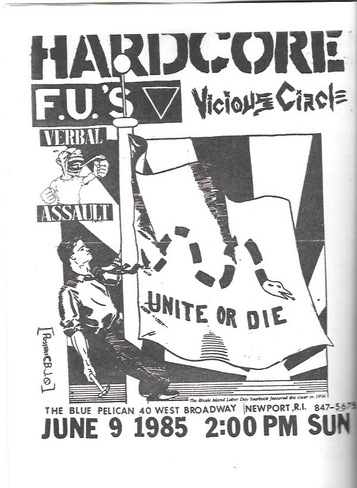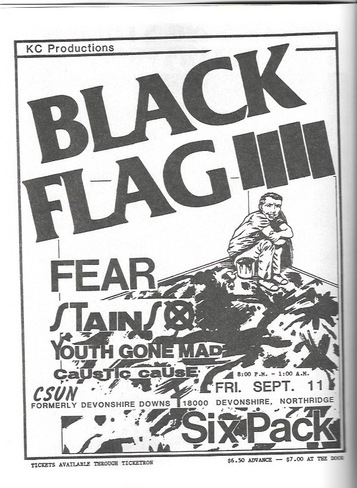 Theres No Stoppin' the Cretins from Hoppin': Punk and Hardcore Flyers, Zines and Ephemera (BOO-HOORAY/Printed Matter) $20.00 – BOO-HOORAY is an organization dedicated to the preservation of 20th century and 21st century cultural movements. There's No Stoppin' The Cretins from Hoppin is the catalogue zine to BOO-HOORAY's extensive poster collection, related to the exhibition Punk and Hardcore Fliers, Zines and Ephemera, curated by Johan Kugelberg at Printed Matter in January 2016. The exhibition showcased more than a hundred and fifty original fliers, zines and periodicals. All DIY, xeroxed and staple-bound, the materials span from the early 1970's covering the glam rock and punk scenes of New York, Los Angeles, and San Francisco, including garage rock and power pop revivals, American hardcore, English peace-punk, and industrial music scenes. An overview of underground music culture of the last forty years, these posters represent this dynamic period.
*ZINES*
Just Make Pictures Zine #7 The Wrestlers by Michael Jarecki $4.00
Meghan Goes to McDonalds by Meghan Turbitt & friends $8.00
Protect Us All from the Family Protection $4.00
Hawking Sexist Chemicals #1 $4.00
The Vellum Underground 2015 Year End Zine Review by David LaBounty $3.00
The Ground Rules: A Manual to Reconnect Soil and Soul by Terra Fluxus $15.00 – With a good balance of facts and feels, Ground Rules is larded with useful, ground-level tips on how to locally grow both food and community out of the mean city streets. Contains detailed instructions on how to research growing sites, assess your soil, understand weeds, build good compost, and clear soil of toxins (whether they be lead, mercury, cadmium or landlords). ~GS
My Mother of Old Bones #1 by Elizabeth Kuklenyik $8.00
Les Belles by Chris Taylor (Floating World) $8.00
*COMICS & MINIS*
GANGES #5 by Kevin Huizenga (USS CATASTROPHE) $8.00
Low Light by Tristen Wright $8.00
It Sucks to be in Robot Jail by Sam Hintz $8.00
Island #6 $7.99 – Stories by: Onta, Fil Barlow, Gael Bertrand & Brandon Graham. Onta shows how two very different guys spend a day at the gay pride parade. Plus the recolored return of Fil Barlow's Fun bizarre, Plastoid conspiracy science fiction: ZOONIVERSE! and more.
Work In Progress by August LeRoi $7.00
You Are a Donut by Kriota Willberg $2.00
Bears In Space #2 by Nate McDonough $4.00
Free Money #1 and #2 by Daniel McCloskey $10.00/$5.00
We Choose Our Friends Alone by Elaine M. Will $4.00
Blubber #2 by Gilbert Hernandez (Fantagraphics) $3.99
Twilight Children #4 by Gilbert Hernandez, Darwyn Cooke and Dave Stewart (Vertigo) $4.99
New Stuff from Otto Splotch!:
Sticker Postcard Pack $3.00
Pulsate and Squirt comic $7.00 – This Splotch spooge-swamp is part hitachi chic, part ex texts, part deepfried spiders. Find out why daddy's having a bad day. See sex acts, meatfloors. Nothing's fulfilling and everything's titillating. ~GS
Frankie Comics #1-#3 by Rachel Dukes $3.00 each
The Bus Stop – An Un-Adventure Comic by Jimi Okelana (Big Ugly Robot) $5.00 – Jimi ponders the big and little questions of life via conversations with a voice from the gutter. Is it his imaginary friend that just never left? Is it healthy? and why is that voice such a jerk?
Poseur by Adam Pasion $5.00
Pyramid Scheme 2: This Time It's At The Beach by Josh Burggraf & Victor Kerlow (Birdcage Bottom Books) $3.00 – After destroying an interstellar cult and collecting their space bounty, Dog and Robot and Kid Space Heater return to earth and embark on their most tantalizing and thrilling adventure yet: visiting a nude beach.
The Spiritual Crisis of Carl Jung by Robert Goodin $4.00
Present Tense – The Collected Simple Stuff 2010-2012 by Emily Churco (One Percent Press) $5.00
Aeronaut by Alexis Frederick-Frost $5.00
Tiny comics from JP Coovert:
Super Mega Buds $5.00
Simple Routines #20 $3.00
*GRAPHIC NOVELS & TRADE PAPERBACKS*
Love and Rockets New Stories vol 8 by Hernandez Bros (Fantagraphics) $14.99
Nod Away by Joshua W. Cotter (Fantagraphics) $24.99 – Deep-space transport has been developed to take a small crew to a habitable planet in a nearby system in an attempt to begin colonization/repopulation. The Internet is now telepathic and referred to as the "innernet." When the hub is revealed to be a human child, Melody McCabe is hired to develop the new nexus on the second International Space Station. The intersection of human psychology and the ethics of progress is examined through a sci-fi graphic novel that takes place in a not-so-far away future, while hitting home with the realities of consequence and consciousness. Don't miss Josh Cotter celebrating the releaseo f this book here at Quimby's on Sat, Feb 27th, 7pm!
BATMAN THE JIRO KUWATA BATMANGA TP VOL 3 by Jiro Kuwata (DC) $14.99
MIND MGMT HC vol 6 The Immortals by Matt Kindt (Dark Horse) $19.99
Invader Zim TPB vol 1 by Jhonen Vasquez (Oni) $19.99
Adventure Time Sugary Shorts TPB vol 2 $19.99
Ghost by Whit Taylor (Birdcage Bottom Books) $10.00
Garbage Pail Kids Comic Book Puke-tacular by James Kolchaka, Roger Landridge & Shannon Wheeler (IDW) $19.99
Illustra Sean Year #1 and #2 by Sean Dempsey $20.00 each
Death Saves: An Anthology – Fallen Heroes of the Kitchen Table $21.95
Rough Age by Max de Radiguès (One Percent Press) $12.00 – Teenage romance!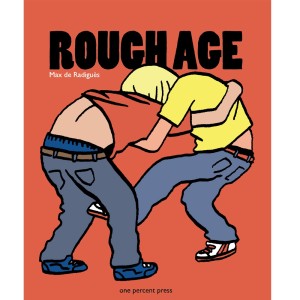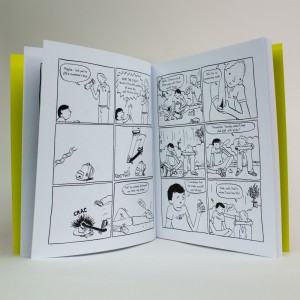 Sweater Weather and Other Stories by Sara Varon $19.99 – New edition!
Comics Squad #2: Lunch! $7.99 – This all-star tribute to classic Sunday comics includes eight sidesplitting, action-packed stories about every kid's favorite subject—LUNCH! With work from Jeffrey Brown, Sara Varon and more!
Underworld: From Hoboken to Hollywood by Kaz (Fantagraphics) $39.99 – Finally! The first ever omnibus collection of the very best of Kaz's Underworld comic strip's 23-year run, with annotations, photos, and other surprises from the author!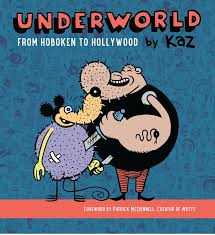 BEE AND PUPPYCAT TPB vol 2 by Natasha Allegri $14.99
Hollow in the Hollows by Dakota McFadzean (One Percent Press) $6.00
*MAYHEM, OUTER LIMITS & TRUE CRIME*
Rest In Pieces: The Curious Fates of Famous Corpses by Bess Lovejoy $16.99
Rayful Edmond: Washington D.C.'s Most Notorious Drug Lord by Seth Ferranti (Gorilla Convict Publications) $15.00
Beast: Werewolves, Serial Killers, & Man-Eaters: The Mystery of the Monsters of the Gévaudan by S. R. Schwalb $24.99
Books about despair by E. M. Cioran, $14.95 each (you're welcome):
The Temptation to Exist
Short History of Decay
The Trouble with Being Born
*PHOTO BOOKS*
East End Fashionistas by Anthony Webb $24.95 – As in, the East End of London.
*MAGAZINES*
Razorcake #90 $4.00
Charlie Hebdo #1224 Jan 6 16 $7.50
*LIT JOURNALS*
Black Fox Literary Magazine #10-#12 $14.00 each