Frontier #11 by Eleanor Davis (Youth In Decline) $8.40 – The newest issue, now available! "BDSM" is a fresh new comic by Eleanor Davis, about the interactions of two adult film actresses on and off camera. A modern SM dating story tackling the complex, intersectional relationships between friends and lovers, feminism and kink, and projection and consumption.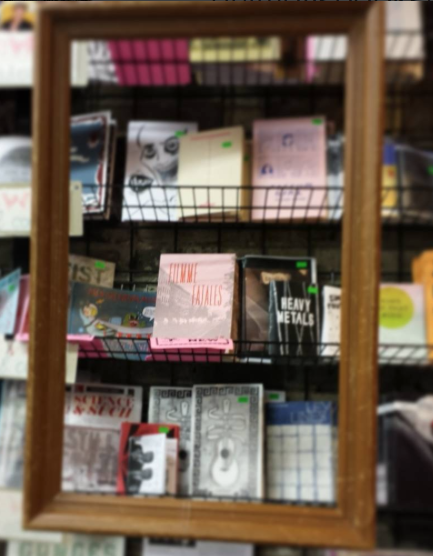 Filmme Fatales #7 $16.00 – Seventh issue of the quarterly zine about the places where film and feminism intersect. Essays, criticism, ideas, jokes, pictures and more. Inside this issue, devoted to the concept of "space": a lament about the fates of lesbian movie characters, a tribute to the house from Dogs in Space, a taxonomy of the spaces Andie inhabits in Pretty in Pink, the next filmmaker who is inevitably due to experience a Sofia Coppola-style Tumblr resurgence, psychics and Chitty Chitty Bang Bang, an examination of James Cameron's reputation as a feminist filmmaker and more.
*ZINES*
Radical Domesticity #6 by Emma Karin Eriksson $3.00
PWF Pro Wrestling Feelings #3 $5.00
Jibb Wibbles #1 by Jason Mamarella $6.00
Fat Babes #2 The Fatshion Edition $6.00
Forniphilia by Michael Shallow $7.00
Boot Boyz Biz Group 2 Catalog Feb 2016 $1.00
*COMICS & MINIS*
Power Button by Zack Soto (Study Group) $4.95
Super Sikh #3 Al Amok is Not Amused by various $3.99
Mr Blob #1 by Caroline Cash $7.00
Nerd Jam #4 by Olivier Wilkie $8.00
Give Thanks by Philip Weiss $2.00
*GRAPHIC NOVELS*
5,000 Kilometers Per Second by Manuele Fior (Fantagraphics) $22.99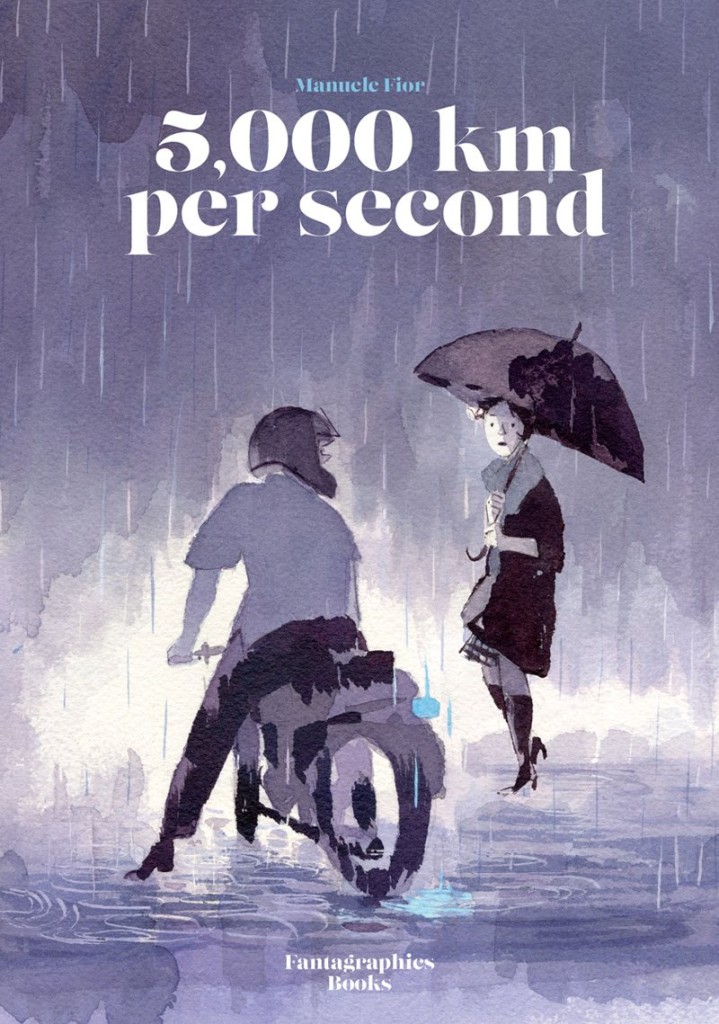 Octopus Pie vol 1 by Meredith Gran $14.99
Paracuellos by Carlos Giménez (IDW) $24.99 – An autobiographical account of the plight of children in post-World War II Fascist Spain.
Woody Guthrie and the Dust Bowl Ballads: A Graphic Novel by Nick Hayes (Abrams) $24.95
Delilah Drik and the Kings Shilling by Tony Cliff $17.99
*ART & DESIGN BOOKS*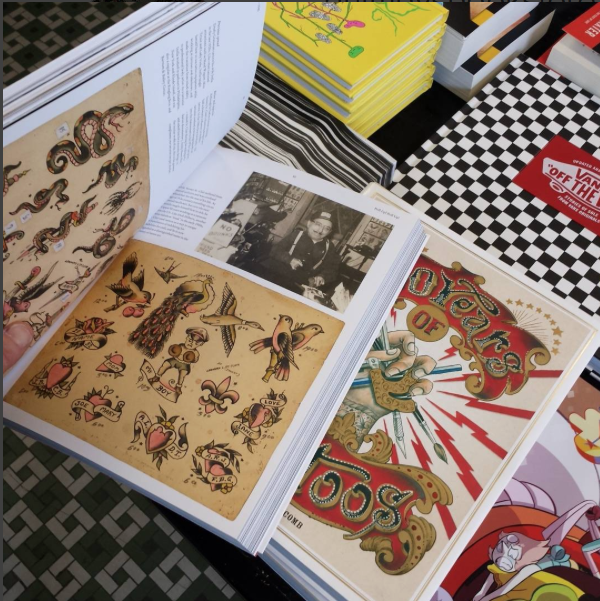 100 Years of Tattoos by David McComb $29.95
Vans: Off the Wall: Stories of Sole from Vans Originals, 50th Anniversary Edition by Doug Palladini (Abrams) $30.00
*MUSIC BOOKS*
Lost Rockers: Broken Dreams and Crashed Careers by Steven Blush, Paul Rachman & Tony Mann (powerHouse Books) $27.50 – About the musicians who at one point in time were on the verge of success but who never quite "made it."
Never Known Questions: Five Decades of The Residents by Ian Shirley (Cherry Red Books) $22.95 – Answers such Residential questions as: Were they really Talking Heads and Brian Eno in disguise? What is a Cryptic Corporation? Who was Nigel Senada? Did they really forget about recording an album? How's Randy doing now? And what kind of a band sells a fridge full of records for $100,000 anyway?
Pickman's Model: A Weird Tale by Nick Blinko & H.P. Lovecraft (Crna Hronika) $40.00 – "Pickman's Model" is an elegant short story by H.P. Lovecraft, originally published in Weird Tales in 1927. Nick Blinko's starkly managed minutia serves as wonderful accompaniment to the story of the deranged artist who paints from dread-inspiring life.
*FICTION*
Knockout: Stories Knock Out by John Jodzio (Soft Skull) $15.95
Book of Numbers by Joshua Cohen $18.00 – A tech mogul hires a ghostwriter for his memoirs, which leads him on a mind-bending world tour from Palo Alto to Dubai and beyond, initiating him into the secret pretext of the autobiography project and the life-or-death stakes that surround its publication.
*ESSAYS*
The Folded Clock: A Diary by Heidi Julavits $15.00 – Rereading her childhood diaries, Heidi Julavits (founding editor of The Believer magazine) hoped to find incontrovertible proof that she was always destined to be a writer. Instead, they "revealed me to possess the mind of a phobic tax auditor." Thus was born a desire to try again, to chronicle her daily life—now as an adult. A meditation on time and self, faith and fate, art and ambition.
Is that Kafka?: 99 Finds by Reiner Stach $27.95 – Out of the massive research for an authoritative 1,500-page biography emerges this wunderkammer of 99 delightfully odd facts about Kafka.
On the Government of the Living: Lectures at the Collège de France, 1979-1980 by Michel Foucault $22.00
*SCIENCE!*
What If?: Serious Scientific Answers to Absurd Hypothetical Questions by Randall Munroe $24.00
At the Edge of Uncertainty: 11 Discoveries Taking Science by Surprise by Michael Brooks $17.95
Professional Guinea Pig: Big Pharma and the Risky World of Human Subjects by Roberto Abadie $22.95
The Undersea Network by Nicole Starosielski $25.95 – Hey! The internet isn't made out of satellites! It's made out of tubes underwater!
*RADICAL PARENTING*
Revolutionary Mothering: Love on the Front Lines, ed by Alexis Pauline Gumbs, China Martens & Mai'a Williams (PM Press) $17.95 – Inspired by the legacy of radical and queer black feminists of the 1970s and '80s, Revolutionary Mothering places marginalized mothers of color at the center of a world of necessary transformation.
*MAGAZINES*
The Baffler #30 $14.00
Modern Farmer #11 Spr 16 $7.99
Kinfolk vol 19 The Adrenaline Issue $18.00
Relix #270 Mar 16 $6.99
Wire #385 Mar 16 $9.99
Shots #131 $7.25
Film Comment Mar Apr 16 vol 52 #2 $5.95
Clever Root Win Spr 16 vol 1 #2 $10.00
Mass Appeal #56 $9.99
Cineaste vol 41 #2 $8.00
*LIT JOURNALS*
Granta #134 Win 16 No Mans Land $16.99
Girls Our Age #1 Pilot Issue 2016 $12.00
*SEXXXY STUFF*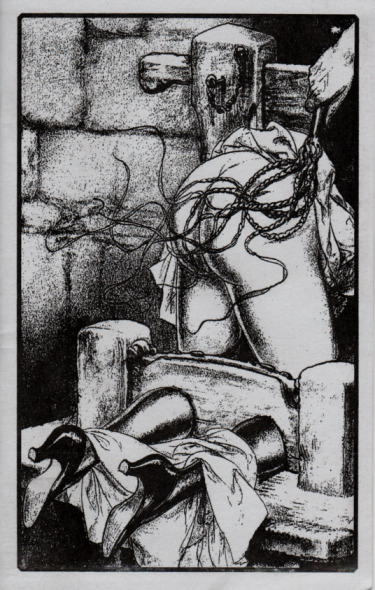 Cold Meat Zine, ed. by Caroline Paquita (Pegacorn Press) $5.00 – These works were compiled to highlight some of the best examples of BDSM fetish art, from the collection of Cold Meat, a print connoisseur based in San Francisco, California. Ranging roughly from 1900-1970, a majority of these images were originally published in underground fetish digests, flagellation novels, chapbooks, and illicit magazines of the time.