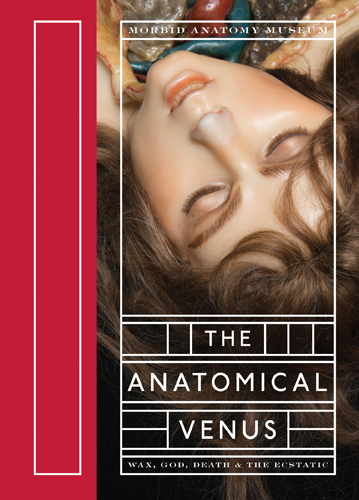 The Anatomical Venus: Wax, God, Death & the Ecstatic by Joanna Ebenstein (D.A.P.) $35.00 – Of all the artifacts from the history of medicine, the Anatomical Venus—with its heady mixture of beauty, eroticism and death—is the most seductive. These life-sized dissectible wax women reclining on moth-eaten velvet cushions—with glass eyes, strings of pearls, and golden tiaras crowning their real human hair—were created in eighteenth-century Florence as the centerpiece of the first truly public science museum. Conceived as a means to teach human anatomy, the Venus also tacitly communicated the relationship between the human body and a divinely created cosmos; between art and science, nature and mankind. Today, she both intrigues and confounds, troubling our neat categorical divides between life and death, body and soul, effigy and pedagogy, entertainment and education, kitsch and art. This book features over 250 images from around the world.
*ZINES*
Do You Like Cake by Morgan Richardson $2.00
Your Secretary #13 by Jami Sailor $1.00
Would Be Saboteurs Take Heed $8.00
Toilet House of Knowledge by Social Ecologies $8.00
Exscind by Adel Souto $5.00
Yak Manifestations by Sharnayla $5.00
Tazewells Favorite Eccentric #14 Unpoppable $1.00
*COMICS & MINIS*
Frontier #12 Kelly Kwang (Youth In Decline) $8.00
Namifezi Queer Feminist Comic Zine $7.00
Brand Noofo #3 by Ben Bertin $5.00
Taxi Graveyard #1 Days We are Born From & #2 The Horizons Visitor by Amber O'Brien $15.00, $10.00
mini-comics by Rachel Bard:
Friendly Catastrophic Space Invader $3.00
Our Sweetest Downfall $7.00
Known Donor #1 by No Ordinary Donor $2.00
Publick Occurances #12 by Danny Martin $5.00
mini-comics by Chris Gooch, $3.00 each:
Wednesdays
Torn
Stream/Myself as Me and You split zine by Ines Estrada & Sarah McNeil $10.00
Frog Book by Sarah McNeil $3.00
Garbage Bags by Clea Chiller $3.00
Babies Mineral by Yasmin Keany $4.00
mini-comics by Rachel Ang:
River $5.00
Magic $6.00
Dot and Line: A Tribute to Gerrit Noordzij $5.00
*GRAPHIC NOVELS*
Birth of Kitaro by Shigeru Mizukis (D&Q) $12.95
Dream Tube by Rebekka Dunlap (Youth In Decline) $13.00
Goodnight Punpun vol 2 by Inio Asano $24.99
Goat Fucker: 5 Years of Satanic Sleaze by Jack Mulkern $6.66
Talk Dirty to Me by Luke Howard (Adhouse) $14.95
Red Virgin and the Vision of Utopia by Mary M and Bryan Talbot (Dark Horse) $19.99
Very Quiet Very Still by Chris Gooch $10.00
Black Dahlia: A Crime Graphic Novel by James Ellroy $29.99
Flashed: Sudden Stories in Comics and Prose by Josh Neufeld & Sari Wilson (Pressgang) $24.95
*ART & DESIGN*
Nietzsche In Shapes and Colors by Dr. Halla Dagdromma, translated by Theresa Vishnevetskaya $12.95
Popular Lies About Graphic Design by Criag Ward (Actar) $16.95
*FICTION*
Only Love Can Break Your Heart by Ed Tarkington $25.95
Some Possible Solutions: Stories by Helen Phillips $26.00
Red Lakes Vol 1 by Joshua Harding $12.00
*FILM & MUSIC BOOKS*
Under the Big Black Sun: A Personal History of LA Punk by John Doe & Tom Desavia (Da Capo) $26.99
I Lost It At the Video Store: A Filmmakers Oral History of a Vanished Era (Critical Press) $25.00
*ESSAYS*
The Geek Feminist Revolution by Kameron Hurley $15.99
*POLITICS & REVOLUTION BOOKS*
Returns of Marxism: Marxist Theory in Time of Crisis (Haymarket) $22.00
Fallout: An American Nuclear Tragedy by Philip L. Fradkin (U of Arizona) $17.50
*SCIENCE*
The Joy of Pain: Schadenfreude and the Dark Side of Human Nature by Richard H. Smith (Oxford U Press) $15.95
*MAGAZINES*
The Baffler #31 $14.00
AdBusters #126 vol 24 #4 Jul Aug 16 Toneshift $14.95
Juxtapoz #186 Jul 16 $6.99
Big Takeover #78 $5.99
Razorcake #92 $4.00
Selfish Magazine #3 Good Girl $20.00
Horror Hound #59 May Jun 16 $6.99
Smith Journal #18 $17.99
Monocle vol 10 #94 Jun 16 $12.00
Pinup #20 Magazine for Architectural Entertainment $20.00
Girls Like Us vol 2 #8 $12.00
Maximumrocknroll #397 Jun 16 $4.99
Shock Cinema #50 $5.00
Cinema Retro vol 12 #35 16 $11.99
*POETRY BOOK*
Cancer as a Social Activity by Michael IX Williams (Southern Roots Publishing) $24.99 – Book of poetry by the singer of Eye Hate God.
*KIDS BOOKS*
Strong as a Bear by Katrin Strangl (Enchanted Lion) $16.95