Summerland by Paloma Dawkins $9.00
*ZINES*
PWF Pro Wrestling Feelings #4 by Ed Blair $5.00
Heat of a Thousand Suns by Kerry Ann Lee $15.00
Namaste Motherfucker #4 by Ben Terrall $5.00
Street vol 3 & 4 by Alexander Mouton $6.00 each
DIY Colorization by Grace Rother $6.00
zines by Maira $3.00 each
Manic Again Again
August 23rd 2016
*COMICS & MINIS*
Mutant Punks Fuck Off! #2 by Kevin Panetta & Jared Morgan (Retrofit) $3.00 – The Vomit Lords are dead! Now that we've got those snot-nosed wastoids out of the way, it's time for The Nimrods to run this town!!!
Libbys Dad by Eleanor Davis $8.00
Parsley Girl Carrots by Matthew Swan (Avery Hill Publishing) $8.00
Our Mother by Luke Howard $9.00
Airplane Food #2 the Appalling Diet of Todays Teenagers by Tyler Callich $5.00
Lower East Side Story #5 Double Issue by Pete Friedrich $5.75
Comestible #2 Sum 16 by Anna Brones $12.00
Jim Siergey minis! $3.00 each
Hank the Handy Handgun
Pete the Pit Bull Puppy
Scary Stories From the Bible #1
Hail Hail Shlock N Roll: A Celebration of Bad Taste and Decadence in Rock N Roll Music
Nerd Jam #5 by Olivier Wilkie $6.00
Social Media Adventures by Ian McCulloch $3.00
*GRAPHIC NOVELS*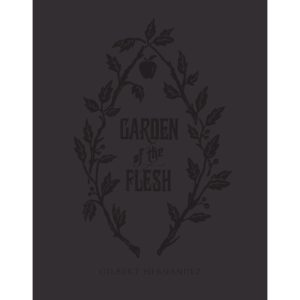 Garden of Flesh by Gilbert Hernandez (Fantagraphics) $12.99 – An erotic, full color retelling of the story of Adam and Eve up to Noah's Ark. Va-va-voooooom!
I Thought You Hated Me by Marinaomi (Retrofit) $9.00
Lumberjanes TPB vol 4 Out of Time by Noelle Stevenson & friends $14.99 & Lumberjanes to the Max Edition vol 2 $39.99
City Inside by Tillie Walden (Avery Hill) $11.00 – Congrats to Tillie for two 2016 Ignatz awards (for "The End of Summer" [Outstanding Artist] and "I Love This Part" [Promising New Talent])!
Mooncop by Tom Gauld (D&Q) $19.95
American Blood by Benjamin Marra (Fantagraphics) $19.99
Cultural Jet Lag by Jim Siergey $19.99 – A collection of the underground comics classic!
Goodnight Punpun vol 3 by Inio Asano $24.99
In Fox's Forest by Guy Colwell (Fantagraphics) $16.99
Neil Gaiman's Teknophage vol 2 with Bryan Talbot & more $14.99 – The 65 million year-old intelligent dinosaur known as Teknophage has begun to lose his grip on his awesome power over untold universes and possibly what passes for his sanity.
Massive Ninth Wave Library Edition by Brian Wood and friends $24.99
Pterodactyl Hunters in the Gilded City by Brandon Leach (Secret Acres) $20.00 – A fancy new hard cover edition.
Outside the Panels TPB Comics by Pete Friedrich 1982-2012 $12.75
*MAYHEM & OUTER LIMITS*
Morbid Curiosities: Collections of the Uncommon and the Bizarre by Paul Gambino $30.00
Vampyres: Genesis and Resurrection: from Count Dracula to Vampirella by Christopher Frayling $29.95
Atlas Obscura: An Explorers Guide to the World's Hidden Wonders by Joshua Foer and Dylan Thuras $35.00
Beauty of Horror: A Goregeous Coloring Book by Alan Robert $17.99
*FICTION*
Kamala vol 2 Feminist Folktales from Around the World by Ethel Johnston Phelps (Feminist Press) $14.95
Carousel of Desire by Eric Emmanuel Schmitt (Europa Editions) $21.00 – Zachary Bidermann, the powerful European Union commissioner; Faustina, the fashionable book publicist; François-Maxime de Couvigne, the happily married banker with more than a few secrets; Marcelle, enamored with a handsome illegal immigrant; Miss Beauvert, who makes love with her parrot, Copernicus. These and many more unforgettable characters animate this story of simmering desire and the antics of the mischievous and playful god, Eros.
Scratch by Steve Himmer $15.95 – Builder Martin Blaskett has spent his life drifting and rootless before arriving in a small forest town where he hopes to find a home for himself. But his own dreams get tangled into the web of signals and stories and local legends and lives that have enmeshed the landscape for ages.
Reputations by Juan Gabriel Vasquez $25.00 – An influential political cartoonist revaluates his work after an unexpected visit from a guest.
Last Party a Novel by SB Gamble $15.99
*MUSIC BOOKS*
David Bowie: Color the Starman (Feral House) $15.95 – Contributors include: Mica O'Herlihy, Mike Diana, Steve Krakow, and Tony Millionaire.
*POLITICS & REVOLUTION BOOKS*
Bad Moon Rising: How the Weather Underground Beat the FBI and Lost the Revolution by A.M. Eckstein $35.00
Wikileaks Files: The World According to US Empire by Julian Assange $19.95
The Israel-Arab Reader: A Documentary History of the Middle East Conflict: Eighth Revised and Updated Edition edited by Walter Laqueur & Dan Schueftan $22.00
*FILM BOOKS*
The Tao of Bill Murray: Real Life Stories of Joy, Enlightenment and Party Crashing by Gavin Edwards $26.00
*MAGAZINES*
Bust #101 Oct Nov 16 $6.99
Hello Mr #8 About Men Who Date Men $20.00
Gratuitous Type #4.5 $12.00 – For the design nerds.
Tape Op #115 Sep Oct 16 $4.95
New Jewish Youth #1 a New Journal of Jewish Dissident Voices $2.00
Brownbook #58 An Urban Guide to the Middle East Baklawa $26.90
Mojo #275 On Tour With the Beatles $11.99
Fondle Magazine #5 $20.00
True Crime Sep 16 $9.99
Vive Le Rock #38 Two Tone Skad For Life $11.99
CR Fashion Book #9 Fall Win 16 Marie Antoinette $30.00
Wire #391 Sep 16 $9.99
Make vol 53 Oct Nov 16 $9.99
Little White Lies #66 Sep Oct 16 $12.99
*LIT JOURNALS*
The First Line vol 18 #3 Fall 16 $4.00
*SEXXXY*
Meat #21 $20.00 or Deluxe Edition that comes with 2017 Calendar $35.00
*FOOD BOOKS*
Drinks: A Users Guide by Adam McDowell, illustrated by Kagan McLeod $20.00 – Includes cocktails, spirits, wine and beer for every day and every occasion.
*FOR THE KIDDIES*
Great Antonio by Elise Gravel $12.95
Lines on Nanas Face by Simona Ciraolo (Flying Eye) $17.95
Happy Hunter by Roger Duvoisin (Enchanted Lion) $16.95