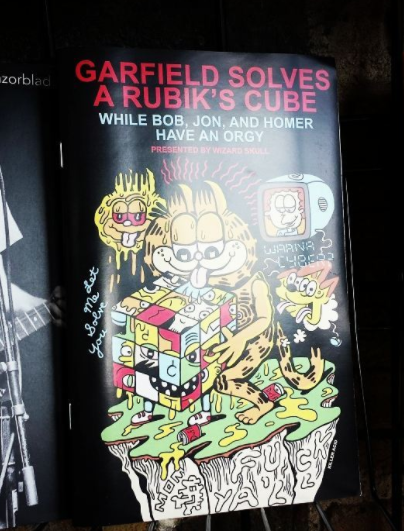 Garfield Solves a Rubiks Cube While Bob, Jon and Homer Have an Orgy by Wizardskull $10.00 – Make your Monday better with this hilarious lasagna platter full of different artists realizing Wizardskull's dirty, dirty vision!
*ZINES*
Brainscan #33 DIY Witchery by Alex Wrekk $5.00
Burrs and the Beans #2 A Cherry Plucked Coffee Shop Erotica by BJ Hillis $5.00
zines by Sage Liskey (Rad Cat Press):
The Motivation to Write $5.00 – With an abridged history of advancements in writing.
The Happiest Choice: Condensed Edition $7.00 – Activities to do, foods to eat, thoughts to think, nutrients to fortify.
Do You See Any Fucks Growing In My Garden? A Poem $2.50
Bohzine #1 $20.00 – The LGBTQA creative arts quarterly zine.
Australian Ugliness by Woytek Mocko $6.00 – Photos!
Free Ass Mag #4 $15.00 – As in "Free Association," pervos. This issue: Home.
Feel Good by Nicole Jakus $2.00
119 Replies by Mike Bremmer $3.00
Death Fight by John Maggie $6.00
Sara McHenry zines, $3.00 each (These are hilarious. Don't miss 'em!)
Listless #1 & #2
Hard to Love #1 & #2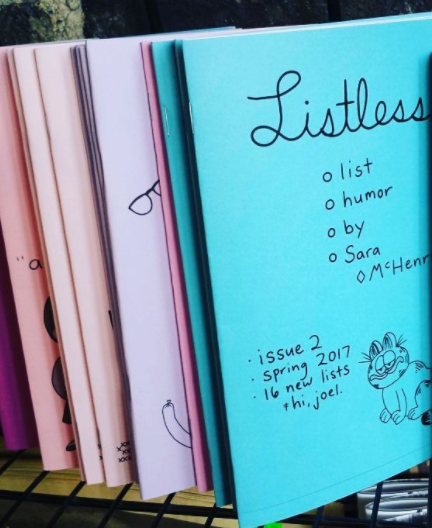 Tom McHenry comics, $5.00 each:
Luxury #1 by
Unchecked Economics #2 by Tom McHenry $5.00
Tiny Splendor zines/comics:
Kewpiedex Anthology Drawing Zine $8.00 – Kewpie illustrations by 30 artists including Cynthia Navarro, Never Brush My Teeth, Niña Piña Por Vida, Adrian Rotzscher & more!
B.I. BUKE by Michael Olivo $12.00
Old Grudge by Sanaa Khan $8.00
I Don't Need Eyes Lindsay Anne Watson $12.00
Punks and Portraits San Francisco 1979 by John Roberts $15.00
Hunk by Lindsay Anne Watson $10.00
*COMICS & MINIS*
New Comics #10 by Patrick Kyle $5.00
BGOK #1 Foodge is the Fututre by City of Giants $6.00
Casino Knights by Enrique Guerra $5.00
Dale by Kyle Howard Couture $2.00
Comics from Johnny Sampson (Slow Leak Press):
Slow Leak $20.00
Truly MADly $10.00
Mini-Comics from Gabriel Martinez, $5.00 each:
Soledad
Maybe Tomorrow
Bottomed Out Brake Line Smashed Flat
*GRAPHIC NOVELS*
My Pretty Vampire by Katie Skelly (Fantagraphics) $19.99
The Life and Death of Fritz the Cat by R. Crumb (Fantagraphics) $19.99 – Comics that made Crumb famous ? against his will. First time in hardcover!
The End of The Fucking World by Charles Forsman (Fantagraphics) $19.99 – Fancy hardback version. Y'know, so you can say you're cool and that you read TEOTFW before the Netflix series came out!
Ladies In Waiting by Santiago Garcia and Javier Olivares (Fantagraphics) $24.99
Fantasy Sports 3: The King in Green by Sam Bosma $19.95 – Wiz and Mug are back for another magical adventure as they continue their quests for the mighty Order of Mages!
Close Enough for the Angels by Paul Madonna (Petty Curse Books) $34.99 – Emit Hopper was a one-hit wonder—twice. First as a rock and roller in the 80s, then as a literary darling in the 90s. Now it's twenty years later, and despite his desire to remain a simple laundromat owner, stardom has found him once again. Paired with over a hundred lush and haunting drawings from Thailand to Japan.
Unreal City by D.J. Bryant (Fantagraphics) $16.99
MOONSHOT vol 2: The Indigenous Comics Collection ed. by Hope Nicholson (Alternate History Comics) $17.99 – More original comic book stories, written by Indigenous authors from across North America.
Behaving Madly: Zany, Loco, Cockeyed, Rip-off, Satire Magazines, ed. by Craig Yoe and Ger Apeldoorn (Yoe Books) $34.99 – 200 pages of never reprinted material from MAD Mag from Al Jaffee, Joe Kubert, Basil Wolverton, Steve Ditko & more!
*ART & DESIGN BOOKS*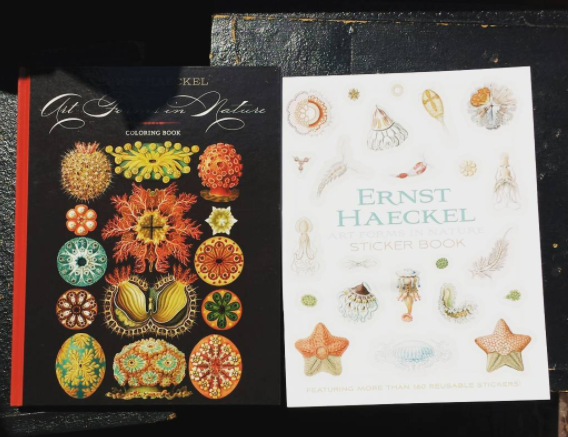 Art Forms in Nature Coloring Book by Ernst Haeckel $16.95 Also new!: Ernst Haeckel: Art Forms in Nature Sticker Book! $7.95 – Get yr flora n fauna on!
Edward Gorey Coloring Book $14.95
Tony Fitzpatrick: The Secret Birds Boxed Notecard Assortment $15.95 – Also in stock! Tony Fitzpatrick box of Thank You cards $8.95
Figure Artists Book of Anatomical Landscapes $24.00
*POLITICS & REVOLUTION BOOKS*
Optimism over Despair: On Capitalism, Empire, and Social Change by Noam Chomsky, interviewed by C.J. Polychroniou (Haymarket/TruthOut) $16.95
Sinister Wisdom A Multicultural Lesbian Literary and Art Journal by Julie R. Enszer $12.00
Mental Health Inc: How Corruption, Lax Oversight and Failed Reforms Endanger Our Most Vulnerable Citizens by Art Levine $30.00
Why Don't the Poor Rise Up?: Organizing the Twenty-First Century Resistance, edited by Ajamu Nangwaya and Michael Truscello (AK Press) $18.95
The Fidel Castro Reader, edited by David Deutschmann $21.95
*ESSAYS*
After Kathy Acker: A Literary Biography by Chris Kraus (Semiotext(e) / Active Agents) $24.95 – The first fully authorized biography about the late iconic experimental novelist, punk poet, playwright, essayist, postmodernist and sex-positive feminist writer. Uses exhaustive archival research and ongoing conversations with colleagues and friends.
Little Boxes: 12 Writers on Television by Caroline Casey (Coffee House Press) $16.95 – What happens when television is part of your cultural DNA? Twelve writers talk about their influences, and they're more Magnum PI that Marcel Proust.
Against Everything: Essays by Mark Grief $17.00 – Now in soft cover.
*MUSIC & MOVIE BOOKS*
Devotion by Patti Smith (Yale U Press) $18.00 – Part of Why I Write series. An inspired exploration of the nature of creative invention.
My Riot: Agnostic Front, Grit, Guts & Glory by Roger Miret with Jon Wiederhorn (Lesser Gods) $26.00
The Mudd Club by Richard Bock (Feral House) $24.95 – Artist, writer and lifelong New Yorker Richard Boch was the Mudd Club's longtime alpha doorman, the club that served as an incubator for talent. Everyone made an appearance, from Basquiat & Johnny Rotten to The Hell's Angels, passing through, passing out, and some, passing on. Marianne Faithful and Talking Heads, Frank Zappa, William Burroughs, and even Kenneth Anger? just a few of the names that stepped on stage.
I Am the Wolf: Lyrics and Writings by Mark Lanegan $27.00 – A collection of lyrics and autobiographical commentary by former Screaming Trees and Queens of the Stone Age vocalist Mark Lanegan, with a preface by John Cale.
Hail to the Chin: Further Confessions of a B Movie Actor by Bruce Campbell $27.99 – Evil Dead-famed actor's follow up to If Chin's Could Kill.
Designed for Hi-Fi Living: The Vinyl LP in Midcentury America by Janet Borgerson & Jonathan Schroeder (MIT Press) $34.95 – A discussion of nearly 150 vintage album covers such as Cocktail Time, The Perfect Background Music for Your Home Movies and Strings for a Space Age.
It's Alive!: Classic Horror and Sci-Fi Movie Posters by Daniel Finamore and Joseph E. LeDoux $30.00
*OUTER LIMITS*
The Voynich Manuscript: The Complete Edition of the World's Most Mysterious and Esoteric Codex by Dr. Stephen Skinner (Watkins Publishing) $25.95 – An extensively illustrated codex featuring cosmological and astrological diagrams interwoven with detailed herbal illustration, relating both to the magical and alchemic view of the universe, written in a strangely beautiful cryptographic script.
Playing Dead: A Journey Through the World of Death Fraud by Elizabeth Greenwood $16.00
*FICTION*
Dig by Emma Wong $8.00
*HUMOR*
Sh*t My President Says: The Illustrated Tweets of Donald J. Trump by Shannon Wheeler (Top Shelf) $14.99
Inherited Disorders: Stories, Parables & Problems by Adam Ehrlich Sachs $12.99 – 100+ hilarious variations of vexing relationships between fathers and sons: a famous medium becomes possessed by the spirit of his skeptical father. A pianist amputates his fingers one by one to thwart his father, who will not stop composing concertos for him. A nobleman wills his ill-conceived flying contraption–incapable of actual flight–to his newborn son. A witty look at a most serious subject.
Navel Gazing: True Tales of Bodies, Mostly Mine (but also my mom's, which I know sounds weird) by Michael Ian Black $16.00
Through a Glass Lightly: Confession of a Reluctant Water Drinker by various $9.95 – A drinker's crown of sorrow is remembering wetter days! Part of London Library's 'Found on the Shelves' series that reprints weirdly (ir)relevant tracts of quaint days past.
*MAGAZINES*
Fortean Times #356 Aug 17 Featuring the Cottingley Faries $12.50
Frankie #78 $14.95
Wire #402 Aug 17 Circle $10.99
AdBusters #133 vol 25 #5 Sep Oct 17 $14.95
Cabinet #63 The Desert $12.00
*LIT JOURNALS, CHAP BOOKS & POETRY*
The Point #14 Sum 17 Darkness Enlightened $14.99
Escape From the Hood IV by Lita $3.00
Having Given Up Poems by Emily Hutchings $5.00
Flowers of Anti Martyrdom by Dorian Geisler (McSweeneys) $22.00
Chatter Box, various issues by Pulp Labs $5.00 each
Bushwick Review #7 $10.00
*CALENDARS*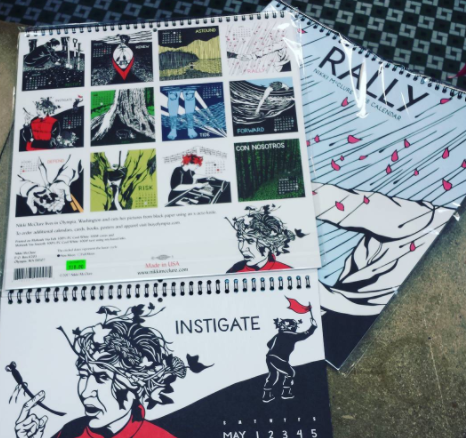 Rally 2018 Nikki Mcclure Calendar $18.00
Moleskine 2018 planners! Different variations, sizes, colors and prices!
*STICKERS*
Skull Romance Sticker by Corinne Halbert $3.00