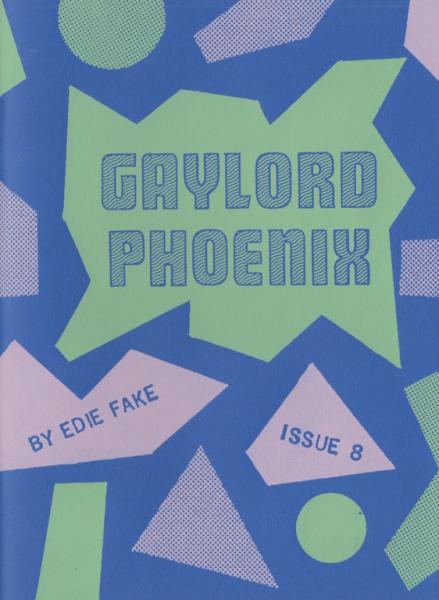 Happy Local Comic Book Shop Day! OK, so technically we're a bookstore, but if you're in Chicago, we're local. And we do have comics! For example: Edie Fake's new Gaylord Phoenix Issue #8, which travels the path to call on connections too thick to be broken, in Fake's award-winning, abstract-o queer comic series. Under (over)cover world (re)building, convening in the coven, best represented with the introduction that says, "A storm has hit hard and much damage has been done. In a broken hall, what heals? What helps?" Made in an edition of 800 copies. Fight the elements and come get it in the store or buy it at Quimbys.com here!
*ZINES & ZINE-RELATED BOOKS*
Truckface #18 We're In This Together by LB $3.00 – LB is a gender-questioning punk rocker in a band in the summer, and a  dedicated, grant-winning high school teacher with their tattoos covered up during the school year.
The Day McDonalds Fell by DW Seckinjerk $10.00
Art Scab and How to Pick it Off $2.00
Rent Is Theft Radical Alternatives to the Housing Crisis #1 $2.00
Flux 0001 by RH Borre $5.00
Countersignals vol 2 Hieroglyphs of the Anti-Conformity by Jack H. Fischer $15.00
About Some Dragons by Dylan Kyung Lim $5.00
Earth Has No Blank Spaces Only Razed Surfaces $5.00
*COMICS & MINIS*
Futile Comics #6 by Mike Centeno $6.00
Homunculus the Refuser No Man #12 by Rod Binnion $20.00
Total Lunarcy by Natalie Dupille $10.00
*GRAPHIC NOVELS*
I Don't Like You by Kevin Scalzo $11.95 – "Sugar Booger" artist Kevin Scalzo returns with his first long form comic, and it's hilarious.
As the Crow Flies by Melanie Gillman (Iron Circus Comics) $30.00
Dialogues Conversations About the Nature of the Universe by Clifford V. Johnson $29.95
*POLITICS & REVOLUTION*
How Will Capitalism End?: Essays on a Failing System by Wolfgang Streeck $16.95
*ART & DESIGN BOOKS*
Geek Tattoo: Pop Culture In the Flesh by Issa Maoihibou (Cernunnos) $40.00
*MUSIC & MOVIES BOOKS*
David Bowie Made Me Gay: 100 Years of LGBT Music by Darryl W. Bullock $35.00
The History of Rock & Roll, Volume 1: 1920-1963 by Ed Ward $19.99 – Now in soft cover.
Florence Foster Jenkins: The Life of the Worlds Worst Opera Singer by Darryl W. Bullock $15.95 – Now in soft cover.
David Bowie: The Man Who Fell to Earth by Paul Duncan (Taschen) $19.99
We're Going to be Friends by Jack White and Elinor Blake (Third Man Books) $16.95 – White Stripes-flavored kids book.
*OUTER LIMITS*
Psychedelic Medicine: The Healing Powers of LSD, MDMA, Psilocybin, and Ayahuasca by Dr. Richard Louis Miller $16.95
*MAGS*
Bust #108 $9.95
Tape Op #122 $4.95
Wicked Vision Magazine vol 8 $18.00
Skeptical Inquirer vol 41 #6 $5.99
Make vol 60 $9.99
Horror Hound #68 $6.99
Under the Radar #62 $5.99
Raw Vision #95 Fall 17 $14.00
Kill Pretty #4 Unsuitable Periodical $10.00
Cherry Bombe #10 $20.00
Fortean Times #359 Witch Bottles $12.50
Toilet Paper #15 $16.00
*LIT MAGS & CHAP BOOKS*
NA Literary Magazine vol 1 #10 No Assholes $5.00
Flicker World by Jack Ghost $7.00
Imitating Intimacy by Meggi Lampen $5.00