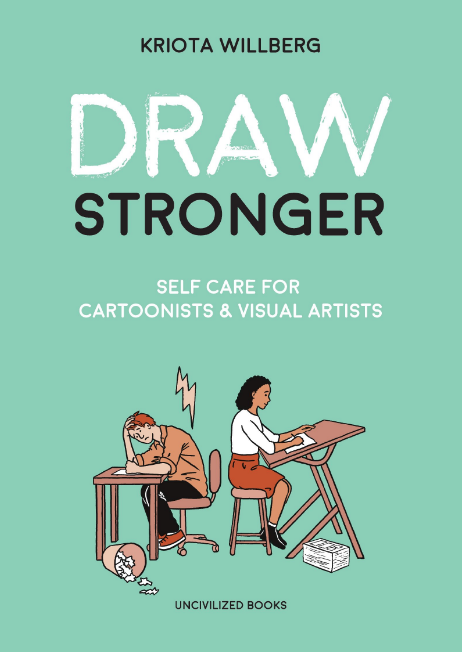 Draw Stronger: Self-Care For Cartoonists and Other Visual Artists by Kriota Willberg (Uncivilized Books) $16.95 – Understand repetitive drawing injuries from the perspective of a committed drawer: explore R.I.C.E. Therapy, avoid worsening your injuries, preventive tips, and more!
Zines
Skyking Skyking Do Not Answer #1 A Zine on the Paranormal $3.50 – Like a zinester Fortean times!
Circus Drawing Zine $5
Cuba Cultura by Ricardo Montana $10
Comics
DAYGLOAYHOLE #1 by Ben Passmore (Silver Sprocket) $6
Peehole #16 Mythological Pals $3
Graphic Novels
The New World: Comics from Mauretania by Chris Reynolds $34.95 – A surreal vision of a post-alien-invasion Earth where human beings still have to deal with quotidien frustrations, ennui, and understanding their place in the world.
Young Frances by Hartley Lin (Adhouse) $19.99 – First collection from Pope Hats, a study of work chaos and close friendships over time.
Showtime by Antoine Cossé (Breakdown Press) $22.50
All Summer Long by Hope Larson $12.99
Politics, Revolution, Activism & Essay
Wars and Capital by Éric Alliez and Maurizio Lazzarato (Semiotext(e)) $27.95 – A critique of capital through the lens of war, and a critique of war through the lens of the revolution of 1968.
Not That Bad: Dispatches from Rape Culture, ed. by Roxanne Gay $16.99
Dear Ijeawele, or A Feminist Manifesto in Fifteen Suggestions by Chimamanda Ngozi Adichie $8.95
Against Memoir: Complaints, Confessions & Criticisms by Michelle Tea $18.95 – Tea's first-ever collection of journalistic writing, turning investigative eye to the genre that's nurtured her entire career?memoir?and considers the price that art demands be paid from life.
Vintage & Retro
The Little Book of Bettie: Taking a Page from the Queen of Pinups by Tori Rodriguez $22.49 – A lifestyle guide inspired by the Queen of Pinups — Bettie Page, advice on fashion, makeup, fitness, and more!
Unmentionable: The Victorian Lady's Guide to Sex, Marriage, and Manners by Therese Oneill $16.99 – Featuring nearly 200 images from Victorian publications, learn all about the arsenic in your face cream and the pot of cold pee that sits under your bed.
Bikes and Bloomers: Victorian Women Inventors and their Extraordinary Cycle Wear by Kat Jungnickel $29.95 – An illustrated history of the evolution of British women's cycle wear.
Outer Limits
The Memory Code: The Secrets of Stonehenge, Easter Island and Other Ancient Monuments by Dr. Lynne Kelly $16.95
Trip: Psychedelics, Alienation, and Change by Tao Lin $16 – Tao Lin discovered the work of Terence McKenna and wrote a kind of a gonzo memoir/journalistic exposé a la The Electric Kool-Aid Acid Test, asking questions about why we create art and perception and all the stuff you ask when you get into psychotropic drugs and go on pilgrimages.
Get Baked: Space cakes, pot brownies and other tasty cannabis creations by Dane Noon $9.99
Fiction
Men Without Women: Stories by Haruki Murakami $16
Zodiac: A Novel by Sam Wilson $15.95 – In a volatile society ruled and divided by its citizens' zodiac signs, a serial killer is on the loose: is it a misguided revolution or something more sinister?
Mister Memory: A Novel by Marcus Sedgwick $15.95 – In Paris at the end of the nineteenth century, a man with a perfect memory murders his wife. A dazzling psychological puzzle that reveals the strange connection between memory and fate. Now in soft cover.
Magazines
The Baffler #39 $14
Fortean Times #365 $12.50
Lit Journals & Chap Books
N+1 #31 Spr 18 Out There $14.95
The Point #16 $14.99
Born High by E.E. Greer $5
Sexxxy
Elska #17 Perth Australia $18.50
Other Stuff
New sticker and patches from Gatosaurio, with such artists as Abraham Diaz, Inechi, Michael DeForge, Tara Booth!