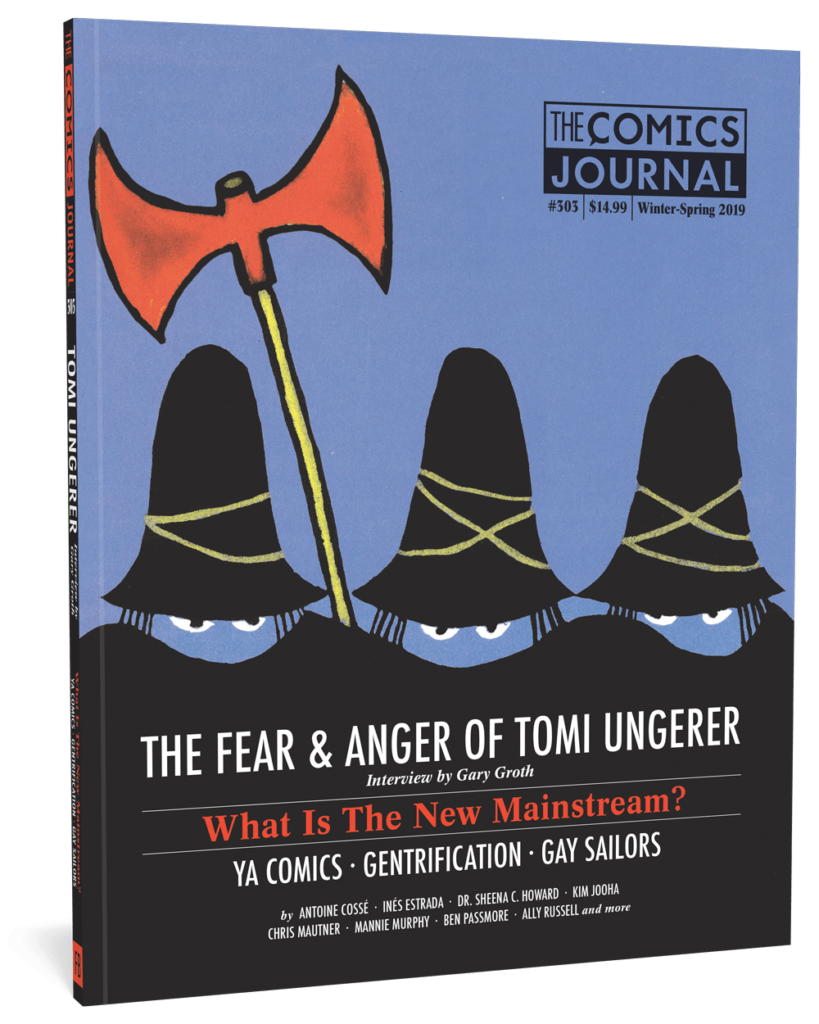 The Comics Journal 303: Winter – Spring 2019 (Fantagraphics) $14.99 – TCJ back in print! This issue, the first in its new twice-a-year format, covers the "new mainstream" in American comics — how the marketplace and overall perception of the medium has drastically shifted since the "graphic novel boom" of the early 2000s and massive hits like Persepolis, Fun Home, and Smile. It also includes sketchbook pages from French-born cartoonist Antoine Cossé, an introduction to homoerotic gag cartoons out of the U.S. Navy, Your Black Friend cartoonist Ben Passmore's examination of the role art and comics have in gentrification, a reconsideration of the comics canon by Eisner Award-winner Dr. Sheena C. Howard, and more.
GenderFail: An Anthology On Failure $24.99
Zines
Way Down Below by Corinne Halbert $5 – Little booklet featuring eight paintings including my HELL TRIPTYCH from late 2018 and early 2019. Limited edition of 200. ~CH
Behind the Zines Jan 19 #7 A Zine About Zines edited by Billy McCall $3
G by Jesse Maria Gomez Villeda $25
Absolute Horseradish #1 $6
Comics & Minis
Comics by Jessica Campbell: My Erotic Life #1 + Ten Most Incestuous Royals + JC's Way
Four Years Part 1 by Kevin Czap $8
Viewotron #1 by Sam Sharpe & and Peach S. Goodrich (AdHouse) $6.95
Spaghetti Punch #1 by Betsey Swardlick $4
Pressure: A Short Story + We are Not Alone by Ezra Clayton Daniels $5 – Short science fiction stories that dig deep.
Dr. Zombie Monster Family Physician #1 by Tommy Cannon $6
Graphic Novels
Starseeds 2 by Charles Glaubitz $29.99
The Chancellor and the Citadel by Maria Capelle Frantz (Iron Circus) $15
An Illustrated History of Filmmaking by Adam Allsuch Boardman (Nobrow) $24
Tank Girl All Stars by Alan Martin & friends $29.99
Fred the Mustard Packet Does the Scottish Play by Tommy Cannon $12
Art & Design Books
Mural Masters: A New Generation by Kiriakos Iosifidis (Gingko Press) $45
Border Bang by Jorge R. Gutiérrez $24.95 – Mexican folklore meets U.S. pop culture.
Outer Limits
Underground: A Human History of the Worlds Beneath Our Feet by Will Hunt $27
Fiction
American Genius, A Comedy by Lynne Tillman (Soft Skull) $16.95
The Largesse of the Sea Maiden: Stories by Denis Johnson $17 – Finished shortly before Johnson's death in 2017, this short story collection came 25 years after the seminal work Jesus' Son.
The Psychology of Time Travel by Kate Mascarenhas $26.99
The Flying Troutmans by Miriam Toews (Counterpoint) $16.95
Food
To Drink and to Eat 1: Tastes and Tales from a French Kitchen by Guillaume Long (Lion Forge) $24.99
Sex Guides & Culture
Bang Like a Porn Star: Sex Tips from the Pros by Winston Gieseke $19.99
Essays
The Monk of Mokha by Dave Eggers $16.95
For the Kiddies
Eddie Spaghetti by Rutu Modan (Fantagraphics) $12.99
Mr. Fibber by Yirmi Pinkus (Fantagraphics) $12.99
Paper Toys Books from Gingko Press, $9.95 each: Aliens by Loulou and Tummie, Monsters by Niark