View this post on Instagram
Quimby's Air Freshener by Plastic Crimewave $5.99
View this post on Instagram
Dame Darcy 2022 Meat Cake Calendar  $15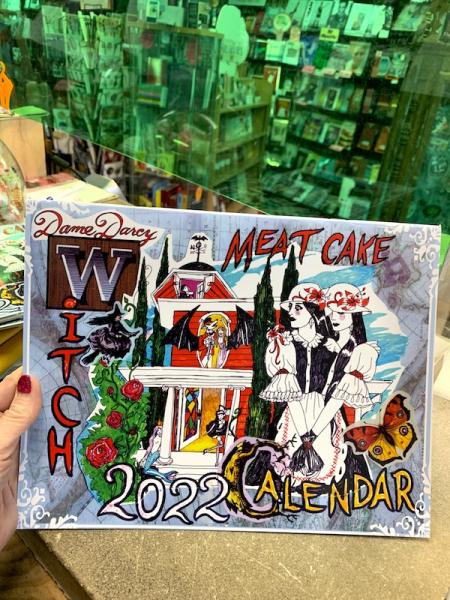 Zines
Midwest Perzine Fest Presents What's a Perzyne? A Retrospective by Jonas & Cynthia Hanifin $1
Words and Smiles #4 by Don Unger $3
zines by John Bolin: Photos $12, More Than Five Drawings $8
Pencil of the Week #12 $3
Body Condition by Brian Uhl $23
RPG guide zines by Colt Hack, $5 each: Fights of Flight Bird, Omega Scale Threat Godzilla
It's All Out in the City: A Photo Zine by Archer Daigle $5
Comics & Minis
comics by Fox Graham: Lucky Jay #2 $8, Lucky Edwin #1 $6, Messenger #1 $1.50
Poor Little Ghosts by Davidt Dunlop $8
Buny by Ben Cherry $6
Doom Skull #3 by Dane Georges $5
Lone Roller by Philip Twigg $6.99
Cats by Felix $1
Graphic Novels
Red Flowers by Yoshiharu Tsuge (D+Q) $24.95
Tunnels by Rutu Modan $29.95
Nib Magazine #10 Nature $14.95 – With a piece by Caroline Cash!
Robert Crumb. Sketchbook Vol. 5. 1989–1998 edited by Dian Hanson (Taschen) $40
Graphic Novels & Comics from Rotopol: Mellom Collection #1 by Rita Furstenau $5, To Be a Brave Scout by Julia Kluge $13, Pimo and Rex books by Thomas Wellmann, Hearsay by Lea Heinrich $12, It Had to Be You by Nick Edwards $12, It's an Unhappy Day For Many Reasons by Kirsten Carina Geiber $10, In Winter by Rita Furstenau $12
Politics & Revolution
Uncomfortable Conversations with a Black Man by Emmanuel Acho $18.99
Darkwater: Voices from Within the Veil W.E.B. Du Bois $19.95
An Afro-Indigenous History of the United States by Kyle T. Mays $27.95
Essays
Death Never Dies: Mourning 2020 Through the Lives and Deaths of Public Figures by Lee Fearnside $24.99
Generations: A Memoir by Lucille Clifton $14.95
Dante In the Desert by Anthony Walent $20
Fiction
The Plague by Albert Camus $26 – The first new translation of The Plague to be published in the United States in more than seventy years.
Wheatyard by Peter Anderson $8
Music Books
Nobody Ever Asked Me About the Girls: Women Music and Fame by Lisa Robinson $17
33 1/3 series: John Prine's John Prine by Erin Osmon $14.95
Magazines
Mojo #336 november $13.99
Skeptical Inquirer vol 45 #6 november / december $5.99
Raw Vision #108 fall $16
Other Stuff:
Tarot Original 1909 Circular Deck $29.95
No Masters, No Bedtimes You're Not the Boss of Me Sticker $2