Lalapalooza weekend. Grant Park can keep their sweaty and crowded crowds, we'll just chill here, thanks!
ZINES & ZINE BOOKS!
Underground Music Fanzines From the Late 1980s-Early 90s by Marc Fischer and Temporary Services (Temporary Services) $5.00 – Public Collectors is founded upon the concern that there are many types of cultural artifacts that public libraries, museums and other institutions and archives either do not collect or do not make freely accessible. Public Collectors asks individuals that have had the luxury to amass, organize, and inventory these materials to help reverse this lack by making their collections public.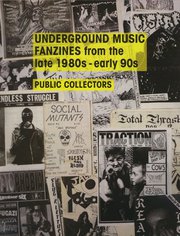 Cambodian Grrrl: Self Publishing in Phnom Penh by Anne Elizabeth Moore (Cantankerous) $7.95 – Unmarketable author and independent publishing activist tells the story of her experience with a large group of social-justice-minded young women from the impoverished provinces of Cambodia in short essay collections on contemporary media, art, and educational work by, for, and with young women in Southeast Asia. Part memoir, part investigative report, completely compelling.

Judas Goat Quarterly #50 by Grant Schreiber $1.50 – Fifty issues strong, the feisty old JGQ kicks back in the August heat and ponders the absurdities of our political plight as civil liberties get stripped from us like so much sunburnt skin. -EF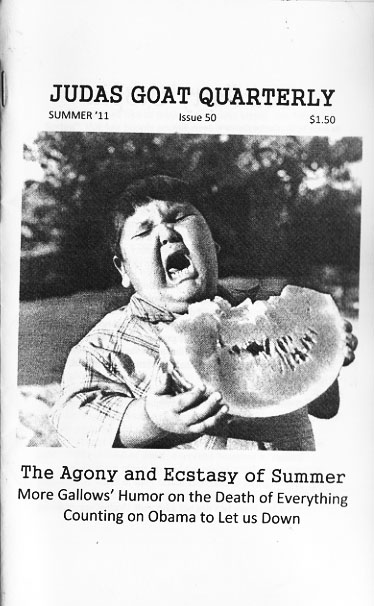 Plastic Knife #7 $3.00
Awesome Future Stories of Victorious Action by Robnoxious $4.00
Avow #24 by Keith $4.00
Wild Fermentation Zine: A Do-It-Yourself Guide to Cultural Manipulation by Sandor Katz (Microcosm) $6.00
Readin and Fightin #3 Mental Health Insisting on Literature by Women of Color by Camille Yarnover $1.50
Flood #3 Spr 11 and Flood #4 Sum 11 $5.00 each
Zine by Jessica Ciocci (Picturebox) $8.00
Filth #3 Sum 11 $3.00
People I Love Best #4 by Lia Cunningham $2.00
Zines by Devan Elyse Bennett: Sad Eyed Girl $2.00, Fascinating History of Perfume $1.50
Stitches In My Head #1 $4.00
Flermp by James The Stanton $5.00
DumDum #1 Cities and States: How to Leave Cities by Taleen Kalenderian $3.00
COMICS & MINI COMIX!
Big Top Popaganda #1 by Ron English (Creators Edge) $3.99 – Written and illustrated by the Popagandesque lowbrown artist known for his eerie and artful takes on things All American: Mickey Mouse, McDonalds and other corporate "icons."
Suicide Girls Comic #4 by various (inclding Steve Niles) (IDW) $3.99 – Sexy chicks with tatts fightng crime.
Lane Leson Comics #1 by Lane Nelson $3.00
Reckless $1.00
Loner $1.00
Damen County #1: Thats One Big Hole Minnesota by Russ G. $5.00
Dead Yeards #1 by Nerd $7.00
Ziskas Drum vol 1 by Steven Trimmer $5.00
Stobor Stanton James the Stanton $5.00
Three #2 by Jennifer Camper and various $6.25
GRAPHIC NOVELS & TRADE PAPERBACKS!
Esperanza: A Love and Rockets Book by Jaime Hernandez (Fantagraphics) $18.99
Tank Takuro: Manga Master Prewar Strips 1934-35 ed. by Gajo Sakamoto (Press Pop) $29.95
Killing Velazquez Philippe Girard (Conundrum) $20.00
Jack Kirby Omnibus vol 1 Starring Green Arrow (DC) $49.99
Marvelous Land of Oz SC by Frank L. Baum (Marvel) $19.99
ART & DESIGN BOOKS!
Faces by Glenn Barr (Last Gasp) $15.95
Art of Sketch Theatre vol 1 (Baby Tattoo) $40.00
FICTION!
Cockfighter by Chalres Willeford (Picturebox) $17.95
Zero History by William Gibson (Berkley) $16.00 – Now in soft cover.
Steady Work by Lloyd Zimpel $12.95
LITERARY JOURNALS, CHAP BOOKS & POETRY!
Anobium vol 1 Sum 11 $10.00
The Toucan #12 Sum 11 $3.00
DIY!
The Psilocybin Solution: The Role of Sacred Mushrooms In the Quest for Meaning by Simon Powell (Park Street) $18.95
MUCKRACKING, MEMOIRS, MAYHEM, MISCREANTS & MISCELLENOUSNESSESESNESS!
You Don't Know Shit: A Brilliant Miscellany of All Things Scatalogical by various (SMP) $12.99
Geek Wisdom: The Sacred Teachings of Nerd Culture by Stephen H Segal (Quirk) $14.95
Baffling and Bizarre Inventions by Jim Murphy (Skyhorse) $12.95
Weird and Wacky Inventions by Jim Murphy (Skyhorse) $12.95
Barbarian Rites: The Spiritual World of the Vikings and the Germanic Tribes by Hans Peter Hasenfratz (Inner Traditions) $16.95
The Suppressed History of America: The Murder of Meriwether Lewis and the Mysterious Discoveries of the Lewis and Clark Expedition by various (Bear & Co.) $15.00
Scattered Skeletons In our Closet by Karen Mutton (Adventures Unlimited) $18.95 – The rundown on various hominids, skeletons, anomalous skulls and other "things" from our family tree, including hobbits, pygmies, giants and horned people, dolichocephaloids (Coneheads) and more. Heavily illustrated.
Grid of the Gods: The Aftermath of the Cosmic War and the Physics of the Pyramid (Adventures Unlimited) $19.95
Beyond Einstein's Unified Field: Gravity and Electro Magnetism Redefined by John Brandenburg PhD (Adventures Unlimited) $18.95
Dark Star: Hidden History of German Secret Bases, Flying Disks and UBoats (Adventures Unlimited) $19.95
Chicago Italians at Work: Images of America by Peter N. Pero $24.00
Chicago's Pilsen Neighborhood: Images of America by Peter N. Pero $24.00
Under the Red Velvet Cover: Conquering Victimhood and Breaking the Silence by Grant Garris $14.95
MUSIC BOOKS!
I Love Rock N Roll Except When I Hate It: Extremely Important Stuff About the Songs and Bands You Love/Hate, Love to Hate, Hate to Love by Brian Boone (Perigree) $13.95
Euro Punk: The Visual Culture of Punk in Europe 1976-1980 (Drago) $55.00
POLITICS & REVOLUTION!
The Death and Life of American Journalism: The Media Revolution That Will Begin the World Again by Robert W. McChesney and John Nichols (Nation) $16.99
MAGAZINES!
Kill Screen #4 Public Play Issue $15.00 – The video game mag for video game appreciators and also people who don't get into video games. Very entertaining! We also have these back issues for $15.00 each as well: #2 Back to School Issue and #3 Intimacy Issue.
Sketch School #1 by Carol Sogard $7.00  – And same with this one.
Dwell Sep 11 $5.99
Sneaker Freaker #21 $14.50
Color Skateboards Collectors Issue 2011 $7.99
Mojo #214 Sep 11 $9.99
Tattoo Collection #45 $7.75
SEX & SEXY!
Headmaster #1 and #2 $20.00 each – Hot And Haute Fag Art Porn Magascene. -EF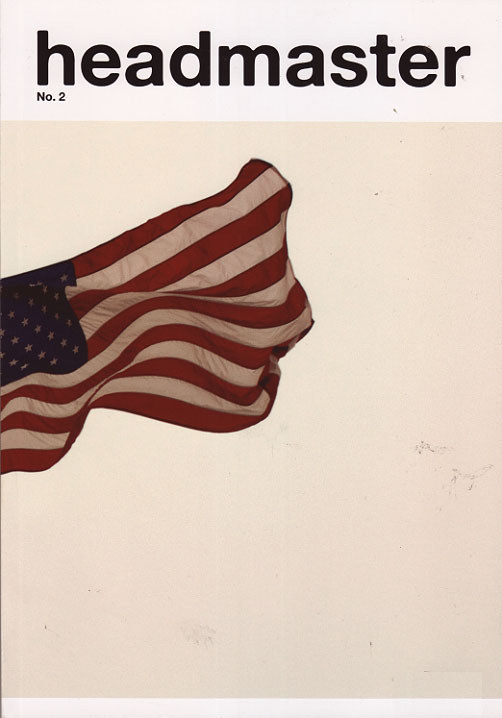 The Pin-Up Art of Humorama ed. by Alex Chun and Jacob Covey (Fantagraphics) $19.99 – Collects hundreds of racy cartoons from the once-ubiquitous tasteless humor mag, including Dave Berg, Jack Cole, Basil Wolverton and more.
Latex Fashion Photography: Slick Shiny Sexy (Goliath) $49.95
Surrealistic Erotic Dreams by Frank C. Hauser (Imaginary) $69.95