Look at the awesome photos from Saturday's Mildred Pierce #4 release event.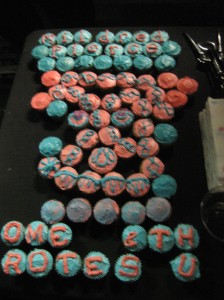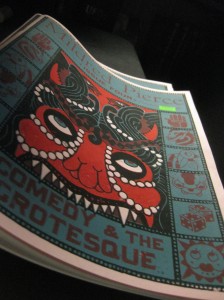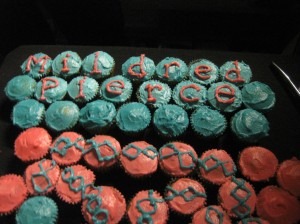 1. Mildred Pierce #4 by Megan Milks and John Bylander, eds $8.00 – This issue is endless, like a bottomless well of great things. I've been reading it for days, and I'm nowhere close to being done with it. MP always features a great and unconventional range of art essays, this issue by Megan Milks (on bulemic writing), Vicky Lim (on Hothead Paisan), Leeyanne Moore (on Sean Samoheyl), John Bylander (on Jimmy Joe Roche) and Joyce Kuechler (on Wangechi Mutu). As if that weren't enough, there's also wild prose by Jake Hoestetter, Ellen Nielsen, James Tadd Adcox and Jim Joyce, an interview with Pippi Zornoza on the opulent charmed terror of her drawing and performance work, tons of comics by the likes of Eamon Espey, Zach Hazard, Ed Choy Moorman, Noel Firebert, Jason T Miles. There's more too. That's not even hardly everything that's here. You'll laugh, you'll cry, that's the point, forever. -EF
2. Cometbus #54 In China With Green Day by Aaron Cometbus $4.00
3. Boys Club #3 by Matt Furie $4.95
4. Who Is Amy Amoeba by Jason Viola $3.00
5. Filling the Void: Interviews About Quitting Drinking and Using (Doris Press) $4.00 – This zine is so solid it's like it's made out of rocks. Cindy from Doris Zine has collected seven interviews here that discuss sobering up from DIY and non-religious perspectives. A great and resourceful thing to have if you or someone you know is trying to clean up their act and is maybe feeling frustrated with traditional modes of support and process. Just a great and resourceful zine to have in general. -EF
6. Crap Hound #5: Hands, Hearts and Eyes by Sean Tejaratchi, ed.(Show & Tell Press) $12.00 – BACK IN PRINT! 12 New Pages to seduce you! After the longest wait ever, THE BEST CLIP ART ZINE EVER HAS RETURNED. This picture book for discussion and activity features hands, hearts, and eyes. Get those tattoo guns ready, because you and your loved ones are going to need one once you get through looking through this issue. Amazing.
7. Boys Club #4 by Matt Furie (Pigeon Press) $6.00 – More boners, more pizza, more roommates, more stoney-baloney plus also some barfing. I'm not going to tell you twice: zit's awesome. -EF
8. AdBusters #94 vol 19 #2 Mar Apr 11 $8.95
9. Thai Comic Horrors vol 1 by by Khun So and Krit $3.00 – Esteemed Quimby's alumni/expat Logan just sent us this double-header of Thai pulp comics translated to English for the first time! This issue is comprised of two stories, "The Ghost That Comes to Steal Your Heart" and "Hunt For the Hell Drugs". Hell yes, those titles are great- and would you believe the actual comics are EVEN BETTER? They are! Classic carnage with visual flair, packed full of jungle ghouls, beautiful babes and poor moral judgement. -EF
10. Your Guide to the Patron Saints of Regret by Michael Whittier and Carolee Gilligan Wheeler $5.00 – Saint Elspeth of the Remnant: Patroness of Ill-Chosen Relationships? Saint Bob the Reluctant: Patron of Introverts? Saint Tammy of Memphis: Patron of Unfortunate Hair Appointments? I tell you, it's saints like these that really make me question papal infallibility. -EF
With magnifying glass and embossed ink cover.