Tonight we're getting ready for the Mildred Pierce release party! It starts at 7pm. Join us as we celebrate Mildred Pierce's fourth issue, the theme of which is "Comedy and the Grotesque." Rumor on the street is that there will be refrshments. All the more reason to come.
And oh! As if you didn't notice from the HUGE IMAGE on Quimbys.com of the Chris Ware print we're selling, just to let you know, we are now selling an exclusive Quimby's only print, designed and authorized by Chris Ware and printed by The Bird Machine. The print is of Chris' original blueprint for our Quimby's sign that hangs outside the shop. Click here for more details!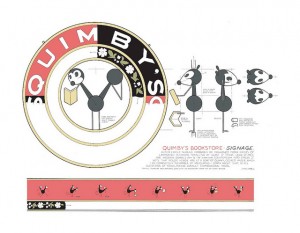 So! New Stuff!
ZINES & ZINE-RELATED BOOKS!
Filling the Void: Interviews About Quitting Drinking and Using (Doris Press) $4.00 – This zine is so solid it's like it's made out of rocks. Cindy from Doris Zine has collected seven interviews here that discuss sobering up from DIY and non-religious perspectives. A great and resourceful thing to have if you or someone you know is trying to clean up their act and is maybe feeling frustrated with traditional modes of support and process. Just a great and resourceful zine to have in general. -EF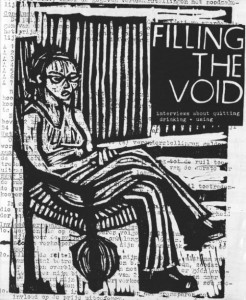 Thai Comic Horrors vol 1 by Khun So and Krit $3.00 – Esteemed Quimby's alumni/expat Logan just sent us this double-header of Thai pulp comics translated to English for the first time! This issue is comprised of two stories, "The Ghost That Comes to Steal Your Heart" and "Hunt For the Hell Drugs". Hell yes, those titles are great- and would you believe the actual comics are EVEN BETTER? They are! Classic carnage with visual flair, packed full of jungle ghouls, beautiful babes and poor moral judgement. -EF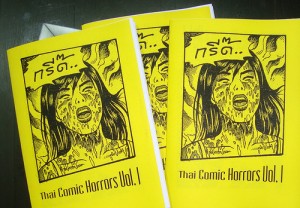 Mildred Pierce #4 $8.00
East Village Inky #46 by Ayun Halliday $3.00
Grime Time #4 $12.00
Without Words and Without Kneeling #5 – A Serialized Zine Novella by Tomas Moniz $3.00 – By the editor of Rad Dad zine.
Fisting and Roses #1 $2.00
Toucan #10 by Liz Baudler and Laura Rynberg $3.00
Class Struggle #69 by Spark $3.00
COMICS & MINI COMIX!
City Hunter Magazine #1 by CF, Featuring Main Dice (Picturbox) $8.00
Passion Du Bois by Frederic Fleury (Picturebox) $8.00
Nine Gallons #2 by Susie Cagle $4.00
Canadian Haircut by James Kirkpatrick and Peter Thompson $7.00
Thyme Balm Live at the Forest City Gallery With Special Guest Gym Sahib $3.00
Do You Know How Bad I Want to Use the Force by James Kirkpatrick $3.00
Dog Named Dracula by James Kirkpatrick $7.00
How to Survive Working in Retail #5 by Ronnie Gorham, Lisandro Di Pasquale and Markell Wilson (Three Guys Making Comics) $2.00
ART & DESIGN BOOKS!
Viande de Chevet – Owl Monster Woman Lady French France (Picturebox) $25.00 – Massive new collection from Stephane Blanquet's UDA press. New work by artists including: Pascal Doury (tons of amazing unseen drawings), Captain Cavern, Ichiba Daisuke, BlexBolex (full length story!), Takashi Nemoto (full length story!), Savage Pencil, Xavier Robel, Helge Reuman, Yoshikazu Ebisu (full length story!), David Sandlin (full length story!), Isabelle Boinot, Namio Harukawa, Isabelle Boinot, Bruno Richard, Julie Doucet, Blanquet, MS Bastian, Frédéric Fleury (full length story!), Jonathon Rosen, and many more.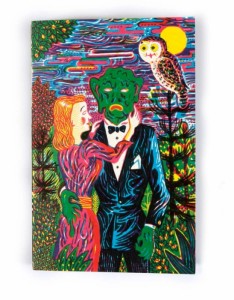 GRAPHIC NOVELS & TRADE PAPERBACKS!
Hellblazer – Pandemonium TPB by Delano and Jock (Vertigo) $17.99
Poe and Phillips TPB by Collado and Cedillo (Arcana) $14.95
Scalped vol 7 Rez Blues TPB (Vertigo) $17.99
Freakangels vol 5 TPB by Ellis and Duffield (Avatar) $19.99
Extreme Perspective For Artists by David Chelsea (Watson) $21.99
DIY/FOOD/DRUG STUFF!
Marijuana 101: Professor Lee's Introduction to Growing Grade A Bud by Professor Lee (Green Candy Press) $18.00
FICTION!
Remembering Gage Park by William P. Shunas $20.00
MAGAZINES!
Purple Fashion vol 3 #15 $45.00

LITERARY JOURNALS, CHAP BOOKS & POETRY!
Logan Square Literary Review #5 Win 11 $5.00
Literary Review vol 54 #2 Win 11 $8.00
Indigo Rising Magazine #7 $5.00
CHILDRENS BOOKS!
Slog's Dad by by David Almond and Dave McKean (Candlewick) $15.99 – Part story, part graphic novel – a tender slice of life and death from the creators of "The Savage." Do you believe there's life after death? Slog does. He reckons that the scruffy bloke sitting outside the pork shop is his dad come back to visit him for one last time – just like he'd said he would, just before he died. Slog's mate Davie isn't convinced. But how does this man know everything Slog's dad would know? Because Slog says it really is his dad, that's how.
MUCKRACKING, MEMOIRS, MAYHEM, MISCREANTS & MISCELLENOUSNESSESESNESS!
Nothing to Envy SC Ordinary Lives in North Korea by Barbara Demick (Spiegel) $16.00

SEX & SEXY & SEX CULTURE!
I <3 Boy by J. Yatrofsky (PowerHouse) $24.95 – With an erotic softness and quiet confidence, the young, fully-nude subjects in this book exhibit a willingness to be celebrated by all for their beauty and openness. Posing in the intimacy of their own homes, often in studio apartments in Manhattan's East Village and Lower East Side, lanky, hairless bodies are posed sensually against the minimalist backgrounds of naturally lit rooms with sparse furnishings.