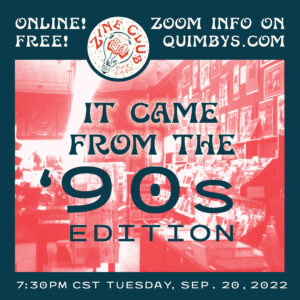 Zine Club Chicago Online: It Came from the '90s Edition
7:30 p.m. CT Tuesday, September 20 on Zoom
Free!
This month, Zine Club Chicago is commemorating the 31st anniversary of Quimby's Bookstore by celebrating the decade that gave birth to our shop: The 1990s! While self-publishing has evolved across many eras, there's no doubt that the '90s left indelible Sharpie marks on zine culture as we know it today. Quimby's has been proud to serve as a home base for zine creators and fans in Chicago and beyond since we opened in the Wicker Park neighborhood in 1991.
We want to hear all about your favorite zines tied to the 1990s, whether they were published in that decade or focus on that era and its distinctive culture, music, technology, art, politics, and more. We're also sending out a special invitation to zinemakers who first began creating zines in the '90s – we'd love to hear about your memories of that time and what you're doing now!
Grab your favorite zines about the '90s, BYOG(ushers), and join us on Zoom for Zine Club Chicago Online: It Came from the '90s Edition at 7:30 p.m. CT Tuesday, September 20!
** RSVP required ** We want to make sure that our online Zine Club Chicago events are a safe space, so we won't be releasing the Zoom link publicly. If you'd like to attend, please email zineclubchicago@gmail.com to RSVP by 9 p.m. CT Monday, September 19 (the evening before our event). We'll email you the Zoom link by 5 p.m. CT on Tuesday, September 20.
Zine newbies and longtime enthusiasts alike are always welcome at Zine Club Chicago, the city's only book club-style event for people who read zines. This free monthly series is produced by Cynthia E. Hanifin and sponsored by Quimby's Bookstore. Anna Jo Beck designs our monthly flyers, created our logo, and made our Zine Club Chicago Shout-Outs site, where folks can peruse and recommend zines we've discussed at our events.
More info at quimbys.com and on the Zine Club Chicago social media channels: @zineclubchicago. Facebook event is here.
Image description: A red-and-blue infographic flyer, with an image of the counter and zine racks at the original Quimby's Bookstore location in Wicker Park, and text that reads: "Zine Club Chicago: It Came from the '90s Edition; Online! Free! Zoom info on quimbys.com; 7:30 p.m. CST Tuesday, September 20"