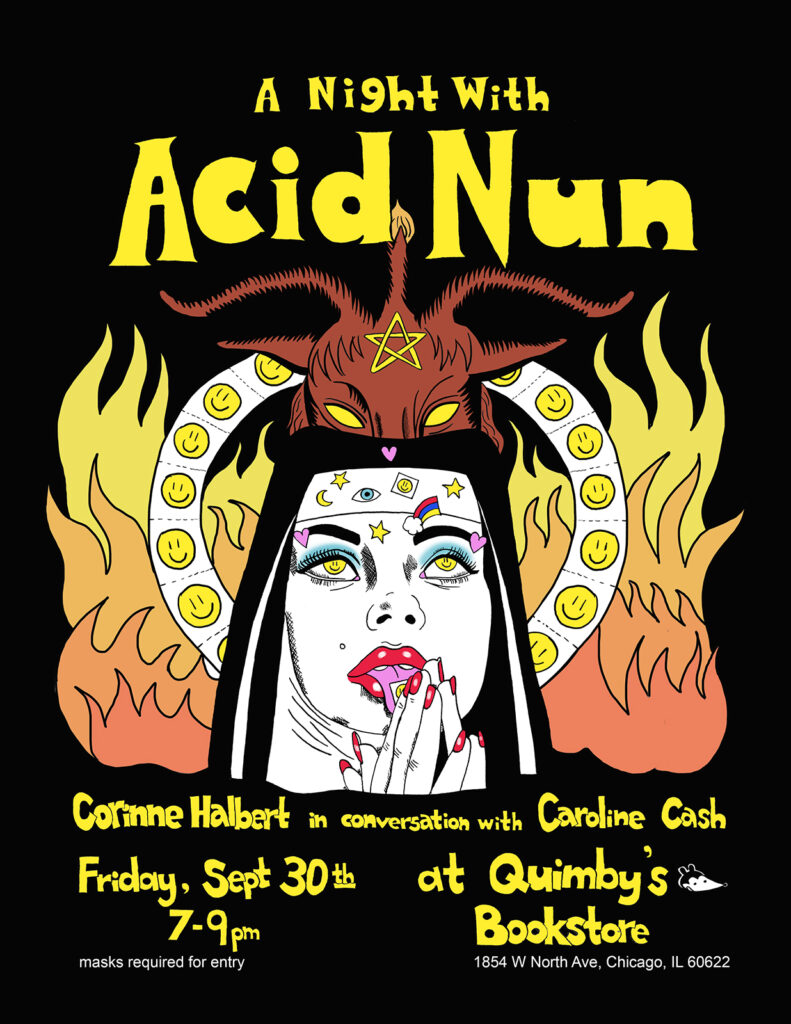 We are proud to welcome back Quimby's alum Corinne Halbert in celebration of her graphic novel Acid Nun! She is joined by another Quimby's alum, Caroline Cash, as they talk about all things that may or may not include: cartooning, art, Quimby's behind-the-scenes and other inspiration dragged up from the depths. It is only befitting with Quimby's celebrating 31 years in September that our first in-person event since 2020 will feature 2 former employees in the very month of our anniversary.
Corinne Halbert in Conversation with Caroline Cash
7-9 p.m. CT Friday, September 30
at Quimby's Bookstore, 1854 W. North Ave. Chicago IL 6622
Free!
Masks required for entry. This event marks Quimby's first in-person event in the store since 2020, as we tentatively experiment with what it is like to having events somewhere other than online! Will we go back to doing more in-store events? Stay tuned!
About Acid Nun by Corinne Halbert:
A bad trip leads Annie, our earnest heroine, through a journey of suffering and self-discovery. Caught within the confines of her own mind, Annie struggles against the doubled weight of trauma and despair. In order to crawl her way out, she must grapple with the cruelest parts of her psyche, and make peace with her inner child and suppressed past. Annie argues with her demons and punches her way toward the light, with a little help from her dedicated and loving friends. Lushly illustrated with influences from spiritual iconography and psychedelic imagery, Halbert crafts an unflinching yet compassionate story about pain, rage, and the blessings we can give ourselves. CW: 18+ only. This book deals with trauma, sexual and physical violence, mental health, drugs, and other sensitive subjects. Preorder the book from Quimby's here.
"Halbert's art and writing throb with uninhibited scenes of sex and gore, crude but portrayed with wit. Each chapter concludes with her frank confessions about processing her own childhood trauma through creating these comics. Her openhearted emotional arc combined with such shock-erotic visceral imagery make for an entertaining and unexpectedly moving experience for gore-horror fans." -Publishers Weekly
128 full-color pages; ISBN 978-1-945509-95-7, published by Silver Sprocket
About Girl In the World by Caroline Cash:
What's everyone doing later? Some creatively named Facebook events? This book is about how a particularly chaotic 24 hours impacts a group of girls, and what they each get up to over the course of the night. Order this book from Quimby's here.
"Girl in the World is drenched in equal parts love and despair, is softly satirical, and is just a lot of fun to look at. We predict Caroline Cash's star is rising, make sure to grab onto its belching rainbow tail as it passes by and pick up this book if you want to see what the fuss is about." -Broken Frontier
64 full-color pages, ISBN: 978-1-945509-36-0, published by Silver Sprocket
Corinne Halbert is a Chicago horror artist with an extensive book collection. Her work is heavily influenced by an avid obsession with 1970s cult films and vintage comics. Find her on the web at corinnehalbert.com.
View this post on Instagram
Caroline Cash can be found on IG at cash_browns. Her comic Pee Pee Poo Poo is nominated for two 2022 Ignatz Awards.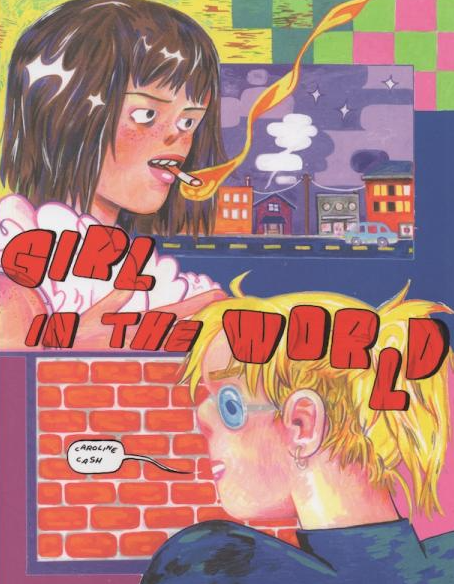 View this post on Instagram