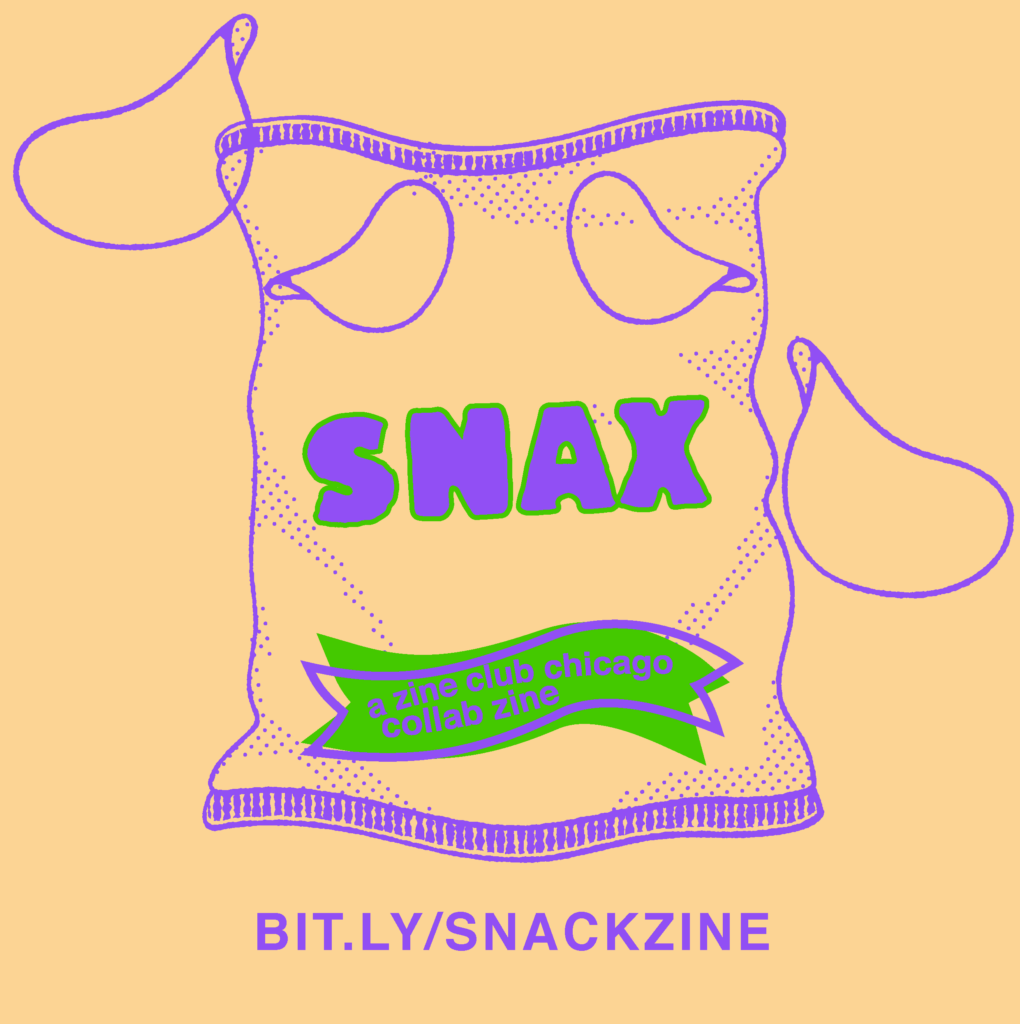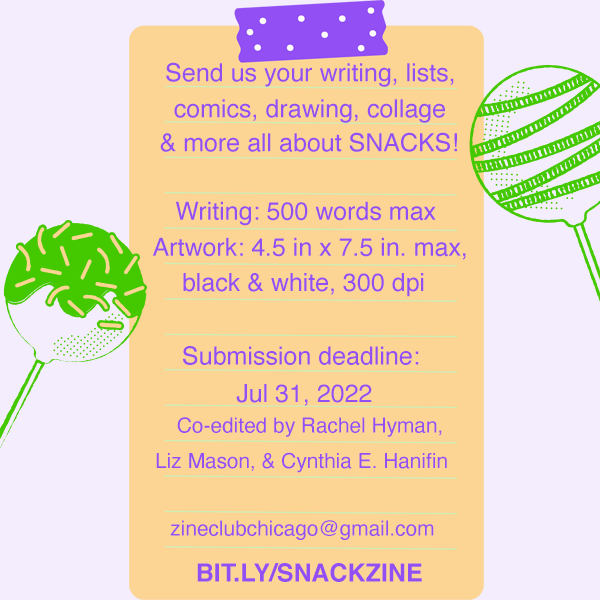 SNAX
A Zine Club Chicago collab zine
Call for Submissions
The members of Zine Club Chicago love snacks (almost) as much as they love zines, so the group is celebrating their collective snackiness with a collab zine. Send in your writing, lists, comics, drawing, collage & more all about SNACKS!
Updated food pyramids made up only of snacks, an essay about discovering Zapp's chips on your first trip to New Orleans, a renaissance-style still life of your favorite noshes, a power ranking of the most coveted sleepover snacks of 2000, a poem about your first experience of the munchies . . . if it pertains to the realm of the edible, Zine Club Chicago wants to know about it!
Submission guidelines: 500 words max for writing; 4.5" x 7.5" max, black & white + 300 dpi for artwork. (One submission per contributor, please; you're welcome to submit images to accompany a written submission, or text to accompany a visual art submission.) Due to space limitations, please limit visual submissions to 2 pages max.
SUBMISSION LINK HERE: bit.ly/snackzine
Deadline: July 31, 2022
All contributors will receive a free copy of the zine! Zine Club Chicago is planning for an autumn 2022 release, and will keep everyone updated via the email address you provide.
Co-edited by Rachel Hyman, Liz Mason, and Cynthia E. Hanifin
Questions? Email zineclubchicago(at)gmail(dot)com
You don't need to be a Zine Club Chicago member to submit, but all are welcome at the monthly Zoom meetups!
Want to know more about Zine Club Chicago? Check out their social media channels: @zineclubchicago
Please note that Zine Club Chicago reserves the right to reject any submissions that do not meet their guidelines.
Image #1 description: A purple illustration, accented with green on a peach background, of a bag of potato chips, with this text: SNAX; A Zine Club Chicago collab zine; bit.ly/snackzine
Image #2 description: An illustration of 2 green cake pops on a peach background, with this text: Send us your writing, lists, comics, drawing, collage & more all about SNACKS! Writing: 500 words max; Artwork: 4.5 in x 7.5 in max, black & white, 300 dpi; Submission deadline: July 31, 2022; Co-edited by Rachel Hyman, Liz Mason & Cynthia E. Hanifin; zineclubchicago@gmail.com; bit.ly/snackzine"