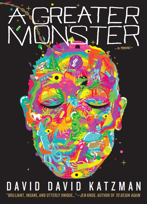 David David Katzman's second novel, A Greater Monster (Bedhead Books), is a groundbreaking multimedia work that includes 65 pages of illustrations, numerous graphic design elements, visual text poetry, and links to two websites, one of which features original music composed to mirror events in a scene of the book and another featuring an animated sequence.
This story itself is a psychedelic fairytale for the modern age, influenced by Alice in Wonderland, Williams S. Burroughs, and graphic novelist Grant Morrison. This darkly poetic tale takes you on a trip into a twisted alternate reality that reflects civilization like a funhouse mirror. A Greater Monster breathes new life into the possibilities of fiction.
"Brilliant, insane, and utterly unique…"—Jen Knox, author of To Begin Again (2011 Next Generation Indie Book Award winner)
"I can't express how brilliant my favorite scenes in A Greater Monster are. In this extraordinary work, Katzman pushes language to do things, which are truly astounding."—Carra Stratton, Editor, Starcherone Press
"This is bizarro fiction at its most intense. It contains scenes and unique designs that seem engineered by some Mad Hatter and Chuck Palahniuk cross-breed."—Lavinia Ludlow, author of alt.punk
David David Katzman's first novel, Death by Zamboni follows anti-hero Satan Donut through a world of mimes, TV stars, zombies, blockheads, mad scientists, riot grrls, and werewolves. It continues to be an acclaimed cult success. Katzman 's work has been published in Bridge Literary Magazine and Tailspins. He has a Master's Degree in English Literature from University of Wisconsin-Madison and has performed as an actor and improviser throughout Chicago.
Also in attendance will be the book's illustrator Caitlin McKay, who contributed over 60 pages of sequential illustrations to the book!
For more info:
daviddavid.net
goodreads.com/daviddavid
Thurs, November 10th, 7pm