New Boyd Rice book in the house, debuting at the Top 10 this week. -Cassee Kasem
1. Slingshot 2012 Small Organizer (Slingshot Collective) $6.00
2. Slingshot 2012 Large Organizer (Slingshot Collective) $12.00 – The planner with a daily dose of radical history, infoshop contact list, useful essays, menstrual calendar, address book, everything basically.  If you have color preferences, list a couple in your order notes!
3. Lucky Peach #2 The Sweet Spot (McSweeneys) $12.00
4. Biggest Mistake of Your Life – Wondering If You Are Making – Love Is Not Constantly by Sarah Miller $5.00 – Brilliantly styled as a Choose Your Own Adventure book.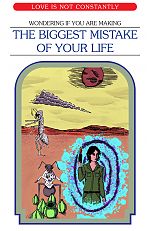 5.  Adbusters Jan 2012 $8.95
6. Regional #3 An Examination of American Cuisine by Cassie Tompkins and Emily Gelsomin $8.50
7. My Aim Is True by Carrie $1.00
8. Brilliant Mistake #3 by Carrie $1.00
9. Proximity #8 Education As Art $12.00
10. Twilight Man by Boyd Rice and Nina Antonia (Heartworm) $15.00 – "Heartworm Press and 23WLVS are proud to present the new 100-page memoir by Boyd Rice, which follows Rice through San Francisco's darkest crevices during his time as a responder for the Twilight Alarm Company. Preface by Nina Antonia, author of Johnny Thunders: In Cold Blood.