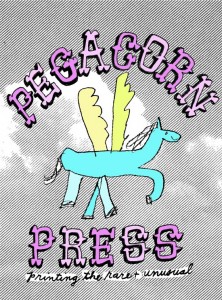 Caroline Paquita will be in Chicago to release the first two official works out on this small, "queer, feminist, total-art-freaker," publishing house, Pegacorn Press. Using Risograph duplicators to create such works as her comic-zine WOMANIMALISTIC and an annual calendar, this once informal self-publishing venture officially expanded and became it's own formal entity earlier this year.
In celebration, a 2012 calendar will be released, as well as a new comic compilation, featuring some of Chicago's finest- Edie Fake and Jo Dery. Fake, Dery and a handful of artists in the U.S. and Germany were asked to create works surrounding the loose theme of of "2012," and/or "THE FUTURE." The result is a scintillating cornucopia of hilarity and social commentary, printed in an assortment of colored ink and paper-stock. Paquita's yearly calendar features "Womanimals" and other fanciful creatures gallivanting in jolly and curious environments. Wolves wearing wigs howl at the full moon, while tribes of Womanimals live in the trees with snakes and sloths- in 2012, anything is possible!
Also joining the bill is Edie Fake and Jo Dery. Both will be presenting work at this event, including some of Jo's stunning animations.
Caroline Paquita is an artist/musician living and working out of Brooklyn, NY. Her work has been shown and distributed internationally and printed in such publications as Maximum Rock and Roll and Cometbus. A longtime creator of zines (Brazen Hussy, Zine Libs and most currently, WOMANIMALISTIC), a printmaker, and in general, a lover of all things made by hand, she began compiling heavy printing equipment in the hopes that one day she might begin a small publishing venture. PEGACORN PRESS is the result of this and her desire to create an environment where artists, particularly women and queers, are able to have the luxury to make work that will get printed and distributed to a larger audience. When she has spare time, she tends to her bees and hangs out with the chickens in her backyard.

Jo Dery is an artist who experiments with narrative form, using both traditional and new media. Her works include short films/videos, drawings, prints, illustration, installation, and artist/small-press book publications. Through the playful invention of characters and events, she investigates her relationship to the built environment, natural phenomena, history and current events, as well as aspects of cognition and consciousness. She currently lives in Chicago.
Edie Fake was born in Chicagoland in 1980. He graduated from the Rhode Island School of Design in Providence in 2002 and has since clocked time in New York, Los Angeles, San Francisco and Baltimore. He's received a Critical Fierceness Grant for queer art and was one of the first recipients of Printed Matter's Awards for Artists. His drawings have been included in Hot and Cold, Creative Time Comics, and LTTR. Gaylord is his first full-length book. Currently, he lives in Chicago where he works as a minicomics sommelier for Quimby's Books.
For more info:
http://pegacornpress.blogspot.com/
www.carolinepaquita.com
http://www.jodery.com/
http://vimeo.com/jodery
http://www.ediefake.com/