Back in print! Russian Criminal Tattoo Encyclopaedia vol II!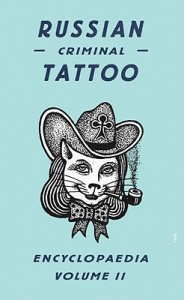 ZINES
Every Reason #7 $1.00
Drawers by The Perpetual Dusk at Crusty Caverns, Edwin Perry & Stephen Gregg $5.00
Humble Humdrum Cotton Frock #4 a Cotillion Charge Through Organic Esoterics $3.00
It's 1973 by L. Taylor $3.00
Judas Goat Quarterly #51 by Grant Schreiber $1.50
One A Day July 2011 by Laura Walker $3.00
Welcome to Bend #7 Yoga Issue by Laura Walker $3.00
The Groovy Pickle #1 by Pamela Larson $2.00
Feeding the Masses: A Guide to Mass Vegan Catering by The Anarchist Teapot Mobile Kitchen $3.00
COMICS & COMIX
Department of Art #1 by Dunja Jankovic (Sparkplug) $6.00
Passage #1 by Tessa Brunton $6.50
Monster Treasure Digest Comics #1 by Maria Sputnik $3.00
Future Tense by Caroline Paquita (Pegacorn Press) $9.00 – Anthology with work by Jo Dery, Josh Bayer, Al Burian, Edie Fake and more.
Round Room Funnies #1 by Ian Sundahl (Sparkplug) $1.00
Ishis Brain by Eamon Espey (Sparkplug) $4.00
Sorry Sheets #1 by Erowyn Franklin $5.00
Goodbye Turtle by Yumi Sakugawa $5.00
Goodness by Mel Stringer $7.00
Pope Hats #2 by Ethan Riley (Adhouse) $6.95
Yakitori #1 by Andrea Tsurumi $4.00
Terka #1 in Missing Pieces by Andrea Tsurumi $5.00
GRAPHIC NOVELS & TRADE PAPER BACKS
Hark a Vagrant by Kate Beaton (D&Q) $19.95
Best American Comics 2011 edited by series editors Jessica Abel and Matt Madden, with guest editor Alison Bechdel (HM) $25.00 – Don't miss Alison Bechdel here at Quimby's on 10/8.
Ink Weed Some Collected Comics by Chris Wright (Sparkplug) $16.00
Gandhi: A Manga Biography by Kazuki Ebine (Penguin) $15.00
Reporter Little Black by Dylan Williams (Sparkplug) $8.00
Daybreak by Brian Ralph (D&Q) $21.95 – All issues compiled into a nice hardcover volume, with a handful of extra pages.
Suicide Girls vol 1 TPB (IDW) $19.99
Freddy Stories by Melissa Mendes $10.00 – So cute!
ART & DESIGN BOOKS
Tattoo World by Kakoulas and Kaplan (Abrams) $35.00
Moby Dick in Pictures: One Drawing For Every Page by Matt Kish (Tin House) $39.95
Classic Flash 2 In 5 Bold Colors by Jeromey Tilit McCullock (Schiffer) $25.00
Sweet Rot book 2 Raiders of the Lost Art by Joe Simko (Schiffer) $19.99
Chewed by Svenson & Warren (IWB) $24.95
Genealogies of Pain by Marilyn Manson & David Lynch (Kunst) $40.00
No Mervy Life on the Roller Derby Track by Jules Doyle (Schiffer) $39.99
Stencil 201 25 New Reusable Stincils with Step by Step Project Instructions by Ed Roth (Chronicle) $24.95
SEX & SEXY
The Unbearables Big Book of Sex (Autonomedia) $18.95
MAYHEM & MISC
Ten Ways to Recycle: A Corpse and 100 More Dreadfully Distateful Lists by Karl Shaw (Three Riv) $10.99
Chasing Ghosts: Texas Style on the Road with Everyday Paranormal by Klinge & Passero (Thom Dunn) $25.99
Werewolves: Myth, Mystery, and Magick by Katie Boyd (Schiffer) $16.99
What Comes After Money: Essays from Reality Sandwich on Transforming Currency by Daniel Pinchbeck and Ken Jordan (Evolver) $18.95
Too Much to Dream: A Psychedelic American Boyhood by Peter Bebergal (Soft Skull) $15.95
FICTION
The Immortality Engine by George Mann (Tor) $24.99
MUSIC BOOKS
Violence Girl: East LA Rage to Hollywood Stage by Alic Bag (Feral House) $17.95
Put The Needle on the Record: The 1980s at 45 Revolutions Per Minute by Matthew Chojnacki (Schiffer) $39.99
DIY
Craft Activism People Ideas and Projects from the New Community of Handmade by Joan Tapper and Gale Zucker (Potter) $22.99
POLITICS & REVOLUTION
Captive Genders: Trans Embodiment and the Prison Industrial Complex by Stanley and Smith (AK) $21.95
MAGAZINES
Raw Vision #73 $14.00
IdN vol 18 #4 $17.50
Infamous #5 $6.99
True Crime Sep 11 $8.99
Survivalist #4 $4.95 – For the "GET OFF MY LAND" types.
Fantastic Man #14 $12.99
Garage Magazine #1 Fall Win 11 $18.99
Gothic Beauty #34 $6.95
Astonish  Magazine #1 $9.95
Ladygunn #3 Fall 11 $9.99
Lovecat #2 $8.99
Four Gs #4 Graffiti Guns Girls and Ganja $7.00
Skateboard Mag #92 $3.99
Paper Oct 11 vol 28 #2 $4.00
Fangoria #307 $9.99
Cinema Retro vol 7 #21 $11.99
Mojo #216 Nov 11 $9.99
Wire #331 Sep 11 $10.99
Ghetto Blaster #29 $3.95
Remedy Quarterly #6 Stealing $7.50
Z Magazine Oct 11 $4.95
Monocle vol 5 #47 Oct 11 $10.00
Reason Nov 11 $3.95
Progressive Oct 11 $4.95
GLQ vol 17 #4 Journal of Lesbian and Gay Studies $12.00
AdBusters #98 Nov Dec 11 $8.95
In These Times Oct 11 $3.50
Travel Naturally #80 $9.95
LITERARY JOURNALS & CHAP BOOKS
Explosion Proof Magazine #4 Fall 11 $9.00
Rejected Quarterly #22 Sum Fall 11 $7.50
Coffin Factory #1 $9.00
Sinister Wisdom #83 Sum 11 $6.00
The Paris Review #198 $12.00
Matrix #90 $8.00
Bomb #117 Fall 11 $7.95
Logan Square Literary Review #8 Fall 11 $5.00
OTHER STUFF
Caroline Paquita 2012 Calendar $10.00