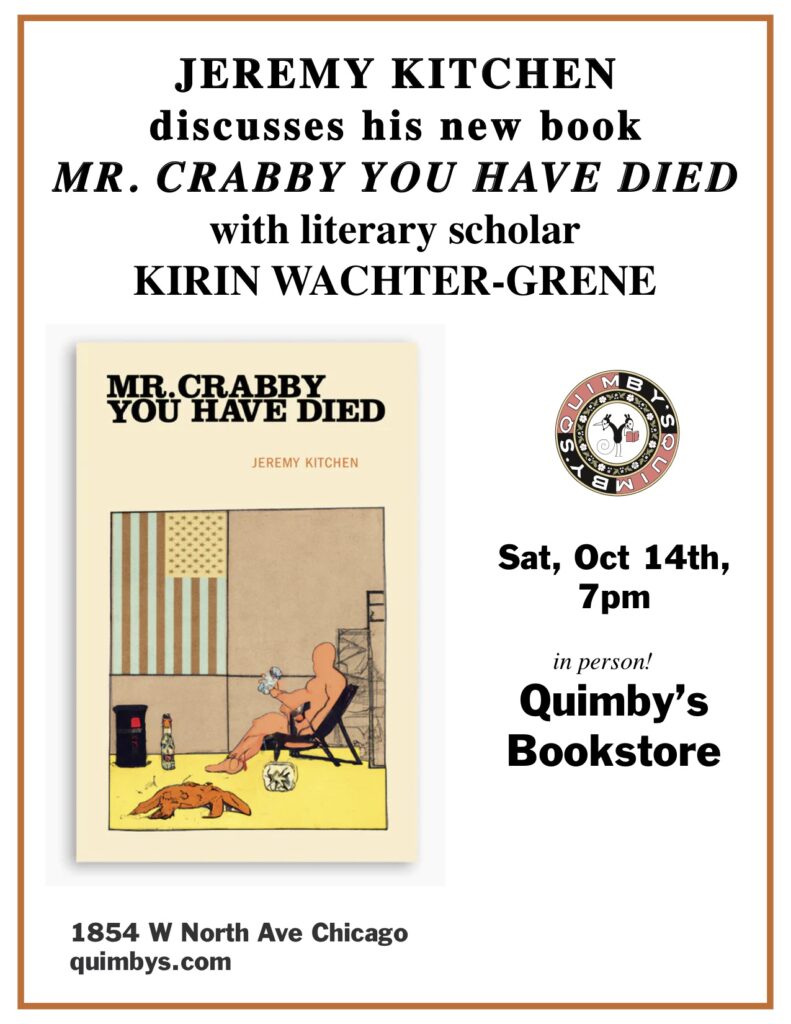 JEREMY KITCHEN
discusses his new book
MR. CRABBY YOU HAVE DIED
with literary scholar
KIRIN WACHTER-GRENE
Saturday, October 14th, 7pm
Free Event at Quimby's Bookstore
Mr. Crabby You Have Died is the first full-length work by Jeremy Kitchen — a public librarian, former dope fiend, and U.S. Army artillery observer in Desert Storm. Swaying between memoir and fiction, Kitchen lays bare his world through a series of interlocking exorcisms that deny linear time and good taste. Lost years in the Sarin-laced Persian Gulf drift backwards into Detroit's acid trash landscape, only to corkscrew forward again into a seemingly endless Chicago night of heroin, handguns, and idiot pranksterism.
Comic as it is horrifying, Mr. Crabby You Have Died is a collection of parables about the stupid beauty of youth, the boredom of addiction, and the intensity of dreams.
On Saturday nite, October 14th, Kitchen will discuss all things Mr. Crabby with Kirin Wachter-Grene, a writer and scholar based in Chicago. Wachter-Grene is Assistant Professor of Liberal Arts at the School of the Art Institute of Chicago where she teaches classes on literature, history, and gender & sexuality studies.
Mr. Crabby You Have Died has been published by First To Knock out of Michigan City, Indiana. First To Knock titles have been featured in outlets such as Los Angeles Review of Books, Hermitix, CrimeReads, The Washington Post, Apocalypse Confidential, Rain Taxi Review of Books, Cinepunx, Tulsa Public Radio/NPR, KCRW Los Angeles, and Weird History. Chris Via of Leaf by Leaf has called First To Knock "one of my favorite presses."
For more info: www.firsttoknock.com
Facebook event link here.