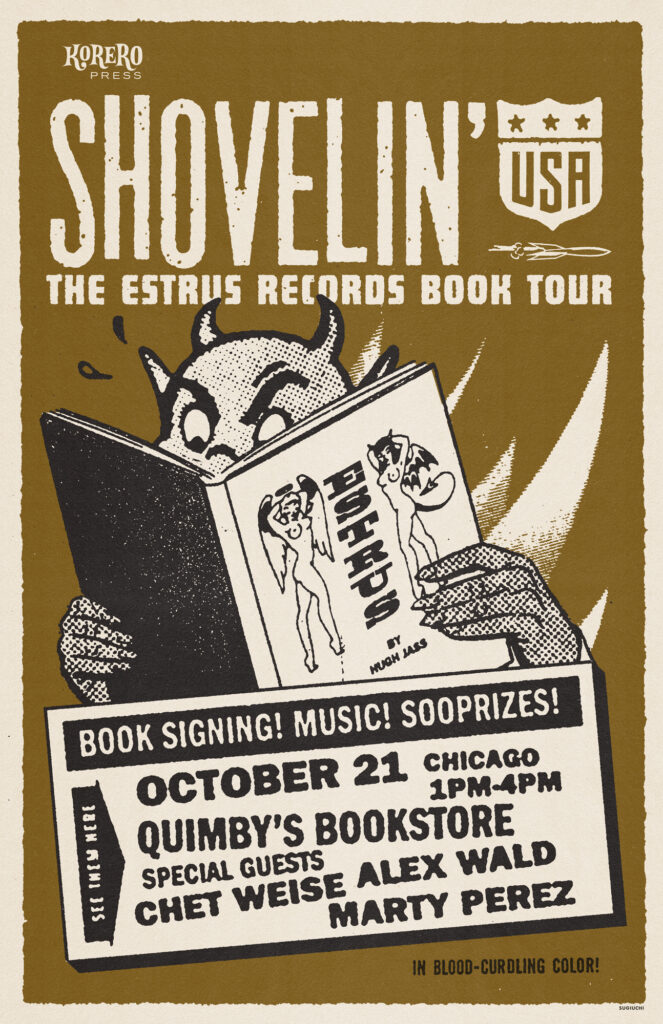 Korero Press is happy to announce that a hefty slab of punk rock history is coffee-table-ready: Shovelin' The Sh!t Since '87 is a 250+ page book of influential artwork, photographs, interviews and text detailing the history of the legendary garage rock label, Estrus Records. For nearly two decades, Dave Crider's Bellingham, Washington-based operation churned out hundreds of releases from mainstays in garage, trash, surf, and punk — among them, The Mummies, Man or Astroman?, The Makers, Teengenerate, and Crider's own Mono Men. And because the imagery associated with Estrus' releases matched the ferocity of the music, this beast is filled with vivid concert posters, iconic album covers and bizzare oddities created by a handful of elite graphic artists — including visionary Art Chantry, who was behind much of the label's artwork.
Author Chris Alpert Coyle and designer Scott Sugiuchi are taking copies of the new book with them on the Shovelin' USA Tour. Join them here at Quimby's Bookstore in Wicker Park on Saturday, October 21st beginning at 1pm. The Q&A session with Chet "The Cheetah" Weise (Quadrajets, Immortal Lee Co. Killers), Alex Wald & Marty Perez will be an opportunity for folks to ask questions about the iconic label's history — and Coyle and Sugiuchi can give insight on what the multiyear project was like.
The book does not go on sale to the general public until late November, so Quimby's will be one of the few places people can buy it ahead of time at the event on October 21st!
FREE EVENT!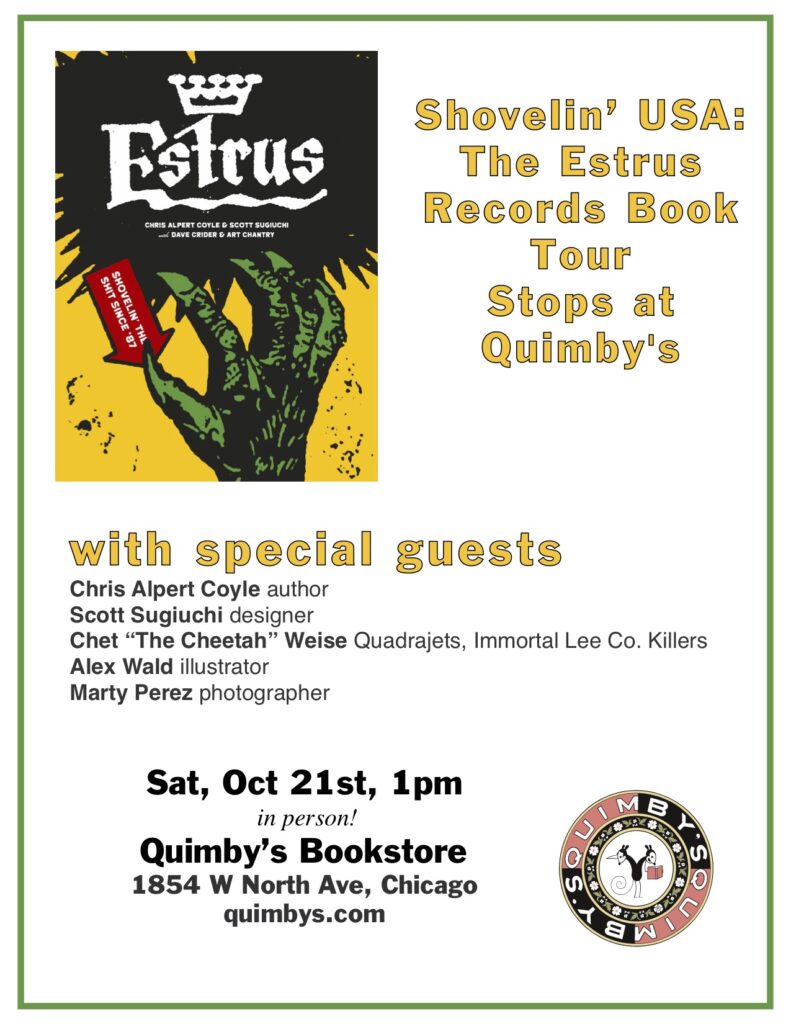 Bios!
Chris Alpert Coyle is a nomadic music journalist (and serious journalist) whose material has been featured on CBS News, WGN, CBS Radio and The Inlander. As a musician, he has toured much of the United States with two different punk rock combos. As an outside linebacker for the '79 Pittsburgh Steelers, wait…Different guy, actually. Never mind. Yeah, this guy (above) just writes stuff.
Scott Sugiuchi has been designing for more than 30 years. Highlights include work for Artisan Films (The Blair Witch Project), the American Film Institute and countless bands, record labels and venues. He is the founder of Hidden Volume Records, a boutique record label with more than 50 releases and is currently the Art Director for Alamo Drafthouse Cinema. He lives in Santa Fe, New Mexico.
Chet Weise's poetry and fiction have appeared or been anthologized in publications such as Apocalypse Now: Poems and Prose from the End of Days, Birmingham Poetry Review, Constant Stranger: After Frank Stanford, Copper Nickel, Peach Mag, and the Rough Trade 40th Anniversary Journal. A musician, too, Weise toured and recorded with groups The Quadrajets and ?the Immortal Lee County Killers?. He was banned from Canada during 2008. Weise currently lives in Nashville, Tennessee, where he is the editor at Third Man Books and plays guitar in Kings of the Fucking Sea.
Alex Wald: Painter; illustrator for Estrus Records, Wired, Playboy, Hustler, many more; comic artist and colorist, art director, First Comics; kaiju scholar and collector, Astromonster Co., Ltd. designer and proprietor; blues harp player, ex-Dirty Wurds, Sunnyland Slim, Johnny Young and others; still making coffee.
Marty Perez is a Chicago-based photographer who has been documenting the parallels between the worlds of underground rock as well as some of the biggest stars of pop music, from 1976 to the present.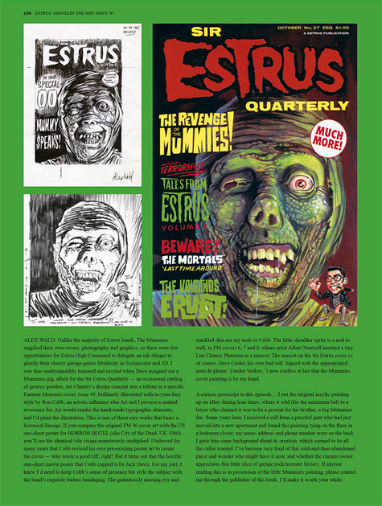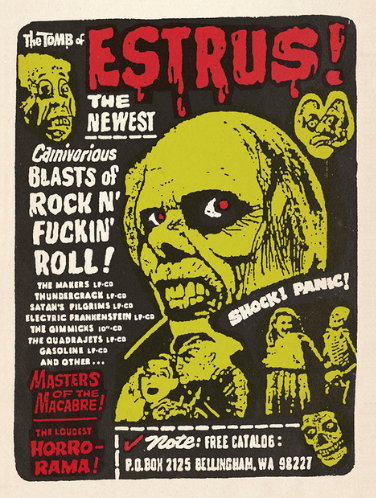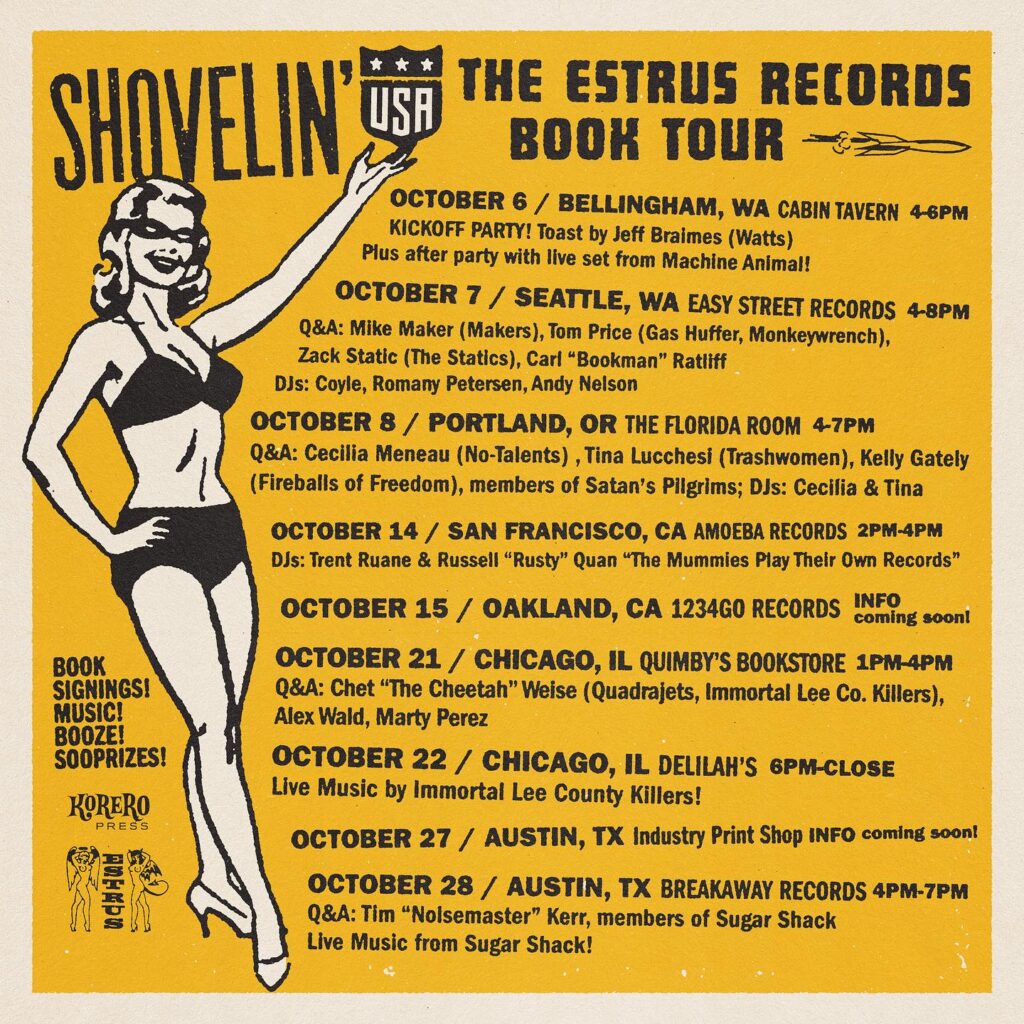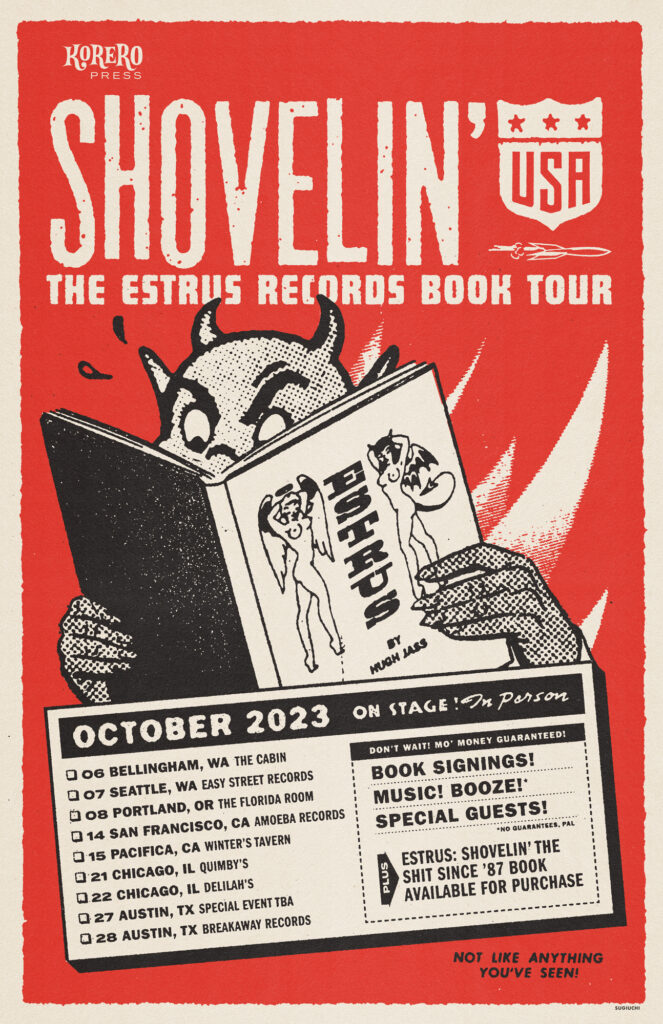 Very important links!
instagram.com/estrus_records_book
facebook.com/estrusrecordsbook
koreropress.com/estrus-shovelin-the-shit-since-87
kickstarter.com/projects/estrus/estrus-shovelin-the-shit-since-87