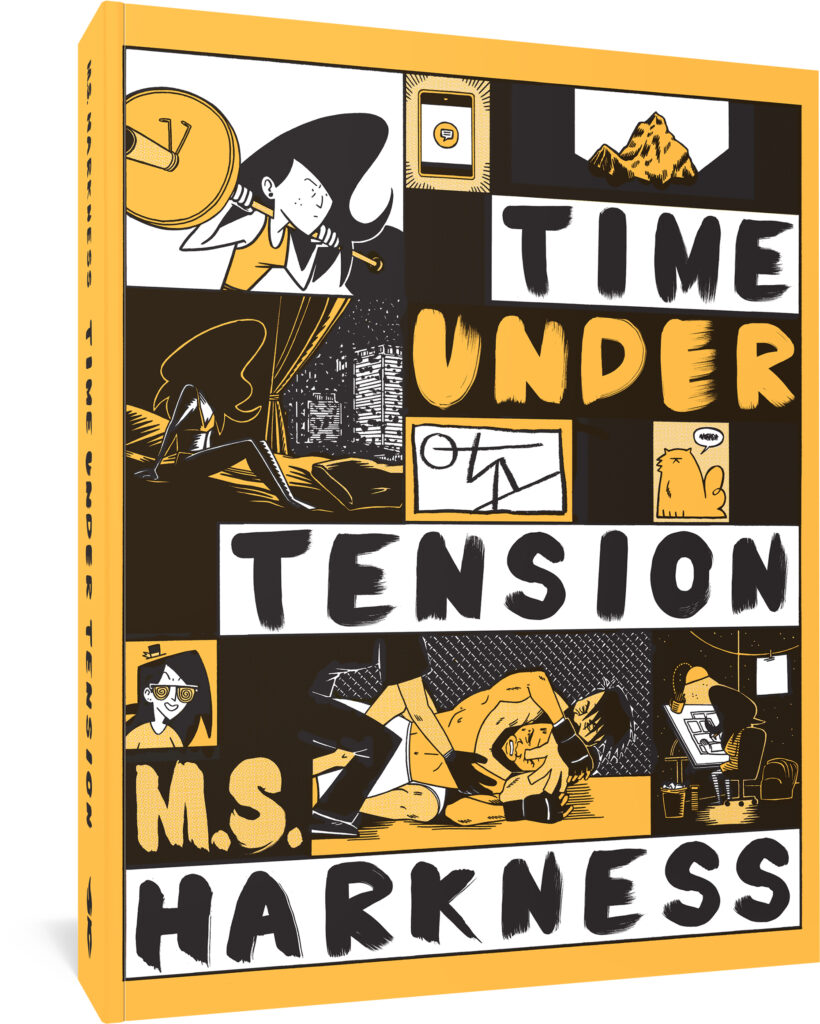 M.S. Harkness Celebrates Time Under Tension: a Graphic Memoir
at Quimby's Bookstore
With Evan Salazar & Caroline Cash
Fri, Oct 6th, 7pm
Free!
Time Under Tension is a smart, funny, no bullshit work of autobiography, a story of searching for dignity in a world that rarely affords it and taking agency of adulthood in the face of so many easy excuses not to.
M.S. Harkness is graduating from art school in Minneapolis and facing a crossroads in life. She has a strained relationship with her mother, a sexually abusive father on parole, and is in love with an aspiring MMA fighter who mostly hangs out with her to get high and already has a girlfriend and career prospects with a fight promotion. An art career feels untenable — as one professor tells her, "Don't expect to get by on this fucked-up broke girl shit." She decides to get a personal trainer's certificate — it seems like a feasible and sensible career option — but continues to dabble as a sex worker and weed dealer because the money is too irresistible. With idle hands due to no classes or full-time work, M.S. has ample time to aimlessly fuck around — or, to get her shit together. "I want to be better, I want to be stable and solid. I don't want to keep aimlessly shifting between untenable situations."
Harkness's bold, precise black-and-white cartooning and eye for storytelling invites the reader in, while her sharp wit and naturalist ear as a writer takes it away from there. Never didactic, always real, Time Under Tension is a spirited and assured work of graphic memoir.
M.S. Harkness was born in Oklahoma and lives in Columbus, Ohio. She was featured as an up and coming cartoonist at the Angouleme Comics Festival in France, and was a recipient of the Minnesota State Arts Board Visual Artist Grant. Harkness occasionally teaches comics at Columbus College of Art & Design, in addition to working as a personal trainer. This is her third graphic novel, following Tinderella and Desperate Pleasures (both from Uncivilized Books). Find M.S. Harkness on IG at @m.s.harkness.
Joining the celebration of Time Under Tension are artists Evan Salazar and Caroline Cash.
Evan Salazar is a cartoonist originally from Tucson, Arizona. His main project is the self-published comic book Rodeo, which explores the secret passageways that connect memory, imagination, and family. Salazar has been published internationally, was the recipient of a 2020 MICE Mini-grant, participated in the Hocking Hills Cartoonist Retreat, founded the Tucson Comix Club, and has presented his work at comics festivals across the United States. He currently lives in Arizona with his dog, Margie. For more info see rodeocomics.com.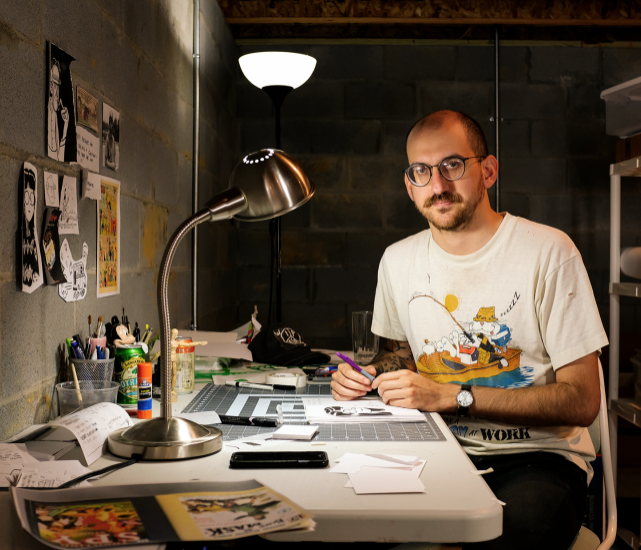 Ignatz award winning cartoonist Caroline Cash, known for such titles as Girl In the World and Pee Pee Poo Poo, used to work at Quimby's. She can be found on IG at cash_browns.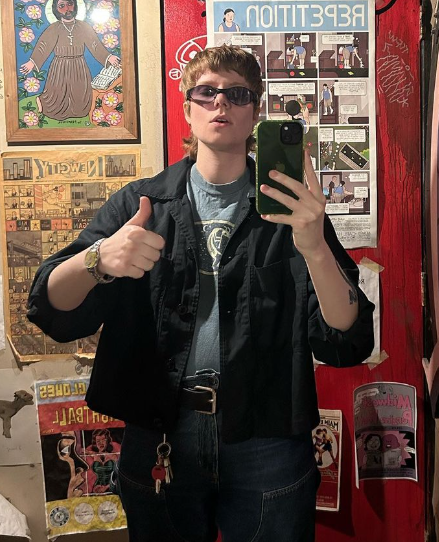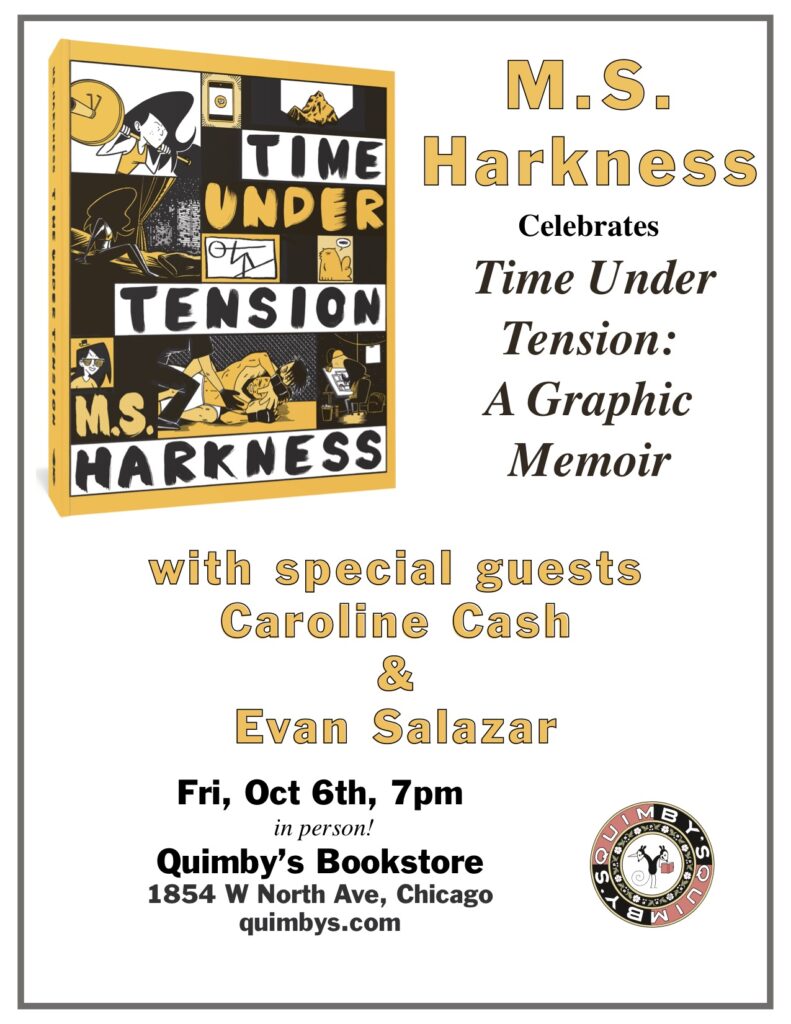 More about Time Under Tension: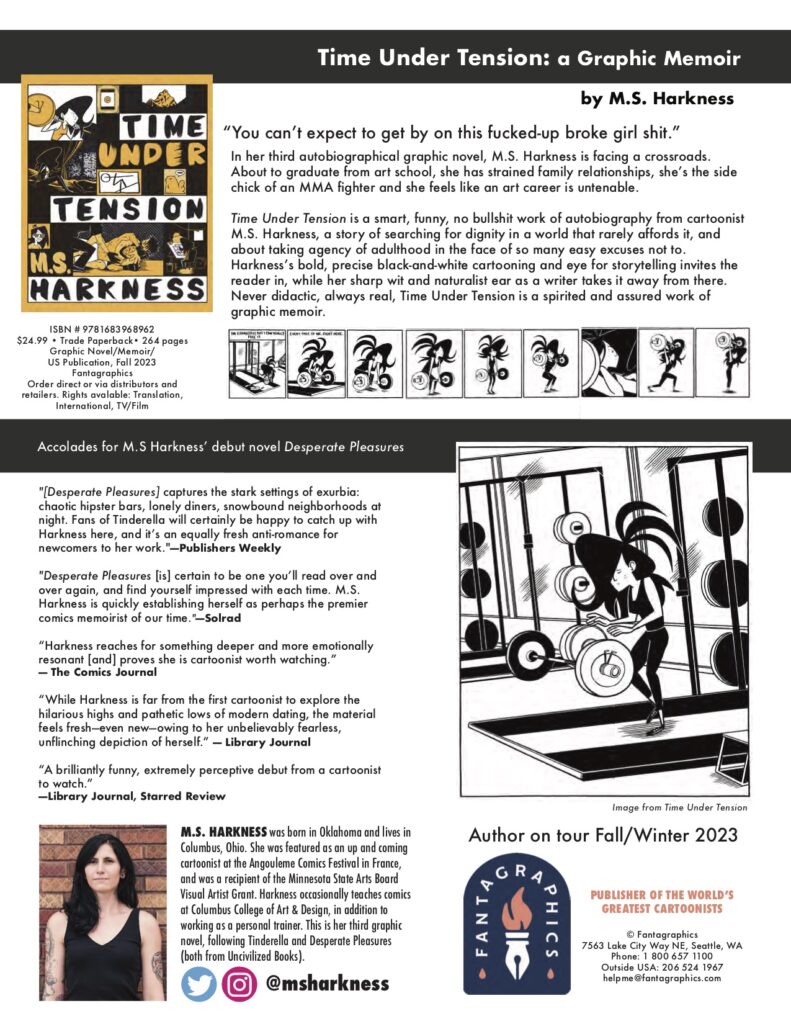 See M.S. Harkness on tour!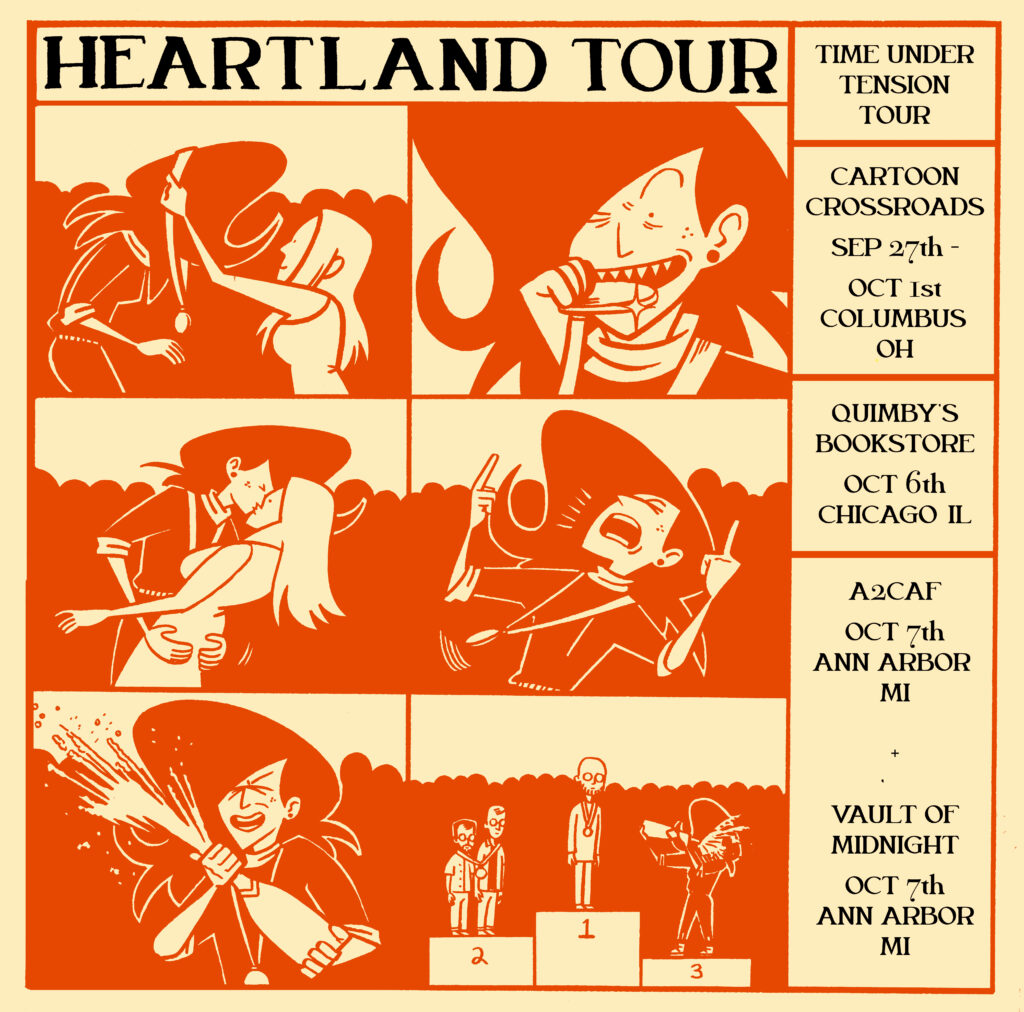 Want the Facebook Event Invite for this Quimby's event? Go here!