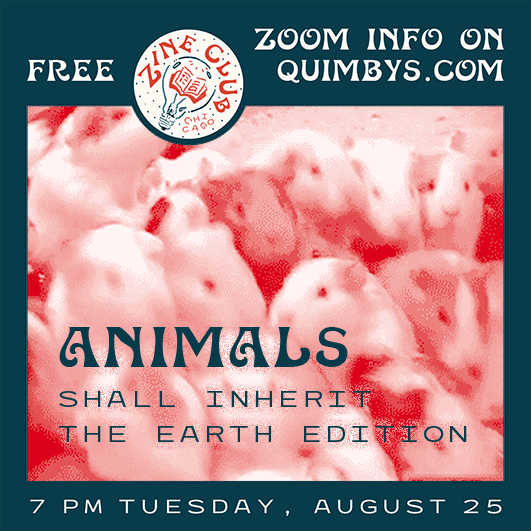 Zine Club Chicago ONLINE: Animals Shall Inherit the Earth Edition
7 p.m. CST Tuesday, August 25 on Zoom
Free!
From zine cats to amphibious water dogs (also known as axolotls), many of us create zines with animals by our sides or in our minds. This month at Zine Club Chicago Online: Animals Shall Inherit the Earth Edition, we'll be discussing self-published works about the panoply of animals that share our planet. Grab your favorite titles, BYOS(nacks)/BYOP(ets), and join us on Zoom for a great conversation!
** Zoom info ** We want to make sure that our online Zine Club events are a safe space, so we won't be releasing the Zoom link and password publicly. If you'd like to attend, please email zineclubchicago@gmail.com to RSVP by 5pm CST Tuesday, Aug. 25th. You'll get an email you the Zoom link and password one hour before the event begins.
Zine newbies and longtime enthusiasts alike are always welcome at Zine Club Chicago, the city's only book club-style event for people who read zines. This free monthly series is produced by Chicago Zine Fest/Midwest Perzine Fest organizer Cynthia E. Hanifin and sponsored by Quimby's Bookstore. Anna Jo Beck designs our monthly flyers and created our logo and created this badass website for sharing zines we've discussed at Zine Club. Thank you to Corinne Halbert of Quimby's for suggesting this month's theme!
More info at Instagram: @zineclubchicago.
Facebook event: https://www.facebook.com/events/285561552752019/