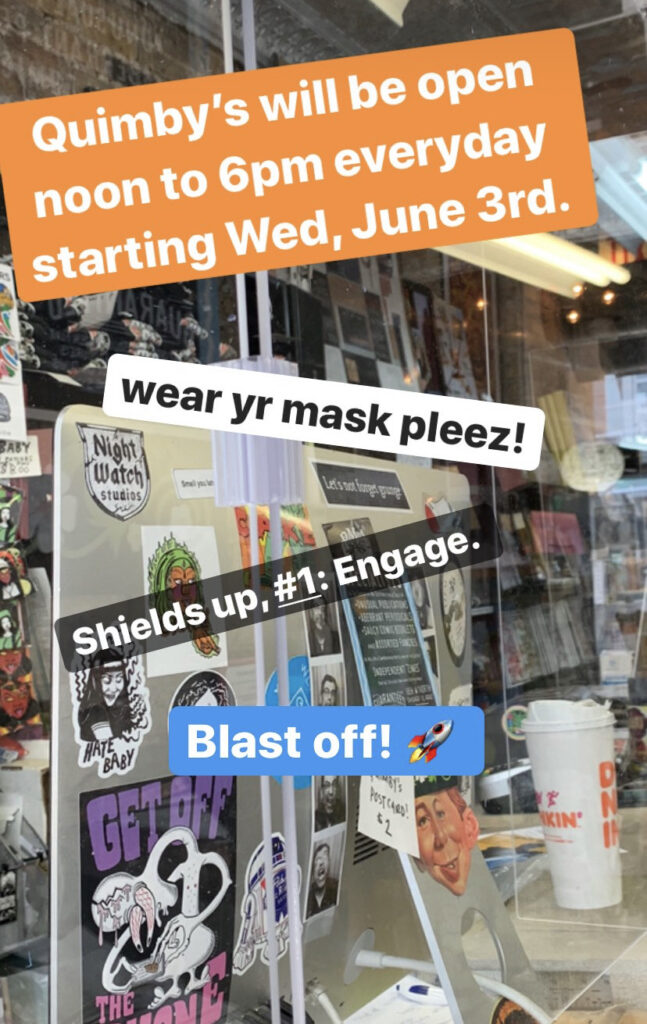 Copy one bravo! We'll be open to the public starting Wednesday, June 3rd. Noon to 6pm every day. Can't wait to see you (from behind a mask). Until then, we're still providing curbside pickup and shipping mail orders.
New Stuff This Week:
Wanna see a video where we preview some of the new stuff? Click here!
Wanna skip this list and go straight to ordering this stuff? Click here!
Zines
Epic Names: A Short History of Famous Flames by Billy McCall $3
Sex Work Spell Work by Madison Murray $5.50
Transvestia #9 Queering the Media $10
Highgate Eye #4 by Dean Squishman $3
On Alchemy and the Symbolics of Color by Brian Cotnoir $15
Comics & Minis
Tears of the Leather Bound Saints by Casanova Frankenstein (Fantagraphics Underground) $10
Rimeski Comics #6 May 20 by Lucius Wisniewski & friends $3
Minor Leagues #10 by Simon Moreton $6
PYXIS #11 & #12 by Jonas Campe $8 each
Stuff from Plot Twist Publishing:
Pushover by Jean Marie Pilario Jean Munson $5
Tome of Terror #1 by Greg Boucher $5
Queens #1 Rulers of Feminist Comedy by Jean Munson $10
Heavens Bastards #1 by Pierce Elliott & friends $5
Graphic Novels
Art Young's Inferno (Original Art Edition) (Fantagraphics) $29.99
Magazines
Juxtapoz #214 summer $9.99
Bust #121 summer $7.99
Lit Journals