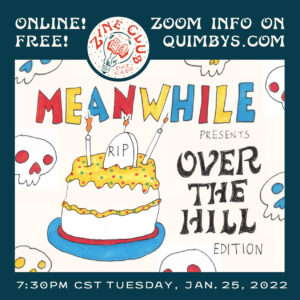 Zine Club Chicago Online x Meanwhile: Over the Hill Edition
7:30 p.m. CST Tuesday, January 25 on Zoom
Free!
This month, Zine Club Chicago incredibly excited to hand over its event to the amazing minds behind Meanwhile Chicago, who will bring their unique zinemaking-meets-storytelling show to our little corner of Zoom. Expect thrilling performers, inspiring zine prompts, and the high-spirited fun that only the Meanwhile hosts can generate, all focused on the theme Over the Hill.
Performers will include Aim Beland, Linda Kawano, and Liz Mason & Cynthia E. Hanifin! The Meanwhile crew — Megan Kirby, Catherine Eves, and DJ Williams — will share zinemaking prompts so you can create along at home. All you'll need is some plain paper and your favorite writing/drawing implement.
Grab your zinemaking supplies, BYOS(nacks), and join us on Zoom for Zine Club Chicago Online x Meanwhile: Over the Hill Edition at 7:30 p.m. CT Tuesday, January 25!
** RSVP required ** To help make sure that online Zine Club events are a safe space, the Zoom link won't be released publicly. If you'd like to attend, please email zineclubchicago@gmail.com to RSVP by 9 p.m. CST Monday, Jan. 24 (the day before our event). You'll receive the Zoom link by 5 p.m. CST on Tuesday, Jan. 25.
Zine newbies and longtime enthusiasts alike are always welcome at Zine Club Chicago, the city's only book club-style event for people who read zines. This free monthly series is produced by Cynthia E. Hanifin and sponsored by Quimby's Bookstore. Anna Jo Beck designs the group's monthly flyers, created its logo, and made the Zine Club Chicago Shout-Outs site, where folks can peruse and recommend zines.
More info at quimbys.com and on the Zine Club Chicago social media channels: @zineclubchicago
Facebook event is here.