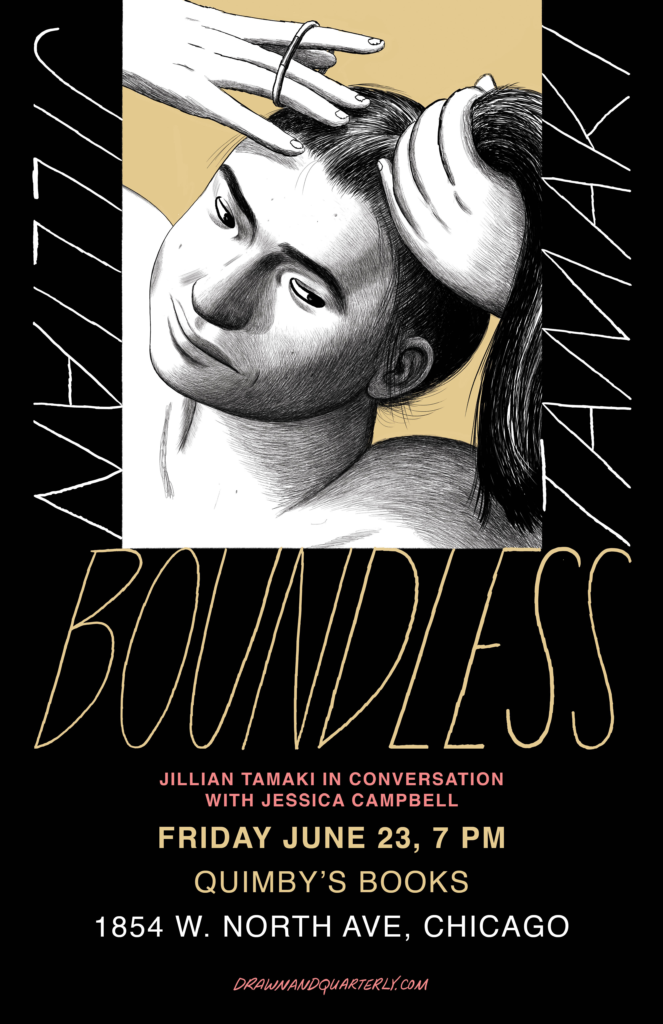 In Jillian Tamaki's new book Boundless (Drawn & Quarterly), Jenny becomes obsessed with a strange "mirror Facebook," which presents an alternate, possibly better, version of herself. Helen finds her clothes growing baggy, her shoes looser, and as she drinks away to nothingness, the world around her recedes as well. The animals of the city briefly open their minds to us, and we see the world as they do. A mysterious music file surfaces on the internet and forms the basis of a utopian society—or is it a cult? Boundless is at once fantastical and realist, playfully hinting at possible transcendence: from one's culture, one's relationship, oneself. This collection of short stories is a showcase for the masterful blend of emotion and humor of award-winning cartoonist Jillian Tamaki.
  "Jillian Tamaki seems capable of drawing anything, in any style, and making it appear effortless. Her writing could be described in the same way, and it's thrilling to see those twin skills of hers united in service of these daring, unpredictable, and quietly strange stories."—Adrian Tomine, cartoonist of Killing and Dying
Jillian Tamaki is an illustrator and cartoonist based in Toronto. She is the co-creator along with her cousin Mariko Tamaki of the graphic novel Skim, a New York Times Best Illustrated Book and a finalist for the Governor General's Award. Their second graphic novel This One Summer earned a Governor General's Award and a Caldecott Honor. Tamaki's first collection of her own comics was the critically acclaimed New York Times bestseller and Eisner Award-winning, SuperMutant Magic Academy.
This event will feature Jillian Tamaki in conversation with Jessica Campbell, the artist of Hot or Not: 20th-Century Male Artists!
Jessica Campbell is from Victoria, British Columbia, Canada and is an enthusiast of jokes, painting and comics. She completed her MFA at the School of the Art Institute of Chicago, where she was the recipient of the Edward L. Ryerson Fellowship, and also a comics instructor. She has exhibited work in Canada, the United States, Australia, and Greece, and was selected as one of NewCity's 2015 breakout artists. She is a member of the Chicago-based comics collective Trubble Club and has published comics with micro press Oily Comics, and contributed to Drawn & Quarterly: Twenty-Five Years of Contemporary Cartooning, Comics, and Graphic Novels.
Invite your friends with the Facebook invite here!
For more info:
jilliantamaki.com/illustration
Contact JULIA POHL-MIRANDA and SRUTI ISLAM
publicity(at)drawnandquarterly(dot)com / 514.279.2221 ext 225
Friday, June 23rd, 7pm. Free event!