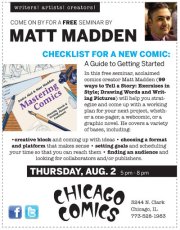 Our sister store, Chicago Comics is proud to present award-winning comic author Matt Madden to the store for a three hour seminar entitled "Checklist For a A New Comic: A Guide to Getting Started." He'll walk you through the many considerations you should keep in mind when you embark on creating a new comic, whether a one-pager, a webcomic, or a graphic novel. Madden will help you strategize and come up with a working plan for your next project. He will cover a variety of bases, including:: creative block and coming up with ideas, choosing a format and platform that makes sense, setting goals and scheduling your time so that you can reach them, finding an audience and looking for collaborators and/or publishers. So bring some paper and be ready to take notes on your next big (or small) project! The event begins at 5 and goes until 8.  And! Chicago Comics will also be giving away 3 free copies of Matt Madden and Jessica Abel's new book Mastering Comics to random attendees! Updates and more information on the event can be seen on the Facebook Page for the event.
Matt Madden is a former Chicagoan, now New York transplant, who is best known for his original alternative comics, and teaches comics at the School of Visual Arts and Yale University.
Thurs, Aug 2nd, 5-8pm
*Please note, this event is NOT at Quimby's. It is at CHICAGO COMICS, at 3244 North Clark Street, Chicago. Call 773-528-1983 for more information.