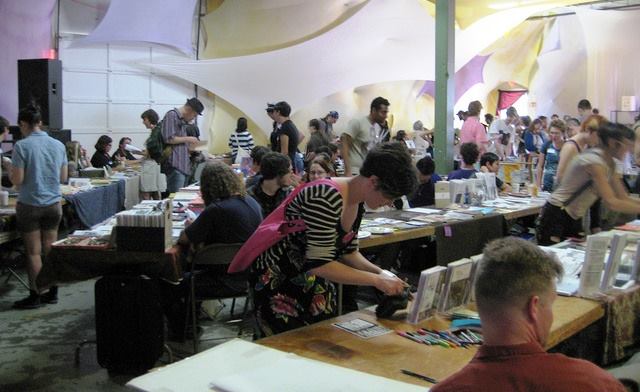 Join librarians and zine enthusiasts at Quimby's Bookstore to discuss running a successful zine or comics event – whether it's a one-hour DIY workshop for teens or a festival with thousands of attendees. Librarians, zinesters, and comics makers will share stories and tips about developing community through events, and then open the floor to your questions. This workshop to learn about promoting comics and zines from successful planners from the Chicago Zine Fest, Chicago Public Library and more.
Featured speakers include: Johnny from Chicago Zine Fest, Julie Koslowsky (Outreach Coordinator for YOUmedia at the Chicago Public Library and CZF) & Joshua for Mid-Michigan Zine Fest.
Coordinated with the 2015 American Library Association Midwinter Conference, this is your chance to meet and talk about zines with some of the 12,000 librarians who will be in Chicago. After the event (and time for browsing), head around the corner to Dimo's for vegan-friendly pizza (1615 North Damen Avenue).
This event is free and open to the public – anyone interested in zines or libraries is encouraged to attend!
For more info:
Violet Fox (violetfox(at)gmail(dot)com)
Log in to Facebook for event page here.