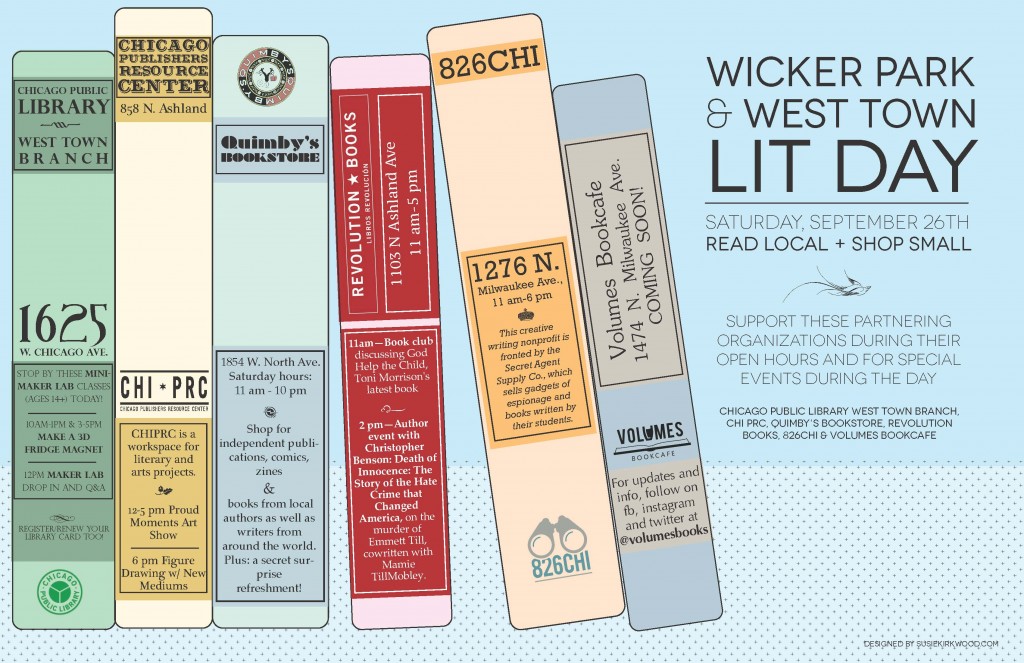 Wicker Park & West Town Lit Day is Saturday, September 26th. A group of local organizations and businesses got together to promote all things literary in the West Town and Wicker Park neighborhoods.
Read Local + Shop Small!
Support these partnering organizations during their open hours and for special events during the day!
Invite your friends! Here's the Facebook event post for it.
Quimby's Bookstore
1854 W. North Ave, Open Saturday from 11am-10pm. quimbys.com
Shop for independent publications, comics, zines and books from local authors as well as writers from around the world. Plus shoppers, get a secret surprise adult refreshment with purchase! And whatever other surprises we feel like! While supplies last!
Chicago Public Library West Town Branch Library
1625 W. Chicago Ave.
Stop by these Mini-Maker Lab Classes (ages 14+) today!
10am-1pm and 3-5pm Make a 3D Fridge Magnet
1-2pm Maker Lab Drop-in and Q&A
And Register/Renew your Library Card too!
Chicago Publishers Resource Center (Chi Prc)
858 N. Ashland
CHIPRC is a workspace for literary and arts projects. Stop in today for:
12-5pm Proud Moments Art Show
6pm Figure Drawing w/ New Mediums
Revolution Books Chicago
1103 N Ashland Ave, 11am-5pm
Visit them at:
11am—Book club discussing God Help the Child, Toni Morrison's latest book
and
2 pm—Author event with Christopher Benson: Death of Innocence: The Story of the Hate Crime that Changed America, on the murder of Emmett Till, co-written with Mamie Till-Mobley.
826CHI
1276 N Milwaukee Ave., is open Saturday from 11am-6pm.
This creative writing non-profit is fronted by the Secret Agent Supply Co., which sells gadgets of espionage and books written by their students.
Volumes Bookcafe
1474 N. Milwaukee Ave.
New kid on the block, this book café is coming soon! Make sure you note their presence and follow them for grand opening updates on fb, instagram and twitter at @volumesbooks
Event day poster designed by Susie Kirkwood.