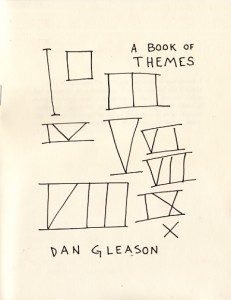 It's a celebratory event for the release of Dan Gleason's 50th zine, 'A Book Of Themes!' Skip all of those 6th of July firework-filled galas, which inevitably end in the emergency room, and take heed to the words of a cavalcade of weirdos at your favorite local bookstore. This night's roster of readers includes the great Rachel McPadden, former lead singer of the hardcore punk band Shit Ass, the artists behind the early 90's hit 'Playground.' She has contributed to Mr. Skin's website and is the only person ever to have claimed a crush on film actor George C. Scott. Mike McPadden – he's head writer at Mr. Skin and author of the books 'Heavy Metal Movies: From Anvil to Zardoz, the 666 Most Headbanging Movies of All Time' and 'If You Like Metallica.' He also briefly replaced Bowzer in Sha Na Na back in '83 after that artist's split from the group. Gregory Jacobsen is lead singer of the band Lovely Little Girls, the Fatty Jubbo behind Fatty Jubbo's Cake and Polka Parade podcast, brought to you by WFMU, and the finest painter in all of Chicagolandia. For a time he danced with a box on his head on the Chic-A-Go-Go! show, too. Jenny Inzerillo writes, paints, molds the minds of the youth and is the only thing worth two shakes any more in that stinking Logan Square neighborhood. She aspires to leave this planet one day soon on Virgin Galactic SpaceShipTwo. Gabriel Wallace is Jeffrey-Elaine Shotzenberger, and host of the Pamela monthly reading series, and Dan Gleason is a hirsute hermit who has produced fifty of those little fold up zine/books that you (hopefully) enjoy.
Come try their words on for size, evolve, and then leave the premises with a much more promising outlook on life, which should include a sudden longing to work with wicker, the ability to make your own gillie suit with only a half dozen discarded hairnets and five feet of twine, a won't for knowledge of the 'inner algorithms,' a potential subscription to the H&R Block monthly newsletter, a lust for vice, a turning out, a tuning in, a tuna rolling, and a rin-tin-tin-atuding. GET DOWN FOR THE UPSTROKE! '88 was great, '99 was fine, but damn do I miss the music of GENUWINE! LOVE LIVING- AND BE THERE!
Dan Gleason has at least 25 books on the market for your pleasure, here are the titles of just a few of them: The Unexpected Gratification I Received From Taking In The Sexual Act With A Homeless Person And Other Less Contemplative Thoughts Rendered In Short Story Form By Dan Gleason, The NCA's Introductory Book To Your Newest Saints, Fairy Tales With Important Morals For Children And Other Unambitious Writings By Dan Gleason, The Great American Novella, Stories Of Life Minus Context And Sense Plus Other Little Ditties By Dan Gleason, I Married A White Woman, Satansbraten: Stories For The Season Of The Witch, The Gospel According To Dan Gleason, All Of Those Happier Thoughts I Was Too Afraid To Express Before (AKA My Big Bland Book Of Feelings) By Dan Gleason, Memoirs Of A Guy In The Band, and Interludes. He is a Quimby's favorite.
For more info: stopgostop.com/dangleason/
Saturday, July 6th, 7pm – Free Event